If you are looking for something new in online dating, it may be great to try some new website that is not full of spammers yet. It can be MeetMindful. The dating website operates since 2015 and happens to be very popular now. It obtains around 300,000 profiles of active members who are looking for a relationship online. One of the reasons why MeetMindful is so successful is the target audience of the platform. The site aims to match men and women who are willing to find a mindful lifestyle.
Who You Can Meet on MeetMindful

Using MeetMindful dating website, you are free to communicate with thousands of users who share your ideas. Thus, there is a high chance that you will find your perfect partner among them. The most significant part of the members come from the USA, and the number of customers from other countries is growing every day.
The majority of users are females, so if you are searching for a woman, you may find it easier to find a perfect match. It depends on the person, though. The thing is that if someone you need is on the MeetMindful platform, you are going to meet them regardless of the statistics. People who are looking for a carefree encounter may discover that this goal is not common for this dating website as opposed to finding a friend or a life partner who shares similar values.
Sign up process

New users can sign up with the help of a valid email address or a Facebook account. The process is going to take several minutes. If you opt for using Facebook to get registered, you will not have to spend any extra time to upload photos as they are going to be taken from the existing account. Unlike other accounts, these MeetMindful profiles do not get verified via email. At the same time, the second option happens to be rather fast as well.
The process takes a lot of time answering the questions. First of all, it is necessary to specify your sexuality as it is essential information for members on any dating platform. MeetMindful website welcomes everyone to become a part of the community as it strives for diversity. So, the majority of people you can meet here aim to be grounded on a spiritual connection. Hence, nobody will find you as members on MeetMindful dating platform are likely to ignore not informative profiles.
Commubication with other users
There are three basic communication tools on MeetMindful dating platform, which are messaging, likes, and chat rooms. Here is how they would work for you if you are a free user. As soon as you have looked through some profiles, the number of which can be up to ten per day, you can like one. If this member likes you back, you are added to each other`s contact list. There also connections – members to whom you are allowed to message. This way, you can understand how things work on MeetMindful before you get subscribed. The paid members of the dating platform obtain an extensive range of opportunities. They can view more than ten profiles every day and send messages to any user on MeetMindful website. In addition to that, they are allowed to adjust the searching setting in the app while free users can only look for people on the location and distance.
User Profiles Quality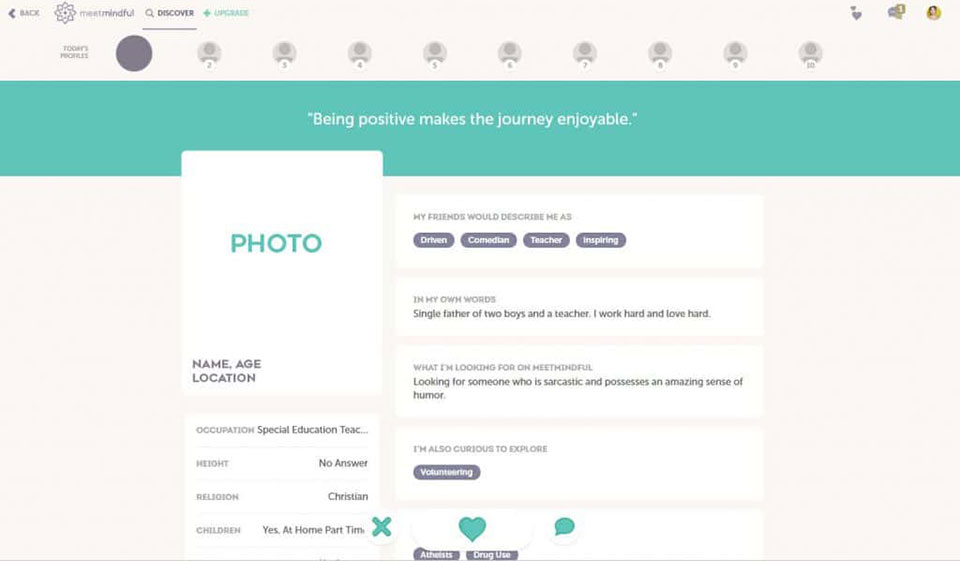 MeetMindful dating platform allows users to tell the community about your values and lifestyle and find people who can share them. It is not surprising that there are no ready patterns that could be used to build a profile. Furthermore, there are very few fields where you can select an answer from a bunch of ready variants. You will be required to write about some areas of your life, and you will have to spend some time doing that.
At the same time, it has some advantages because no one can describe your life striving and passions better than you are. Willing to do and to be able to is one of the things which makes us mindful. Thus, it is better to be creative, especially when you are looking for a perfect match.
A MeetMindful profile obtains three levels:
General account information. This is where you can see a user`s age, relationship status, occupation, religion, zodiac sign, height, diet, etc.
The surface level. This is where users can select what they suppose their friends would talk about them. The words become tags which will help other members find you.
The depth level. In these sections, MeetMindful members need to tell about their values, lifestyle, and beliefs in detail. All the information they provide in these and other sections can be changed when it becomes irrelevant. The fact that you can find out more details about potential partners rather than just seeing a photo makes MeetMindful different from other dating platforms. This allows members to choose mindfully.
Mobile App

Like many other dating platforms, MeetMindful provides its users with an app. It is downloadable from Google Play and App Store to any mobile devices. Customers will find all the features that are obtained by a desktop version in the app, which look very similar.
Although mobile applications are created to make a client`s life easier, this was not achieved by the MeetMindful dating platform yet. The app has countless bugs, and it seems that the developers of the platform are doing their best to fix the problem. This can be because they lack experience. Hopefully, the application will be better after some time.
Website Interface

As for the desktop version of MeetMindful, members are going to love using it. The interface of the platform happens to be very simple. The abundance of details may seem too much on any other dating website, but not on this one. All things are in their place, and users can find any feature or description intuitively.
MeetMindful members can spend the whole day on the dating platform and they will not get bored or tired.
Membership Cost

Every user has the right to decide if they are willing to pay for making use of this or that service. At the same time, it can be hard to decide because they do not have enough information before they become members. The good part is that this is not the case with MeetMindful dating website. Thanks to the free membership, people can understand how the platform operates and if it is worth to pay for it. if you sign up for free, you can create an account and control the profile. As it was mentioned before, you will be allowed to view ten matches every day and to like three users. It is also allowed to use the contact list, several filters for basic search and the list of likes. In addition to that, free users can read articles about lifestyle and relationships the MeetMindful platform thoughtfully offers to members free of charge.
All these things are enough for a person to get occupied for some time. Interestingly, a person can meet a perfect soulmate without paying money for using this dating platform. if you are willing to have more chances or have a more exciting experience of using the website, you should go for a paid membership. This is when MeetMindful dating websites save its users from making decisions too fast.
They are allowed to purchase a group for a week while other platforms provide at least one-month subscription plans.
It has to be noted that the payment per week is different for different subscription plans. Consequently, if you are going to use MeetMindful, consider the option which will let you save money. The thing is that the one-week trial costs dollars while the longest membership makes up 79 dollars for half a year. Thus, the payment per week is only 3.29 dollars in this case, so the benefit is obvious.
It does not matter for how long a user is going to stay with MeetMindful dating website, full access to premium features will be provided. Members can:
Invite any other members to a chat room and not only people whose likes matched theirs.
Figure out who obtains premium profiles.
Switch a browse mode and more.
FAQs
Will my Facebook friends find out that I am on this dating platform?
If you get registered with the help of your Facebook account, some info from it can get synced to MeetMindful platform. for instance, you may opt for downloading photos from there. Despite that, this happens to be a one-way road. Facebook cannot access your profile on MeetMindful, so no posts will appear in the feed of your friends.
Can I get a refund when I purchase MeetMindful services?
No, nothing bought on MeetMindful dating website or via the application can be refunded.
Is it compulsory to fill all the fields in the profile?
Users do not have to fill any of them as all of them happen to be optional. At the same time, the more you write about yourself, the higher chances you obtain to meet people with similar interests.
How many pictures can I upload?
When you like other users profiles and they like you back, you are added to each others contact list. It is also known as MeetMindful connection section. this is very important for free users because this happens to be the only way they can communicate with other members.
What am I to do if I am not interested in a profile chosen for me?
As soon as the algorithms select ten matches for you, it can turn out that you do not like some of them. All you need to do is to click the "pass" button. You need to mind that free members cannot turn it back if they click pass on a MeetMindful profile.
How can I prevent strangers from texting me?
It has been mentioned above that premium users are allowed to text anyone, regardless of mutual likes. At the same time, it provides people with freedom of communication. From another point of view, this implies that any paying user can text you. MeetMindful dating platform cares a lot about its users` privacy, so premium members can adjust messaging settings. They are free to choose people who can send them messages and hide their profile.
Conclusion

This website is a perfect online platform for people who support a healthier lifestyle, care about environment and nutrition, work on their productivity and spirituality. MeetMindful is for individuals whose values are very important to them. This is where they can find people with common passions, different aspects of life, meet new friends and start a romance which is going to be based on mutual interests instead of sexual tension.
When it comes to the matchmaking process on MeetMindful, it is partially automatic, and the algorithms choose people who may be interesting to you. At the same time, the dating platform will never make you choose blindly. This is not similar to the dating game available on Tinder. The communication on MeetMindful platform is a priceless and thoughtful experience.
Many people come here to obtain it while the chance to meet a life partner happens to be a nice bonus to them. It does not matter what your primary goals are, you are going to love spending time online with people you get to know on MeetMindful platform.