Sick and tired of numerous dating platforms with futile features? Then pay attention to BrazilCupid. This top-rated Brazilian dating site is aimed to connect thousands of adults all over the globe. Whether you are looking for a long-term friendship or want to build a strong relationship, this website is worth giving a chance. Read on to learn all the interesting features of this platform and more!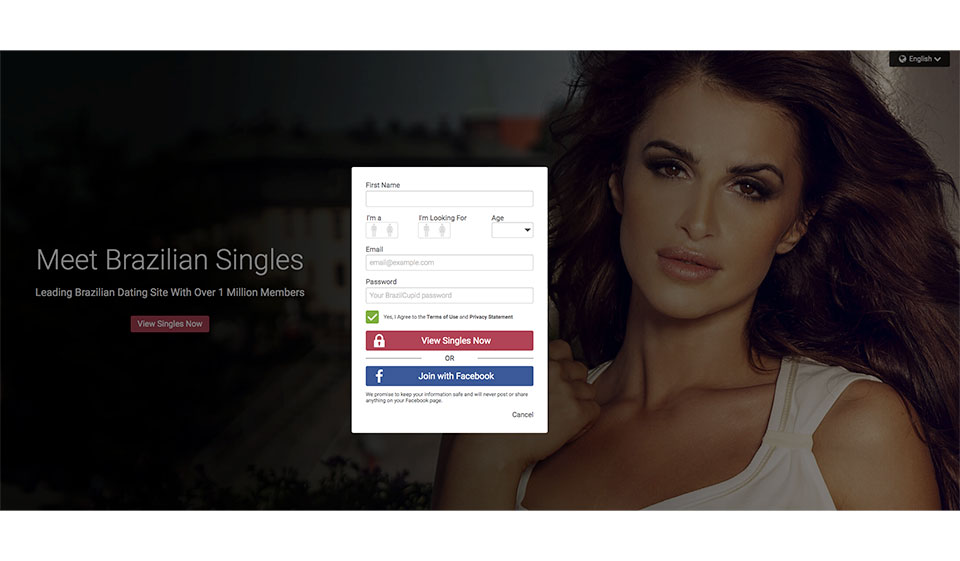 Verdict
If you are on the lookout for the Brazilian partner, BrazilCupid certainly deserves your attention. With numerous features, intuitive interface, mobile app, and affordable pricing policy, this platform stand ahead of its rivals.
BrazilCupid: a perfect platform to find a Latin hottie
Since 2004 BrazilCupid has been operated all around the world. The main aim of the platform is to connect Brazilian singles and let them develop serious relationships. Being operated by well-known Cupid Media, it is considered to be a reliable platform with similar functionality to the other services developed by this company. If you are an experienced online user and tried other websites released by Cupid Media, you will cope with all the functions of BrazilCupid without any hassle. With a variety of attractive Brazilian hotties, you will certainly find the best fit for you. The design and layout of the website are rather user-oriented, but it may seem outdated. However, in terms of features versus successful dating experience, BrazilCupid stands out from similar platforms and delivers impressive dating experience.
Interesting facts about BrazilCupid you should know
The platform features approximately 110,000 registered users worldwide.
Most users are from Brazil, the USA, Turkey, France, and the UK.
The gender ratio is almost equal. 54% of men and 46% of women.
Almost 50,000 users are constantly online.
Around 500 users are registered daily.
It is possible to use a platform on the move via mobile application.
The majority of female members are using free plans on BrazilCupid.
Most of the male users are divorced and looking for serious relationships.
The Process of Registration

The process of registration takes no more than one minute. There are two ways of registering an account. You can sign up either via your email or Facebook. If you register with the help of Facebook, it is even easier. However, you should understand that the information from Facebook will be automatically copied to your BrazilCupid account.
If you don't want to link your Facebook account with the dating platform, then you can choose registration by email. In this case, you will need to specify your name, email, gender, country, city and create a secure password. There is no need to verify your account by email, which makes the sign-up process even more straightforward and faster. After you complete the process of registration, don't waste time and start browsing the site to find an ideal partner for dating.
It is worth noting that you can use a mobile app to start your BrazilCupid journey. The sign-up procedure is identical, so just follow the guidelines mentioned above. Also, if the user is less than 18 years old, creating a profile on BrazilCupid is prohibited.

BrazilCupid provides an asset of interesting features when it comes to getting in touch with other users of the platform. However, if you are using a free plan, the majority of exciting features will be locked for you. This way, the platform ensures that they deliver unique services to their paid users.
The first way to contact the member is to use instant messenger. You can not only text with your potential partner but use real-time video and audio features. It is possible to send messages to anybody. However, if the person you want to communicate doesn't use Gold or Platinum membership, he/she just won't be able to read your texts. Consequently, if both accounts are using standard non-paid plans, they won't be able to communicate with each other. It is worth noting that most ladies on BrazilCupid are using free status.
If you feel like instant messages are not for you, you can use another great feature Cupid Tags. The principle of work is just like adding a hashtag to your social media account. If somebody tags the same hashtag you have specified, your profile will immediately appear. Cupid Tags also serves as an excellent matchmaking function.
Additionally, you can send interests and likes to other users to draw their attention to your profile. Moreover, BrazilCupid offers a chatroom for their users where you can talk for free.
Profile Info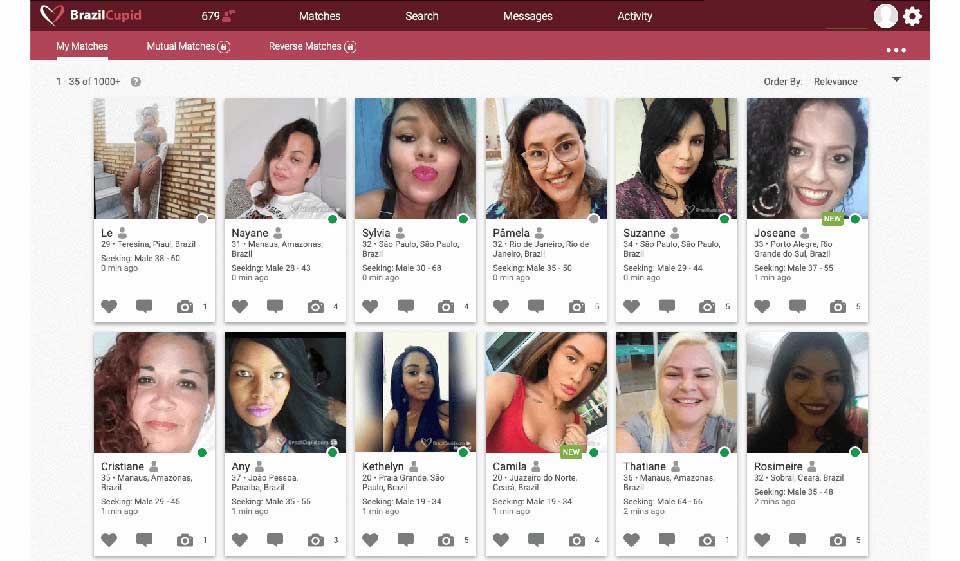 Each registered user can view your profile information. There is no need to tell the whole story of your life when creating an account. You will just need to specify your name, country, city, gender, and age. Also, while visiting your page, BrazilCupid members can see the time of your last activity on the site.
Most importantly, you will need to write a word or two about your preferences and favorite activities. Or, you can write a text something like this: "Text me if you have serious intentions." It is possible to change your profile info whenever you want.
And don't forget to upload your photo. The chances are low that you will quickly find a partner if you communicate with an empty picture profile. Another distinctive feature of the platform is that all the photos are moderated before being displayed on the website.
BrazilCupid has different profiles. You can come across the empty, partially filled, or detailed ones. It is only up to the user how many details he/she want to go into. Needless to say that the more open you are on your page, the more appealing and catchy it will look like. Well-described profiles look more realistic and reliable, and, as statistic shows, get more likes and messages compared to those poorly detailed. By the way, the more info you specify in your profile, the more chances to get the best possible matching results will be.
BrazilCupid Mobile App: Interface and Peculiarities

If you want to always get in touch with your partner, you can use a well-designed mobile app. With the application, you can access all the features of the platform, even on the move. It is possible to easily browse profiles, exchange messages, and receive notifications.
In case you are visiting Brazil, feel free to download the application and look for a pretty lady living near your location. Although BrazilCupid is designed for those who are looking for long-term relations, you can also find here those users who are in search of casual encounters.
The interface of the app is similar to the desktop website. It has a rather simple layout and user-oriented navigation. Despite the outdated and a bit bland design, the app works rather fast, so you won't have any problems with performance. Don't know where to download the mobile application? Go to the Google Play/Apple Store or the BrazilCupid website and start your dating adventure right away!
Distinctive Features of BrazilCupid

BrazilCupid can boast numerous features. In addition to above-mentioned instant messaging and Cupid Tag, you can make the best use of the following perks:
Verification of a member. Your partner can trust you more if he/she sees that you have a verified profile. In case you upload a real photo, and the BrazilCupid admins verified it, there will appear a green mark on your profile. Such accounts are more popular among users, so keep it in mind.
"Send interests" function. It is a useful feature for those who want to express their affection to the user. In your profile, you can find an Activity menu that shows the users who paid are interested in your page. If you like somebody, you can initiate a conversation via instant messenger.
The ability to search by body type. It is a premium feature available only for paid members. It is possible to specify the breast cup size, height, weight, etc.
Fast matchmaking. It is a very interesting feature for those who fancy finding the best match. While browsing a profile of the user, you can activate this feature to see how well you both suit each other. However, if you want to get effective results, your profile should be fully completed. In case you didn't specify any personal details, it won't be possible to find the best match and the perfect partner for you.
Blocklist. If you find any user annoying or rude, you can place him/her on the blacklist. In this case, the blocked users will not be able to view your profile or contact you.
Pricing policy and membership options
Standard membership is free of charge. It allows you to use limited functions of the website, like send interest to members and view their profiles. Also, non-paid users can communicate only with those who purchased Gold or Platinum membership.
Gold membership lets you exchange messages with all users of the platform no matter what their status is. This type of membership costs $10 per month. It is an annual subscription, so you are going to pay $120 and enjoy the pleasant communication for a year. If you don't want to spend such a large amount of money at once, you can try a 3-months membership for $60 or a 1-month membership for $30.
Platinum membership allows you to explore the full potential of BrazilCupid. Being paid an affordable monthly rate only $12.50 (for the annual subscription), you will be able to take the great advantage of the platform. Video calls, translator, innovative matching algorithm, this is only a glimpse of what this website offers for their platinum users. Apart from paying $150 per 12 months, you can try a 3-month Platinum membership for $70 and a 1-month plan for $40.
You can make payments using your credit or debit card, PayPal service, or bank transfer. The membership you have paid for restarts automatically after 1, 3, or 12 months. If you feel like you don't want to pay for the BrazilCupid services, you can visit the billing section on your account and cancel the automatic renewal of membership. Don't forget to do it two days before your membership period expires.
The platform cares about the safety of their clients. The SSL encryption protects all the money transactions related to BrazilCupid. The billing information of the user isn't released or told to third parties.
Moreover, to guarantee the safety and avoid scams, the site moderators carefully scan all the profiles. They delete the fakes or those who are suspected of fraud. If you feel like the person has bad intentions, hurry up to place this profile on the ban list and contact the BrazilCupid administration.
The final word

If you are in search of a safe but fun environment for everyday communication, BrazilCupid is a nice option to choose from. This site is designed not only to get acquainted and get in touch with Brazilian singers but to find a reliable partner. Is this platform worth the money spent? To test the site and familiarize yourself with its capabilities, you can use the Standard membership. Nevertheless, if you see that this platform meets all your requirements and you want to explore it to the fullest, upgrading your user status will be a nice choice.
What type of membership to choose: Gold or Platinum? Everything depends on your preferences. If communicating with other users is enough for you, then the Gold plan will come in handy. If you want to access live video chat, VIP account highlighting, advanced search features, and matching algorithms, the Platinum plan is just what you need. It is worth mentioning that the price range between the Gold and Premium plan is not so high.
So, carefully weigh all the strong and weak points of BrazilCupid to determine whether this dating website is the right choice for you. Because the BrazilCupid team does its best to deliver the best dating experience and not to distrust in the protection of your personal information, it is worth your investment and time. Those who have ever used this dating service tend to like it more!