LatinAmericanCupid is the leading Latin dating website, which is also an integral part of the Cupid Media Network. The platform obtains more than three million users. Thousands of people are attracted to this dating website, which makes LatinAmericanCupid one of the most visited websites that cater to Latin singles.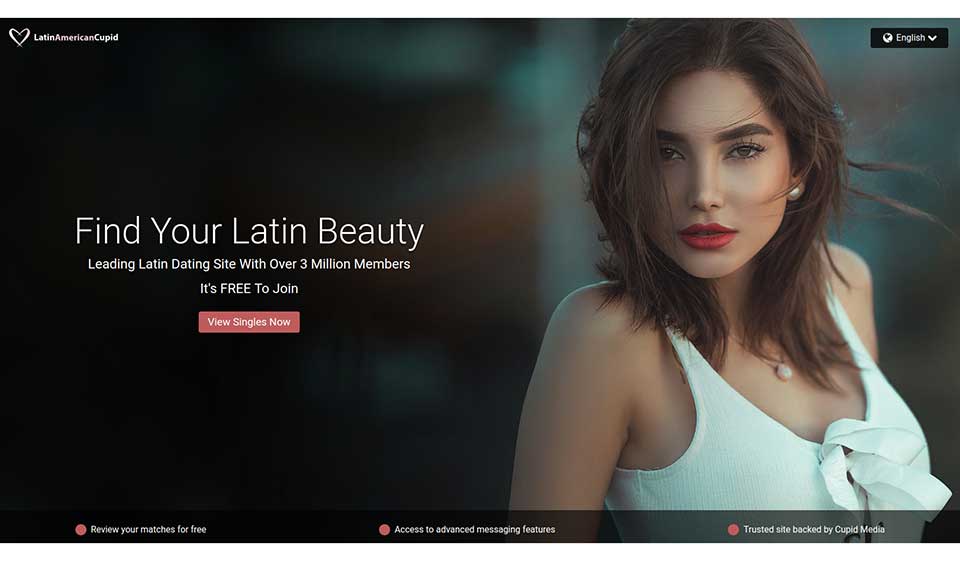 People can access it from all over the world using eight languages and look for any type of relationship from friendship to marriage. Forty percent of men are not Latin, but they are willing to find a Latin partner. They find LatinAmericanCupid useful in meeting them.
Although the dating platform has made all important features available to free users, there are also Gold and Premium memberships. One of the advantages of the website happens to be that there are comprehensive profiles that cover all things one may want to know about another person.
Members are required to fill in questionnaires with information on their physical appearance, personality features, lifestyle preferences, hobbies, languages they speak, etc. This section happens to be very popular among LatinAmericanCupid members. There are also answers to a favorite movie, book, per, article of clothing, color, type of shoes, and more.
Members-to-be writes about their hairstyle, whether they wear glasses or not, whether they have a tattoo, and what kind and what their body measurements are. Users are also allowed to add information on their occupation, religious denomination, their monthly income, and so on. The members of LatinAmericanCupid are also advised to write a brief essay about themselves in which they can emphasize their best personality features and show their sense of humor.
It will allow other members of the platform to know more about you. It will provide them with more information than a photo album and basic characteristics. This way, a solid basis for a meaningful relationship is formed, so there are going to be more chances that it will last long.
How to Make Your Profile More Attractive?

The drawback of obtaining a detailed profile happens to be that almost all LatinAmericanCupid members will not read it carefully. There is a risk that some important things will be lost among less significant ones. Members can make use of CupidTags to avoid this kind of thing. It implies that several keywords are used to make a strong statement about a personality. They are going to be the first thing other LatinAmericanCupid members will see together with a profile picture. Several frequently used tags are independent, smart, optimistic, and open-minded. It is also possible to use CupidTags as search criteria to look for users with similar tags.
Another way to emphasize a profile happens to be adding a video message. You do not have to obtain sophisticated software to record it. You should only have an ordinary webcam with a microphone to make a video that is going to accompany your profile. The tone of our voice and smile can make people perceive you differently. At the same time, this feature is available to paying LatinAmericanCupid members only.
It is also necessary to fill in the "Match Info" section to complete a profile. This one should contain information on what kind of partner a user is looking for. The section allows the platform to come up with those users who correspond to the criteria. The LatinAmericanCupid members can enter any number of them, and they can be regarding weight, height, pets, children, etc. The provided preferences will be used as filters to provide a list of possible partners.
Search Options

The LatinAmericanCupid dating platform is proud to present many options for searching for potential partners. They range from searching for new users, those who have a video gallery, or those who have just uploaded new pictures. LatinAmericanCupid advanced search options include searching by any profile element a member has entered. Members can also search by CupidTags.
Paid and Free Memberships

Many features remain open to all LatinAmericanCupid users. At the same time, if you are not willing to miss anything this dating platform has to offer, you should get subscribed to a Gold or Platinum membership. Free members, though, are not allowed to use the most important thing – communication. They are allowed to send emails to users, but they can read messages form paid users only. Free users can also choose the subject of their email from the provided ones and cannot use a personalized subject. Audio and video messages are only available to LatinAmericanCupid Gold and Platinum members.
If you get subscribed to the Gold membership, you will be allowed to use instant messaging. Get profile ranked higher, and watch videos that can be found on some user profiles. Such users are also allowed to read emails from free members and let them read messages. When it comes to Platinum members, they can send and view video and audio messages as well as get their messages translated into a different language.
Why LatinAmericanCupid Is an Excellent Website for Meeting Latin Singles?

Here the reason why the LatinAmericanCupid dating platform is an excellent service:
There are more than three million people who are using this website.
People are allowed to join for free and browse the database of profiles.
Users can receive practical information on safety and travel in Latin American countries. You can only enter some of the countries if you obtain a valid visa. The LatinAmericanCupid platform can arrange a trip and help to get all the necessary documentation. Health issues are considered, as well. Users can read about the necessary vaccinations and health risks they may face when traveling to a particular region.
The dating website offers instructions on safe money transfer to these countries.
The LatinAmericanCupid website also features a map of time zones so they can quickly determine what tine it is in their potential partner`s area. It will help them to avoid situations when they video-call other users at 4 AM. Thanks to this feature, members will not also feel stressed if their date does not answer right away.
LatinAmericanCupid can help people no matter whether they are looking for a friend to travel with or a romantic partner.
Disadvantages
Nothing is perfect in this world, so the LatinAmericanCupid dating platform has some disadvantages:
The dating platform provides no forums or possibilities to interact in groups.
Free users cannot communicate with each other. Messaging happens to be one of the most important features of any dating website, and only paid users are allowed to enjoy it to the fullest.
Gold and Platinum Memberships Cost
Prices can be different, which depends on the period users get subscribed. You will have to pay 29.99 dollars for a one-month subscription to Gold membership. If you decide to buy a one-year subscription, you will need to pay in advance. The monthly fee will be ten dollars in this case. Platinum membership happens to be a bit more expensive. A one-month subscription costs 34.99 dollars while a one-year subscription will cost you 12.50 dollars per month. If you go for three-month and six-month membership plans, they will cost you 23.33 and 20.00 dollars, respectively. It has to be noted that all LatinAmericanCupid subscription plans renew automatically. If you decide to cancel it, you should do that 24 hours before it expires.
User Feedbacks

Male user (27): "The thing which impressed my most was the number of users online. There are many beautiful girls on this platform. I managed to find two Latin girls, and right now, I am communicating with both of them. Hopefully, I will decide soon, which I like most. It seems that the LatinAmericanCupid website is legit."
Female user (20): "I got registered with the idea to try international dating. I also did not want to be limited to local guys. Although I like Latin men, I would like to date a man whose cultural background is different. The dating platform provides a diversity of profiles to select from. The biggest problem I had to face so far was that I needed to choose from numerous potential partners. I am a standard user tight now, but as my communication options happen to be limited, I am considering buying a membership".
Male user (42): "The most annoying thing with this kind of website is that they advertise to be a free service, but you will have to pay for all the important options. I was delighted by the number of attractive girls on the LatinAmericanCupid platform. Still, I was disappointed when I realized I had to pay to send messages. I am weighing the options and trying to decide if I purchase a subscription or not.
Conclusion on LatinAmericanCupid

This dating platform caters to not only Latin users but also people of different cultures and ethnic backgrounds who are interested in dating Latinas and Latinos. The members of LatinAmericanCupid are mostly males. At the same time, there are more than three million users, which imply that the chances of finding the one are pretty high here. Latin people join this dating platform for two reasons: they either want to marry abroad, or they are willing to date people who have a similar background. There is around 40 percent of males with non-Latin descent, so the first one is an easy goal to attain.
The registration process is rather simple. The users of LatinAmericanCupid can even use their Facebook accounts to join the platform. It is also possible to sign up with a valid email address. All the personal details provided by new members are revised by the sites team of dedicated employees. It makes sure that there are no celebrity photos in the accounts. Thanks to this, there are very few fake accounts. This way, LatinAmericanCupid profiles are provided with credibility because you can trust that members who pass the teams control are created by individuals looking for someone special.
It has to be noted that the messaging system is rather straightforward. LatinAmericanCupid free members are allowed to send their messages to Gold and Platinum members only. Free users can start a conversation with each other by making use of the "show interest" function or by creating a favorite profiles list and adding other free members to it.
The quality of LatinAmericanCupid user profiles is good. The completed profiles happen to be rather detailed and provide excellent insight into what a member is really about. The bad part is that not all members make efforts to complete their profiles, so they remain sketchy.
One more great thing about the LatinAmericanCupid dating platform happens to be the absence of pop-up ads. Nothing distracts members or irritates them while using the website. There is also a mobile application which is available for free download on Google Play Store. It can help the LatinAmericanCupid users to interact with each other, regardless of their location. At the same time, this app is not available in the App Store right now, which can be a big problem because many people from the USA use iOS phones. If a registered user is not willing to use LatinAmericanCupid, it is allowed to delete the profile from the database. If they decide to reactivate it later, they will have to fill in the Request for Membership Reactivation form. After that, they will have to wait one or two days for it to get approved.
This review aimed to cover all the major things which could be interesting to potential LatinAmericanCupid users.