You should pay your attention to Ashley Madison, if you are willing to meet people without any obligations. The website started operating in 2001 and was meant for people looking for a hookup. These days it is claimed that this dating platform has many more options, but the main focus of Ashley Madison is still the same. There are no strings attached, especially at first. You can use this dating platform if you are new to this kind of things. This way, you will see if you like online dating. In addition to the casual attitude to relationship and flirting, it seems that clients do not have much in common. This is because they all do different things and come from different cultures. The major common interest happens to be the willing to find a one-night stand or a partner for an open relationship.
In 2015, there was a big scandal because some personal data leaked online. Because of that Ashley Madison had to revise the security policies. It was very unpleasant, so the platform is using such protection algorithms which are more sophisticated and completely safe. Now, it is tome to learn more about Ashley Madison policies, members and navigation.
Who You Can Meet?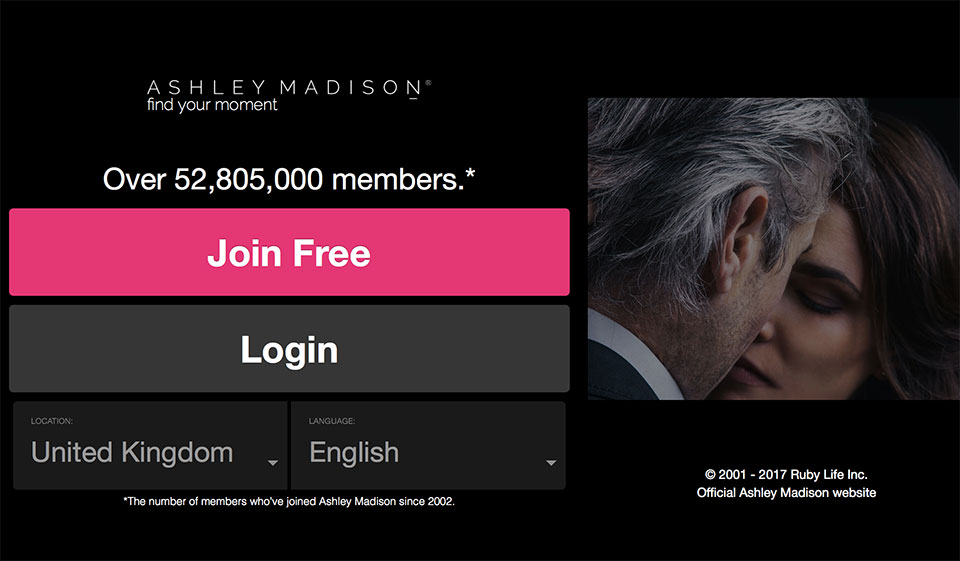 On Ashley Madison the number of males and the number of females happen to be well-balanced. The ages of users happen to be different, but the vast majority is from 35 to 44 years old. When it comes to this age segment, you will find that there are more men than women. At the same time, the difference of 2-3 per cent is not that significant. This is not surprising, though, taking into consideration the specifics of the dating platform. In general, the number of men and women is equal, so you will not face difficulties when looking for a sex partner here.
How Do I Get Started on Ashley Madison?
Like the majority of other dating platforms, Ashley Madison registration happens to be free of charge. Moreover, it will not take too much time to do that. Another good thing is that you will not have to provide too much information to set up a profile. In fact, you will spend only several minutes to sign up. You are not required to write long descriptions of yourself and your ideal partner. All Ashley Madison users need to do is to provide some basic things such as height, weight, age, marital status and more. As soon as you do that, you can browse through the profiles of other users to find someone to hook up.
You should also know that you will have to provide a valid email to get registered on Ashley Madison. They also recommend to include an address with does not show your real name or too many personal details. The best thing you can do is to create a new email which is going to be used with Ashley Madison. This is how it is possible to protect personal information and separate work and family-related emails from private dating messages.
In addition to that, users do not have to indicate their real name when they are getting registered. They can just make up a nickname, and then when they find someone they like, they can say such details.
First Notifications On Ashley Madison Website

Another reason why it is better to obtain a separate email for Ashley Madison, it that users tend to receive a lot of notifications. When they get registered, they are immediately notified regarding the most suitable matches in their area. This is done according to their zip code. They can also go for an option to meet other users while travelling. This is possible thanks to Travelling Man feature.
There are also emails notifying about messages received from other Ashley Madison users. It is also possible to get instant notifications. Another kind of notifications happens to be regarding any changes in the services of the platform. Clients are allowed to get unsubscribed from them, but it is recommended to read emails about all policy updates which will help to stay safe.
How Do I Get in Touch With Other Users?

If a user like someone on Ashley Madison and is willing to chat, a free membership is not enough. The thing is that only paid clients are able to send and receive messages, but this goes for makes only. Female users of Ashley Madison are allowed to chat and send email as much as they want without paying any additional charges. However, men can send their first message free of charge. In case if the woman they like responds, they are free to continue by purchasing more credits which are to be spent on letters and chats. At the same time, males obtain an extra option that can be used to impress – gifts. It is up to every client whether to send them or not.
Profiles Information

The profiles you can view on Ashley Madison will not provide you with too much information. As it was discussed above, the users are not required to answer a lot of questions when getting registered. At the same time, they are allowed to edit and modify their profiles after the registration is completed. However, if you ever visit the Ashley Madison website, you will see that very few clients do that. Thus, in the majority of the cases, people have to deal with the information provided initially. So, if you are willing to find out more things about a user, you will have to send a message to this person.
If you are willing to provide more information, you can allow Ashley Madison website to guide you through the process of filling in your profile. This way you will need to provide more details about yourself as well as asked what you are willing to find in a potential partner. There will also be some tips on what kind of pictures are more suitable for the platform. Then again, there are very few people who bother to do that. It is quite often that sexual preferences are absent on client profiles. This happens to be rather inconvenient because Ashley Madison is a website which is supposed to help you to find a sex partner.
Mobile App
It is crucial for every website providing services to obtain a mobile application. Another good thing about Ashley Madison is that there is an app which is compatible with Android and iOS. The icon happens to be "AM" and does not draw unnecessary attention to it. The functionality of the mobile application happens to be pretty similar to the one of the website. The biggest advantage of using it is that you are able to chat and flirt irrespective of time and place.
In addition to that, utilizing Ashley Madison is not going to cost you anything. You should mind it that in the case of becoming a paid membership via this mobile application, your payment is going to be processed by third parties such as Google Store or App Store. If you decide to cancel your membership and payments, you will also be obliged to do that using your mobile device. of course, this cannot be called an inconvenience, but you should still be aware of that.
How Much Will Ashley Madison Cost?

Ashley Madison dating platform is not too expensive. One can say that the pricing happens to be average. Users need to pay for the services they are making use of such as chats, letters and others. It is necessary to purchase credits to pay for them. This should be done in advance. Then again, you should remember that Ashley Madison happens to be free of charge for female users – men are the ones who have to pay.
It is also to be mentioned that the more a user pays the less the credits eventually cost. The minimum purchase makes up 100 credits, and each is going to cost 0.49 cents. If they buy 500 credits, the price per one credit is 0.29 dollars. Consequently, if you purchase 1000 credits for 240 dollars, every credit will cost you 0.24 dollars.
Every message a man send is going to cost five credits. You should know that the price for receiving and sending messages happens to be the same. This implies that males are going to pay for every opened message that is got from another client as well. The good part is that they are also allowed to send priority messages for the same price, and they are going to stay on the top of a client`s inbox. In addition to that, if another user starts a conversation, it is allowed to mark the messages as "initiated by another user" and read them free of charge.
In case of starting a live chat, clients will need to pay thirty credits while a one-hour chat is going to cost 50 credits. As soon as this hour passes, the user will be charged another thirty credits and twenty more when the hour ends.
The users are allowed to send virtual gifts to females they like, and they will be required to pay from 20 to 50 credits for that. However, if they are looking for a quick hook up, this feature may be pointless.
Ashley Madison users can pay for credits with the help of their credit cards or PayPal. One more discreet benefit is that the credit card is going to be charged for "online services". This means that Ashley Madison will not be mentioned in the bill. If you are not willing to pay anything, you can use free services such as registration, sending winks and viewing profiles. At the same time, if you opt for becoming a paid member, you will be required to pay for an activation fee. It is going to cost you 19 dollars. When you decide to cancel it, you will have to pay the same price.
Additional Perks

There are some extra perks of Ashley Madison one should know:
All the pictures users upload happen to be visible to all users including the free ones. if you do not like it, you can utilize the site features which makes it possible to blur certain parts of the photo. This can be done not only for the background but for the person as well. Users can show these photos to other users when they want to. Although this may be inconvenient when you are looking for a potential partner, this feature protects privacy until the users decide to stop protecting it.
If Ashley Madison users want to boost their profile views, they are allowed to order a priority profile feature. As they get it, the profile is going to be marked and be in the top three for females in the clients` area.
This Ashley Madison feature can be used by people who travel a lot. With its help, they can find females wherever they go. This means that a quick hook up is possible in almost any city.
Сonclusion

In general, Ashley Madison is a great dating platform for all clients who are not willing to engage in a serious relationship. The website protects their personal data and does not make people disclose too many personal details. The drawback is that it is not possible to find out more information about other users as well.
Ashley Madison offers its clients both desktop and mobile versions which are easy to use. Thus, people always get what they pay for. This is that service where only male users pay which may be taken as an unfair one at first. But, if you think more carefully, this makes sense as men are provided with more features than females. This includes meeting females in the current location and priority messages. Ashley Madison is not the website you can use for a relationship. But, if you are looking for fun, you should go for it.