CharmDate welcomes people from all countries. It is an international community where you can meet beautiful people from North America, Europe, South America, Asia, or the Asian Pacific. Most of the members are motivated to meet, communicate, and hookup with gorgeous Russian, Ukrainian, and even Latino ladies. If you dream of meeting women like that, CharmDate is the best online platform to satisfy your dreams. Everyone interested can browse millions of users' profiles without paying anything. The only condition you have to respect is to create your member profile on the site. The site helps people find exciting people to share small talk, as well as to build long-term relationships that have all the chances to grow until marriage. Even free users get access to advanced search tools to find potential partners for further communication and possible relationships of your secret dreams.
CharmDate was launched in 1998. It already has a long history with thousands of happy couples. The site has the only goal to assist both women and men in finding perfect matches. We encourage you to try interacting with other members by means of text messages or online chat. You can use the site according to your needs and level of comfortability.
Start your romantic and passionate experience with CharmDate by filling out a standard membership form. As soon as the signing up process is finished, it is time to move forward and browse profiles. Everyone can become a Premium user. You can do it when you feel. No one will push you to do it. The advantage of a paid subscription plan is the possibility to access plenty of services and features, for example, EMG Mail, Live Chat, Call Service, and CamShare. Besides, all premium members can get many different products after purchasing credits. We can assure you that the cost of a premium plan is affordable to everybody. This investment is reasonable if you are confident of finding long-lasting relationships. Sometimes we have to pay to get closer to our dreams.
Finding Your Big Love With CharmDate

You can access the official site of CharmDate or use the app to start communicating with gorgeous young ladies. The best thing is to do it from home or on the go, in case you use the app. You will see that the registration of new members and scanning profiles is effortless. Even if your level of techies is not high, you will face no problems. The user-interface and the navigation algorithm are intuitive and self-explanatory. You will get all you need on the CharmDate site.
During the registration process, you should be ready to provide answers from the questionnaire form. This information can help to narrow and filter the match search. Women take their time to fulfill their profiles with personal data and eye-catching photos. All of them feel confident and have no doubts about meeting the man of their dreams. When needed, you can make an intensive search session to get better results. The questionnaire forms contain questions about gender you look for, interests, and age category. Also, there are questions about your place of living, your lifestyle, hobbies, type of appearance, and other characteristics that describe your inner and outer beauty. It is crucial to get the focus as narrow as possible. We recommend all new members to make detailed profiles. It will increase the rate of your profile and your chances to find a man/woman who fits your expectations.
CharmDate Provides HighQuality Dating Services And Support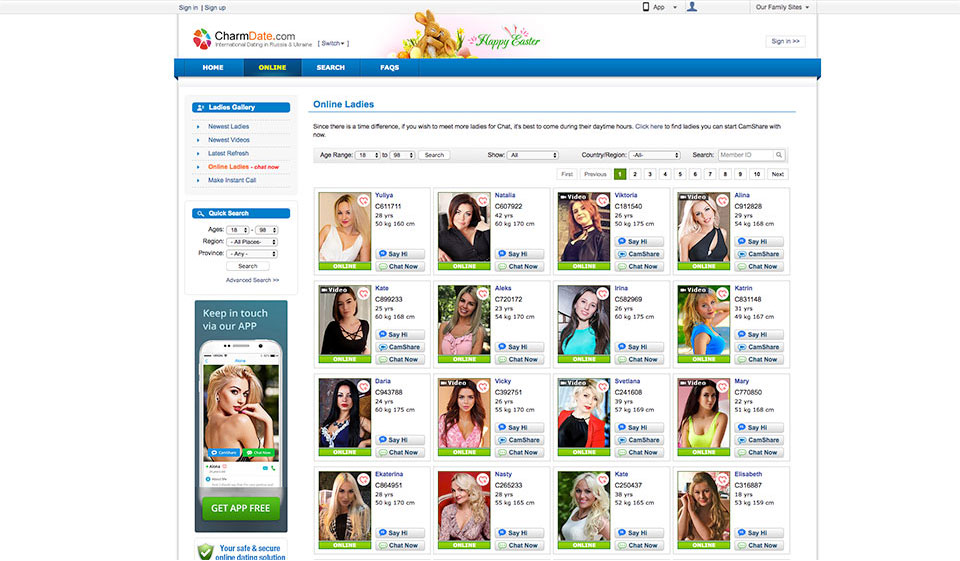 You risk nothing to become a member of CharmDate. It is so exciting to scan members' profiles without even paying anything. Even basic members can send messages to get to know other members better and express shared interests. As soon as you start feeling more comfortable with the services of CharmDate, it is time to purchase some extra credits. The site offers plenty of advanced paid services to make your experience positive and in-depth conversations more pleasant. You can buy cute virtual gifts, send virtual flowers, interact with potential dates via CamShare feature. There are so many things to explore on CharmDate.
There are many different ways people use CharmDate. Depending on your own approach, you can choose from several possible ways to browse members' profiles. You can start with a quick search, which is focused on finding potential matches based on certain conditions. If you are not happy with the search results, we encourage you to try the advanced search tool. This match-making mechanism will refine the listings by such characteristics as the height, job, education, country, or other personal qualities. CharmDate members can search by Member ID or filter the profiles who have joined the community recently, or who are active right now to jump to the conversation straight away.
CharmDate is the site for everybody. You can be a complete amateur in the online dating world or an experienced user; all of you have good chances to find a friend or a life partner through this dating platform. You will appreciate having access to a lot of comprehensive services, for example, the possibility to send virtual flowers or other cute gifts to those members you feel a deep connection and willingness to communicate and get to know each other better.
Top Women Choose CharmDate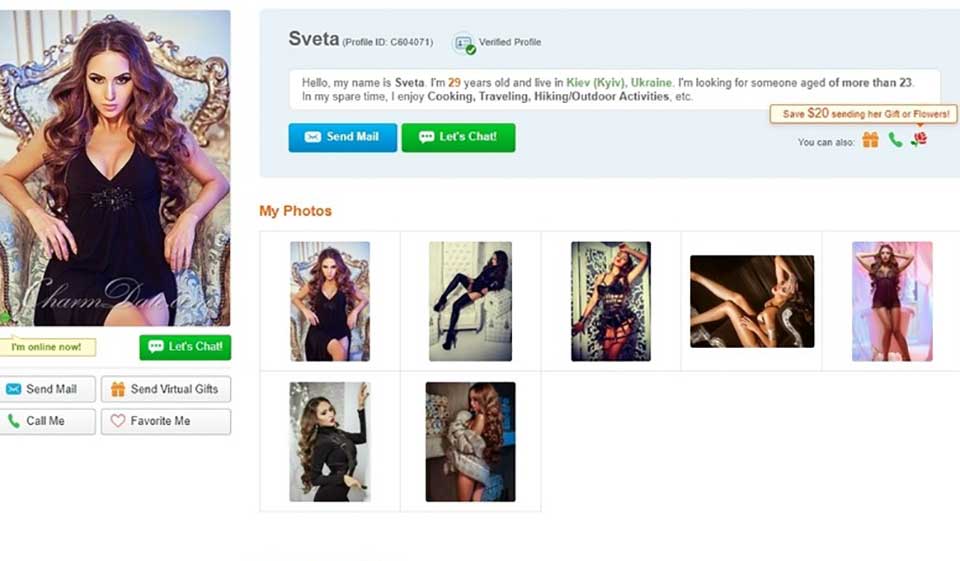 Charmdate is focused on providing services to communicate with ladies from around the globe. The most significant number of women come from Latin America, Ukraine, and the Russian Federation. Why are these so many men who are looking for these types of women? The main reason is evident as soon as you see the profiles. They are unbelievable, beautiful, and feminine. The second reason is that those women have serious intentions to start long and stable relationships. The third reason is the desire of women to meet foreign men. They are interested and curious to start a relationship with a man from a different country. They want to experience new cultures and bring new colors to their lives. However, there are plenty of ladies who are open just for chattings. You can decide what exactly you want, either an interesting one-time conversation or the possibility of creating a family with children. That is why we encourage you to use the search tool to find the right woman based on shared interests and mutual expectations.
Men are lucky to have access to more than 7000 profiles of women waiting to meet them in real life. This number of online users varies during the day and days of the week. Despite the time when you log in on CharmDate, your chances to find your woman who is available to chat are very high.
Plenty Of Women To Chat on CharmDate

Every woman who wants to become a new member has to accomplish an extensive profiling process. It is an essential measure to guarantee that enough personal information is visible on the site. All the provided information gets thoroughly verified by moderators. Other members can see the main pictures of women, but they also have additional images enclosed. Men can discover what women like, their interests, marital status, deepest desires, occupation, whether they have children or they plan to have some in the future, and of course, their age. Dating online saves a lot of time. Imagine that you meet a charming lady in the local park, it can take you days of communicating to find out all these details. Besides, the data is well-organized in a friendly format for reading.
Protecting CharmDate Members

As you already know, CharmDate has been present in the dating market for 20 years. The developer protects all the members with the Client Protection Policy. You can read the information to find safety recommendations about what you should do in case of scams.
Read The Following CharmDate Safety Recommendations To Protect Yourself:
By no means, you should not transfer money/costly gifts to CharmDate members.
It is not recommended to start correspondence outside of the CharmDate site because you take additional risks.
Before you do not know the person so well, there is no need to share your personal photographs because you do not see how they will be used.
We encourage you to use the "Call Service" and "CamShare" features to get familiar with people.
The following protection services are included in the Client Protection Policy. They can cover the cases where:
A new member has created a profile without any authorization from the concerned person.
You communicate with a particular member who is not supposed to be.
Dating services are not delivered on time.
Various situations appear, which are described in the Refund Policy section.
The Principal Technical Issues That May Occur On CharmDate
If you want to send a complaint to CharmDate, you have ninety days for submitting your personal request. Note that applications get reviewed only if the person is a premium user. Charmdate cares about the security and safety of all the members. You can get in contact with the highly-qualified customer service team, who is ready to assist you in case of arising questions or complaints.
CharmDate: Find Your Great Love
CharmDate proves that it is not expensive to find true love online. You can use all the advantages of free membership. However, you can boost your dating experience being a premium member. The site recommends buying credits, which you can use to get access to additional services.
Paid CharmDate Membership Services Are The Following:

EMF Mail will cost you one credit. You get access to read/send a single private message.
Live Chat will cost you five credits per 5 minutes for text. Alternatively, you can get one credit for 5 minutes of a one-way video conversation.
CamShare will cost you six credits per a single minute.
Call Service will cost you one credit per minute.
Gifts/Flowers do not have fixed prices.
As you can see from the following listing, all the prices of CharmDate are affordable for all the members. We recommend CharmDate to all men who have serious intentions to meet a special woman. If you like daily chatting with beautiful ladies, the site is the ideal solution, which you have been waiting for. CharmDate has an excellent reputation for its affordable and secure services. Do not miss a chance to develop a long-term relationship, create a loving family with children, and finally meet your soulmate.
Conclusion

CharmDate is a popular site in the global dating industry. It is a part of the Qpid network, which includes several reliable dating services for both men and women. Men from many countries come to this site to find brides. CharmDate is proud of its success record of international couples who meet each other via the dating service. That is why the general overview of the site is optimistic. You will love its well-organized and beautiful design. If you dream of meeting a Slavic or Latin lady, you found the right place. Most users send positive feedback in terms of quality of profiles, features, and customer support. Hopefully, our review vanished your fears and hesitations. It is time to open your heart for your great love!
We all know that Slavic women are lovely and desired all around the world. CharmDate is the place to meet women with their unique and tender beauty. Ukrainian and Russian women have very emotional personalities, and they become excellent brides, wives, and loving mothers. Use the site to meet passionate women who are family-oriented. You will be amazed by their inside and outside beauty. Would you like to try? CharmDate is the best site for you!