Do you belong to the swinger group of people? Thanks to Swinging Heaven, there are huge opportunities for you to meet swingers and satisfy your desires.
Swinging Heaven is a niched online dating platform based in United Kingdom. As every online dating platform, the Swinging Heaven has some advantages and disadvantages too. Let's see the pros of this dating website first, and after that we can check up the cons.
For example, big advantage of this online dating website is the registration process. The user's signing up is really easy and quick and it will takes only couple of minutes. There are various clubs and night events which organization belongs to Swinging Heaven. Also, there is an option for the user to create different galleries where he or she can upload various photos, videos and interesting stories for other site members' attention. Next, the big plus on this dating website is the wide choice of communications channels and tools available in Swinging Heaven. Another great thing the site member can use is the option for posting personal ads.
The ads can be seen from the site members and the most interested ones will contact the ads owner for a hot date or relationship purposes. There are better messaging chances in comparison with other online dating websites because the sending and receiving messages is totally free for every user and he or she can send up to three messages per day. For paid membership there are more messages quantity. Also, the profile picture can be seen by anyone of the platform for free because the safety is on high level and the Swinging Heaven users can feel free using this platform.
On the other hand, the Swinging Heaven has some disadvantages too. For example, this online dating website has not mobile app and that means the users cannot use this dating platform on the go. Also, for the men's bad luck, there are very little single women profiles. So the researching for the serious relationship or maybe marriage with matching woman here will be a little bit problematic.
Swinging Heaven – dating platform for finding swinging partner's fun

To make the things clear, swingers are people who are sexually active and they know how to deal with this social satisfaction and desire. There are so many theories about the swingers and their perverse dirty mind, but there is nothing wrong with these adult people who know how to deal with it and try to make their desires satisfied. As you can noticed, the Swinging Heaven is an unique online dating platform in comparison with other dating websites launched on the internet because of its certain niche and people's different third party opportunities. Swinging Heaven is designed to connect swingers from all around the world. The most active users come from United Kingdom, where this platform is located, United States, Canada, Australia and many more. So, there will be provided information for the home based swinging website, or more certainly United Kingdom's Swinging Heaven dating platform.
As we mentioned before, this online dating platform for swingers works on specific way using particular activities included there. For example, the swingers can communicate with other members here in hope to find interested partner for friendship with benefits and adventure. There is also an option for the site users to find someone for hot date and sex adventure for one night, as well as so many fetishes that are involved in people's sexual satisfaction. The good thing here is that the site members can discuss with each other for dirty fantasies and stories without being judged for it. If the users want to be site members because they want to find emotional partner or partner for a potential marriage, they are on totally wrong place and need to find other place for their concrete desires.
Signing up and profile usability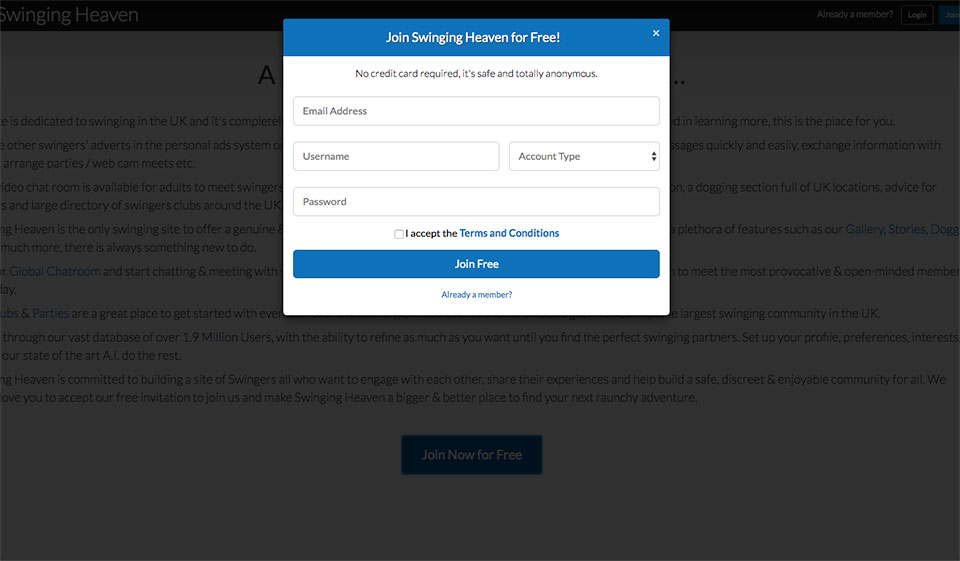 The registration process in Swinging Heaven platform is really quick and easy, maybe the faster registration process in comparison with other online dating platforms. The new user will be required to enter full name, email address and password, as well as site username and wanted account type. The only thing that is missing in comparison with other dating website is signing up option via Facebook. There is no option on Swinging Heaven for the users to sign up with their Facebook information.
On the other hand, the users can create an account choosing various options for account type, like single male, female or couple. With choosing one of this option, this dating website will create your own account and inbox related to the chosen option before, easy and quick in a minute. After the registration processes, the registered account need to be verified, of course.
There will be verification link sent from Swinging Heaven on the email address entered by the user in the previous registration step. With clicking the verification link, the user will be required to upload profile photo with clear face and paper with the username entered on the profile. This photo will be used only for verification purposes, so the user needs to deliver this document as soon as possible.
Also, after the verification processes, there are many profiles fields that need to be fulfilled by the user. There will be the profile fields related to personal information, hobbies, fetishes, sexual determination, for example gay, lesbian, straight, trans and other, as well as the sexual activities the site user are willing to do, like cybersex, hot presentation, sex-chat and other. Also, the site users can upload couple of photos and create a gallery which can be private and public for all the site users. For the private galleries, the user can choose who can see their pictures from that album after connecting with another site member. Site members can modify their profiles anytime, but they need to keep in mind that before making the profile fully fulfilled, the user will not be able to by membership subscription and unlock all advanced site features. If the site users have some reports for bad behavior and violence, the message will be delivered to him for future site using.
Of course, Swinging Heaven as an online dating website has awesome and super effective site features that are really important for better and faster partner matching and finding someone for sexual satisfaction. For the people who disturb you and make you feel safety endanger, there is an option for blocking them or report them to the Swinging Heaven administration and the situation will be clear really quickly. The site user can be banned from the site and will get temporary suspension because of the bad behavior and breaking the site rules. This kind of notification will be send via email with full explanation for that ban and suspension.
After that, if the banned user thinks that it was horrible mistake, there is an option for contacting the Swinging Heaven support team and try to make the things clear for again account using. On the other hand, if the site user does not want to be member of this online dating platform, there is a clear option for account deactivation and permanently deleting. After that, the user need to keep in mind that the deleted account cannot be reactivate again and for another site using, the user will be required to register themselves again in Swinging Heaven from the beginning with another email and username, from scratch.
Paid and free communication versions

The big opportunity related to Swinging Heaven communication features is that this online dating website allows the users to use almost whole communication set for free, without extra fees and security terms. The users who are using this online dating website for free can use all the browsing features and get into various groups for messaging and video chatting in the chat rooms. If the user cannot enter in a group, that is because there is no invitation for him to enter in the certain group. Free users can also start a conversation with potential partner but only three times per day, this is still good possibility for free users.
When the site users will decide to upgrade the subscription plan and buy a premium membership subscription, there would be an opportunity for those members to send unlimited messages per day, starting video chat with other members and so on.
The premium subscribers can also get access to all the pictures and galleries as well as the public stories and videos uploaded by the site members. On the other hand, the premium Swinging Heaven members will have a chance to start a video chat and create a group first, as well as the personal ads can be created and highlighted on the users' profile too. When the premium site members will face an account issue, the support team will help them privileged using advanced helping activities for problem solving.
First feature is related to the messages that are included in Swinging Heaven known as quickies. These messages are written texts templates with proven efficiency and engagement that site users can use them for potential partner messaging and starting conversation without texting it again and again all the time. The templates are really simple and basic with basic everyday questions that are really catchy and powerful.
Next, there are super powerful features that allow the users to upload multiple photos and create galleries, upload videos and catchy stories. This is the really important for the swingers on this online dating website because of sharing the experience they have on Swinging Heaven. Some site members prefer to make galleries and upload videos while some of them decided to write a few sentences on their profile bio and similar texts. The site member can check up these galleries and stories from the other site members and show some interest on them.
Another good feature based on Swinging Heaven dating platform is called dogging. This feature is related to entering some hobbies and interests on the profile. The Swinging Heaven members can check up some recommendations for seeing some places for dating and having dinner with the partner in comfortable ambient.
We are moving on the next awesome feature on Swinging Heaven related to clubs and events. It is always the best option for the swingers to meet each other on the swinger clubs and the different parties in the local area. The users can check out all the events and enjoy being around the swinger in the local club. The premium site subscribers can create an event by themselves and intend other people to visit it.
The last but not least, here are the personal ads. These personal ads are super useful for site members who have some tech skills to write some catchy text and upload some photos. These ads can be shown on the Swinging Heaven website. These personal ads can be seen from any other site member and they can show some interest on you, so the chances for partner finding will be really increased and bigger than anyone else.
Membership Plans And Costs

As it was mentioned before, the Swinging Heaven has two membership types, the Premium and Premium and Extras. The prices are different and not really big in comparison with other online dating platform. For example, one month membership subscription on Swinging Heaven will cost the new user 16.95 GBP. For one year of being a member, the site user needs to pay 56.95 GBP. Although, to get full access to all Swinging Heaven features, the site user need to buy the Premium and Extras membership that will cost him 19.95 GBP monthly or 74.95 GBP per year. The payment can go through credit cards and there are no additional payment methods.
The Setbacks Of Platform

There are many setbacks the user will face off while using the Swinging Heaven online dating platform. For example, the mobile app. Swinging Heaven has not launched their mobile app yet and this in a little disadvantage in comparison with other dating websites with mobile app in their pocket. The smartphone users, both Android and iOS, cannot use the download mobile app, but if they still want to find a potential partner with their smartphone, then they need to use the mobile phone browser.
Also, there are only a few women profiles which are marked as single. That means that only a few single women are willing for a swinging date and this is not really good for the male users. If this information is disappointed for you, then find another dating platform as an alternative.
Conclusion

We can notice that Swinging Heaven is dating platform for swingers who are potentially based in UK. This website is really safe and the scammer's rate is really low. Also, this online dating platform is super friendly for everyone who wants to find friend with benefit or enjoy in hot one night adventure. Also, there are swinger's clubs events which are organized by the Swinging Heaven itself.