OkCupid has been one of the most popular services since 2004 and presently has more than 10 million users. After a rebranding campaign in 2018, it received the appearance that one sees today. "Dating deserves better", the slogan that opens up a new road to possibilities for the rebranded platform. Striving for success, OkCupid implemented new policy of tolerance to minorities and eliminated all unpleasant issues that a user may encounter in online dating.
You may have already seen its provocative advertisements with same-sex partners promoting OkCupid alongside with heterosexual couples. Catchy phrases, jokes on the brink and campaigns going the fine line, all this makes the platform outstanding among usual dating sites. This gives a clear understanding that OkCupid is not like the others and has something unique to offer to its users.
Being different from average dating platforms, the main goal of OkCupid is still helping people to find the right match that will meet their wishes and expectations. However, apart from assistance in date matching, the platform aims at providing its users with comfort conditions and possibilities to enjoy the service to the fullest. Namely, you won't see 3-pages reports on "my dream partner" or countless question-answer forms that will make you bored in a minute.
Moreover, OkCupid takes care of its customer's safety and keeps their data completely secure. The platform also offers constant protection from scam or malicious actions of any ill-intended people. You may wonder how one can guarantee protected experience without making people to tell much personal information OkCupid managed to resolve this dilemma. In fact, the developers of the platform provided a unique algorithm to solve the issue. Multiple useful features, both free and offered in paid membership plans, extensive database, secure connection, protection from creeps, user-friendly interface, all these are combined in OkCupid. Let us see what the platform has in it in detail.
Setting Up a Profile Has Never Been Easier!

The very first outstanding feature that differentiates the platform from others is evident once you load the website page and start registering your profile. Gender identity field offers you 12 options to choose from. This way, any intolerant person will deny registering immediately and you may be sure that you will not meet such a bigoted individual while on the website. In case a person is OK with this point, there is another issue that will avert them, as many as 20 sexual orientations to choose from to fill a profile with information of maximum preciseness. Someone may consider it an unprofitable policy due to the fact that it may scare off a great part of potential users. And this is exactly the way the most dating platforms built their policy. OkCupid shows fearless attitude to the point and implemented two ideas at the same time First, this makes the company look like the one that has strong principles unlike their greedy rivals. Second, the platform becomes a safe place for progressive individuals that may thus enjoy comfortable dating experience. Hardly will you find a more disappointing situation than being stuck in a political debate on a dating platform. And supporters and strong opponents of OkCupid tolerant approach may agree with that. Therefore, they will consider the platform's policies beneficial, leaving conflicts and tiresome argues to other social media.
The policy of OkCupid undermines individuality of every person. According to their starting page, "you are more than just a photo." It is obvious that no photo can tell the story of an individual's life, and no photo can translate what kind of person is in front of you on the screen. The developers understand that different people have different experience and stories to share, and believe that this is more interesting than discussing the weather outside. They aim at people's matching based on their interests, hobbies, opinions, and views rather than appearance tastes and good-looking photos. As per the platform's slogan, this is because any individual deserves better than being judged by a single photo.
Another point that most people hate is filling in the forms with multiple questions. There is no fun when you feel like you are 10 and back at school again. It may appear so boring that an individual may not even finish the process of registering. Moreover, many of the questions, such as "Do you consider yourself a greedy person?" or "Have you ever cheated?" are too personal and straightforward. Such questions assume the only one answer, which may result in some people not answering the truth. Thus. There is no point in such questionnaires at all.
Sure, to create your profile on OkCupid, you will need to answer some questions as well. Still, the platform offers the questions in a more indirect way, which makes the process more safe and fun. For example, there are questions like, "Would you like you future relationships to last like your previous ones?" Though none of the questions are obligatory, you will have to answer a set amount of them before proceeding with registration. In such a way, you can choose which questions to answer and may skip the ones that you are uncomfortable with. The process is easy and takes only a few minutes. Once you are finished with questions, you may upload your profile photo and start your dating experience.
Kinds of People on OkCupid

As we have already mentioned, people registering OkCupid are liberated and progressive individuals who may prefer any type of relationships. This means there are not only one-night stands or life-time marriages but also anything in between. This way, you will not find the platform suitable for you if you are aiming only for "respectable" relationships and hate admitting the existence of other kinds. In this case, you may like other dating websites like eHarmony or something.
Conversely, if you expect your date to be more concerned with environmental or societal issues rather than the amount of children they want, OkCupid may be just the right place for you. Apart from the questions that you need to answer during the registration, there are other multiple forms you may want to fill in. These are non-obligatory questions that you may or may not answer but may be useful if you want to specify your profile. What's peculiar, to find the best match, these include political questions, from which other platforms usually shy away. This, again, leads us to the conclusion that OkCupid is a very special and modern platform, which is distinctive from other available services.
In brief, OkCupid is a unique platform where you can have unconventional conversations about your topics of interest with your potential dates.
What Kind of Online Dating Experience is on OkCupid?

As was described above, the platform provides a safe space for progressive individuals where one can engage into various dialogues more freely and willingly. This means you do not have to wait for your first messages or likes being afraid you will not get one. Due to special algorithms of OkCupid and its extensive database, you may be sure this won't be a problem. Besides, the platform's interface is rather minimalistic, there are only two notification bars, for likes and for messages. Due to this, even a newbie user will not get confused by the interface. There are no multiple winks or nudges or virtual presents that usually avert individuals from such intrusive interactions.
The app version of the website offers Tinder-like feature of swiping with some information on photos so you can have a better understanding about a person before you like or dislike them. There are also interesting and engaging questions that pop up at random times during the swiping process. In addition to what has been said, the app version shares all the same functions that its desktop counterpart has.
Really Tricky Messaging Processes

Like any other dating website, OkCupid received multiple complaints from customers who got unwanted messages from creepy users (and for some reason "forgot" to block such users). Therefore, to eliminate such cases, the platform launched a feature that removes open messaging at all. This way, you can only write to a person whom you liked and who liked you back. In other words, a match should happen to start a dialogue with someone. However, such a policy has both pros and cons. As such, this blocks you from users whom you did not get to yet or potential dates that looked "weird" to you but only at first glance. Judging from this point of view, this approach may be ostensible. It may appear that simply ignoring or blocking creepy strangers would be enough. Conversely, when you start chatting, you do this with a person whom you liked and you may be sure that they like you as well. This way, the feature allows both parties being more confident and thus boosts much deeper conversations. In other words, it's up to you to decide.
Additional Features For Paid Membership Plans

There are multiple dating platforms that offer their users to register for free and then ask to pay money for literally every move on their websites. On OkCupid, you get all necessary features absolutely for free. Still, the platform provides paid membership plans. However, the prices are very reasonable and depend on the duration you are going to use a plan. As such, the price for A-list is $6.95-$9.95.
Apart from removing advertisements, DoubleTake is a useful feature that will definitely return your money's worth. In fact, this is an app inside the app that allows you to read additional information and see more pics on a profile you are going to swipe left or right. In free version, you are able to see such information only after liking a person. If you wish to find out more info about the paid membership plans, there is full description of them on OkCupid, but still, you will be doing perfectly fine with a free membership if you do not want to pay.
A Couple Of Drawbacks To Even The Playing Field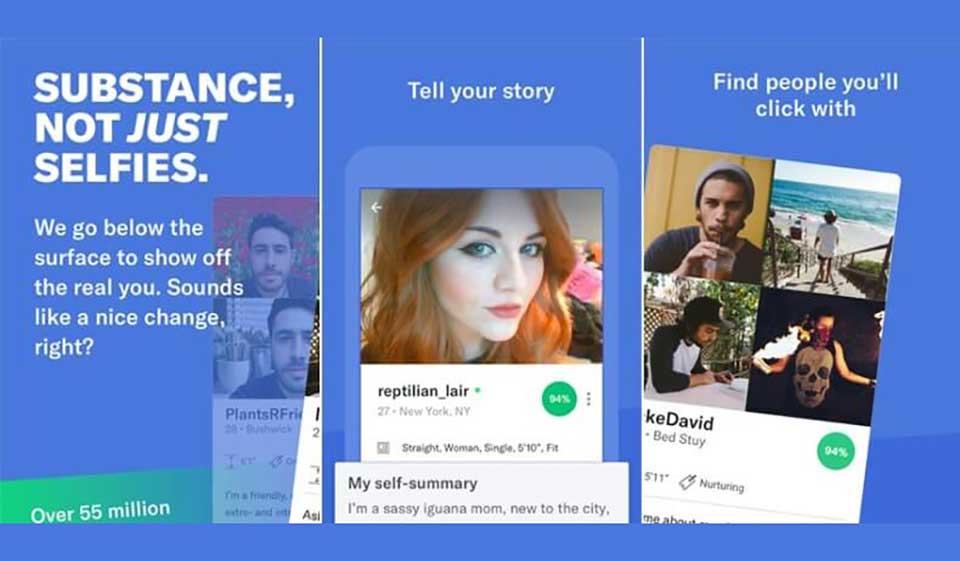 Some drawback with OkCupid messaging system has already been mentioned earlier. The desire of its developers to create a completely safe space is great indeed. Nevertheless, it still results in some difficulties, and it might be reasonable to have checked whether users actually need such a feature. It might have been better to provide users with option to choose: whether they want to accept all messages or only from matches.
Apart from this issue, there is only one single inconvenience. OkCupid becomes inefficient in non-crowded areas like villages, forests, mountains, etc. Though it is reasonable that any dating service contains fewer profiles in less populated areas, there is another point about the platform. As was mentioned above, OkCupid attracts progressive people with non-standard way of thinking. And such type of people tends to live in bigger cities. And when these people find themselves in less crowded areas, they experience difficulties with searching for a dating match on OkCupid. This means that you can fully enjoy the platform in New York or Washington, but you will not get much attention using OkCupid in their rural areas. Nevertheless, imagine there is only one potential date in your little town that matches all your interests. OkCupid will be here to help you meet.
So What Is In Conclusion On OkCupid?

"Trendy" will be the best word to describe the dating platform. It is up to you to decide whether it is good or not, but this website can be called a platform for stereotype hipsters.
Striving to combine a fully-fledged website and a minimalistic app, OkCupid has to face twice or even thrice as much competition. It was clear for the developers that ideal design and launch of new features will not help alone. Therefore, they started exploring the new niche in the dating area. They offered new dating opportunities to non-traditional individuals, challenging heterosexuality that is appreciated on most of the dating platforms. On OkCupid, any of the 12 genders or 20 sexialities will feel safe and comfortable, unlike on any other platform. If you feel like this and believe you are a part of such a progressive and modern community, this platform is the right place for you. OkCupid will help you find an ideal match!