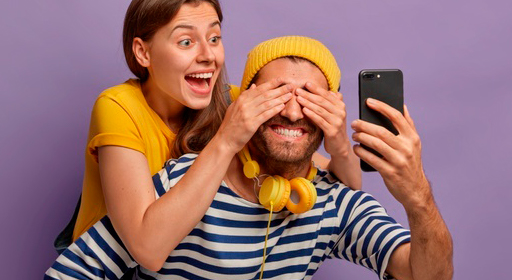 Finding a romantic partner isn't a tough job these days. You can always look for a mate in the offline world, but that takes a lot of time and effort. But if you are looking for quick hookup facilities, then try the online dating platforms. They are proven to provide genuine matches in nearly no time. All you have to do is choose a reliable dating site, log in to their portal, create a profile and start connecting with people. There are multiple websites where you can complete these steps. But the best ones in the market are OkCupid and Tinder. Is OkCupid better than Tinder or vice versa? After this comparison guide, you will definitely choose the right one.
Tinder, founded in the year 2012, has become one of the most used dating sites ever! Tinder is a cool place to find suitable matches by easy swiping. It is a site where people are more into casual hookups. If you want to find a long-lasting commitment, then Tinder might disappoint you a bit. But if you think, "Oh, I want nothing but steamy hookups," look nowhere else, Tinder is here to serve you right! Be it a smooth interface or kickass design, this brand has mastered it all!
OkCupid, existing since 2004, is a site that has served young hearts for more than a decade. With the passage of such a long time, people started trusting this platform more than any other dating website. Here, matchmaking is not done by easy swiping. But every member needs to be more engaging and have to answer a lot of questions before finally starting their dating journey. Do you think it's time-consuming and not worth it? We believe it is definitely worth your efforts! It is so because OkCupid offers users much more than just casual flings. On this site, you can find 'true love. OkCupid, too, has a great interface and design to keep you hooked throughout.
Our guide is much more detailed than the above information. Keep reading to see who wins the Tinder vs. OkCupid war!
How to Choose a Better One?
We have used a few parameters to draw a comparison between Tinder vs. OkCupid. Read below to find out!
Success Rate
When dating online, different people have their unique definition of success. For instance, there are a few people who consider hookup on the first date as a milestone. On the other hand, there are others who value long-lasting relationships. If you belong to the first category, then Tinder will be a better place for you. It is so because Tinder has a decent record with casual flings. Most people, who connect on this platform, look for quick fun with cute people and nothing more. But with OkCupid, things are not the same. If you meet someone special on OkCupid, then the chances of finding a lifetime soulmate are higher than casual fun. Our experts believe OkCupid is better as it targets people who are ready to get settled in life. However, depending on what you need from a relationship, you can join either Tinder or OkCupid!
Design and Interface
Both platforms come with an elegant and smooth design. But the layout of Tinder is easier to understand, and hence, it provides a better user interface. The icons and pattern of Tinder are more soothing to the eyes and look much more modern compared to the OkCupid layout. Though the OkCupid site has a simple design, it does not look dull on screen. The interface works quite fine for most people, but users like Tinder more due to its interactive nature. The swiping feature is more manageable and provides a comfortable user experience. Our experts conclude that Tinder wins the limelight when it comes to design and interface.
Further, we have provided more details on Tinder vs. OkCupid. Thus, read on!
OkCupid Vs. Tinder: What's About Price Comparison?
Dating, be it on any platform, comes with a price. The cost of buying a dating site's premium subscription is another vital factor that can help you choose which one is better. Even though both Tinder and OkCupid have their free versions, you will gain more when you spend a little. It is so because the premium version opens a way to a lot of awesome features that can make your dating journey far more exciting. Are you eager to know the cost of both dating sites? Read below!
Check out the price chart of OkCupid subscription:
| Duration | Price |
| --- | --- |
| 1 month | $19.95 |
| 3 months | $14.95 per month |
| 6 months | $9.95 per month |
The price chart of Tinder subscription is:
| Time | Price |
| --- | --- |
| 1 month | $29.99 |
| 3 months | $18.83 per month |
| 6 months | $12.50 per month |
When compared, our experts found that Tinder is way too costlier than OkCupid. We agree that Tinder provides many features, but still, OkCupid does a decent job at a more affordable price, so why go for the expensive one? However, if you are looking for erotic sexual encounters, paying a little higher and using Tinder will be more beneficial. It is so because OkCupid is not the best place to find hookups.
But before you decide to purchase the premium version of Tinder or OkCupid, try it for free. Do not invest in the subscription if you haven't tried the free version for at least a few days. Assume that you buy a one-year plan and then end up not liking the site after just a few days; your money will be wasted. Invest in a platform only when you find it suitable. Follow this tip to save money while dating!
Tinder Vs. OkCupid: Who Can Join?
OkCupid is more of a platform where young people are looking for their soulmates from all genders and sexualities. On the other hand, Tinder is perfect for all age groups. From teenager to mid-forties, people of all ages join the site for exciting dating opportunities. That is why Tinder comes with different subscription plans for various age groups. In this OkCupid vs. Tinder comparison, both the platforms win an equal position. Whether you are gay, lesbian, or straight, all sexualities are welcomed on these sites. So, join any of these dating platforms and change your love game!
Tinder Features
Keep reading to find out about the unique features of Tinder!
Sign up Process
The Tinder registration process takes around a few minutes and is pretty comfortable for even new users. Firstly, the site will ask for your email or phone number. Once you provide the contact details, you will get a verification message. Confirm it to proceed further. Then you will have to fill in info like your name, gender, orientation, location, etc. After these details are filled in, update your profile photo and upload a few more pictures from your gallery. Tinder does not ask for your social media pages. Hence, the sign-up process is quite fast and easy!
Mobile App
The mobile application of this platform is used more widely than its desktop version. Everything in the app looks perfect for great dating experience. The high-quality layout and the melodious background music in every profile add to the magic. The mobile app is not available in the Windows Store, but you can still enjoy it by downloading a third-party application- '6tin'. Android and iPhone users can download the official app from their app stores.
Special Features
A few special features of Tinder are listed below:
Super like: Use this feature to tell your dream mate how much you like them!
Boost and super boost: Want some attention? Use these two excellent features and pump your account visibility.
Top picks: In this section, you will find some of the best profiles selected by Tinder for you.
Rewind: Did you swipe left by mistake? Keep calm! Use Rewind and bring them back.
Traveler alert: If you belong to the LGBTQ community, use this feature to get notified when you enter a 'homophobic' city. You can hide your profile in such places.
Noonlight: If you ever sense danger during a date, use Noonlight to send SOS texts to your emergency contacts.
Are you thrilled to see these awesome features? Join the site and explore more!
OkCupid Features
We have also discussed the OkCupid features in detail. Dive in to find out!
Sign up Process
Signing up on OkCupid is quite straightforward. You will be asked to fill in a few essential details like name, city, gender, sexuality, etc. You can either fill in all of these details or skip the process by logging in via your Facebook profile. Unlike Tinder, here, you will have to answer multiple questions during the registration process. These questions are usually related to your likes, dislikes, fantasies, hobbies, and so on. OkCupid will use these answers to enhance their matchmaking process for you. It also helps you find the compatibility percentage between you and a match.
Mobile App
The mobile app is very convenient to use. Here, too, you get to swipe left or right, depending on your choice. Whenever you swipe right a profile, the app will show the compatibility percentage between you two. If the rate is high enough, you get the site to motivate you to connect with the person via messages. The app will send you timely notifications about matches or messages. These features make the app perfect for online daters!
OkCupid Features
The best features of OkCupid are as follows:
Double Take: This feature allows you to swipe left or right and match people based on common interests.
Who You Like: This is a list of your favorite users with whom you want to connect for better understanding. You can keep track of your favorites here and message them one by one.
Who Likes You: It is another list where you can see the members who have taken an interest in your profile!
Boost: You can boost your profile to bring it up in front of people's eyes and make yourself the star of the show.
Stacks: You can create categorized lists of your connections so that you can remember who came from where.
Blog: Are you looking for expert dating advice? OkCupid blogs have got you covered on all major dating topics!
These are the awesome features of OkCupid. Now, let's see who won the Tinder vs. OkCupid battle!
And the Winner is: OkCupid!
As you have read, both the sites are amazing and are full of flawless features. Hence, our experts got a hard time choosing the best! But finally, they went through all their reports and concluded that OkCupid, even though slightly, outstands Tinder. It is so because OkCupid guarantees a higher success rate for long-term commitments and comes at a more budget-friendly price. The success rate comparison of Tinder vs. OkCupid is:
| | Success Rate |
| --- | --- |
| Tinder | Known popularly for erotic hookups on the first date. |
| OkCupid | Many couples have found their soulmate here and are in a happy relationship. |
So that you know, you can join any of the sites depending on what features you like. Also, not everybody is interested in long-term commitments; in that case, Tinder is an excellent choice!
Our experts say that you should first ask yourself what you want as a lover. If you are more into hookups, then pick Tinder; otherwise, go for OkCupid. The experts also say that you should try the free version of the site first and then buy the premium subscription. But overall, between Tinder vs. OkCupid, we would recommend you to join OkCupid if you want to get settled in meaningful relationship. Many people have successfully found love there. The platform is a nice place to start with online dating.