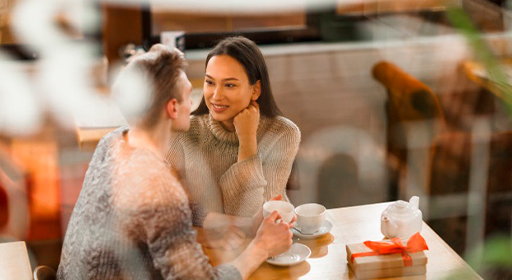 The first competitor of our Skout vs MeetMe is a social network founded in 2007. In the beginning, Skout was not about dating but a general platform where people could meet and communicate. Then, the service grew into a dating app and now helps people worldwide meet their soulmates.
The service offers many tools, and there is even a game inside the app called "Blind Date" — you can hear the random user's voice but not see them. The profile image is blurred but gets clearer during the conversation. If you manage to raise mutual interest, you will see each other at the end of a video call.
MeetMe is also a mix of a social network and an online dating site. The free platform, which The Meet Group founded in 2005, allows users to contact other people via a browser or app using chat and live streams. The website is mainly well known in the USA, but its versions are available in many languages. Despite the sites being similar, which one is better — MeetMe vs Skout? The review will reveal.
How to Choose a Better One?
The list of strong and weak points can help you in your choice. Take a quick look at the main highlights of both services. Then you will know what to pay attention to the most when deciding on the winner.
Skout advantages:
Friendly environment for both dating and building friendships;
Many great features are available for free;
Quick registration.
Skout disadvantages:
The free version is full of ads;
Registration is only available to those who are at least 13 years old
.
MeetMe advantages:
The app rewards popular users with credit;
There is a possibility to go live stream;
Contacting users is free.
MeetMe disadvantages:
Lots of fakes and scammers;
Registration is only available to those who are at least 13 years old.
Skout vs MeetMe: What's About Price Comparison?
For many people, the central aspect of the Skout vs MeetMe competition is their cost. Here is the description of the price range of both services.
What Skout offers for free:
Profiling;
Seeing profile visitors;
Searching people;
Liking and commenting;
Adding users to the list of favorites;
Messaging.
What you should pay for on Skout:
Using the app without ads;
Boosting your profile;
Being at the top of the user's mailbox;
Seeing who added you to their list of favorites;
Potential match offers.
Skout prices:
One month of the Premium Subscription costs $10;
500 credits cost $5;
1,000 credits cost $8;
2,500 credits cost $17;
8,000 credits cost $50;
18,000 credits cost $100.
What MeetMe offers for free:
Registration;
Profiling;
Matching function;
Chat services;
Live streaming.
What you should pay for on MeetMe:
Seeing which users viewed your photos;
Removing ads;
Advanced search options (body, ethnicity, etc.);
Your messages will be the first to appear in someone else's mailboxes;
Visiting profiles anonymously;
Themes to design your profile.
MeetMe prices:
One month costs $8;
Three months cost $18;
Six months costs $30;
500 credits cost $6;
2,000 credits cost $17;
3,700 credits cost $28;
16,500 credits cost $110.
Payment at MeetMe works like a classic subscription model: you can choose between terms of one to six months, which can only be paid for in the app and only with in-app purchases. The app renews subscriptions automatically.
Both MeetMe vs Skout use their currency called "Credits," which you can use for the following things:
Move your profile up in search results;
Purchase of gifts (that can be given to the MeetMe streamers);
Both services can reward you with the credits: Skout offers them to the top users, MeetMe will provide them with installing the partner apps.
MeetMe vs Skout: Who Can Join?
The majority of the Skout members come from the USA (4.5 million), and the user activity is high there. In general, monthly visits can reach 3.4 million, with about 130 million daily logins in the USA's Skout service. There are slightly more males on the platform — 65 %. But women actively use the service as well. Most of them are 25-34 years old, even though the registration is possible only after 13.
The rule applies both to MeetMe vs Skout, but it doesn't ban the fact that you can change the birth date during the registration. The services do not ask for the ID to verify the profile, so children under 13 still use the app, and you can run across them. Most Skout users access the service via the app or use the mobile browser version to use it on the go. This fact explains that people are not looking for serious relationships on Skout. They aren't looking for one night stand either, but friendship and networking. You can meet future business partners or friends to do sports together on the platform.
The audience of both Skout vs MeetMe is relatively young and friendly. Member activity on MeetMe is lower — 100,000 active users weekly, but the gender distribution is more even with 40% of women and 60% of men.
The majority of the members are from the United States, and in general, the app has tremendously over 100,000,000 users worldwide.
Although there are very few seniors on the MeetMe platform, you will find matches in every age group. Registration is possible from 13 years of age — a requirement similar to specific social media sites. In contrast to pure dating sites, both MeetMe vs Skout do not require you to be of legal age.
Skout Features
Do you want to expand your circle of friends, meet new acquaintances instantly, be able to chat in a bar or other place? All this is now possible thanks to the Skout service. Create a natural social connection circle, meet, and quickly find people with similar interests. The unique features you can enjoy inside the service:
Back Stage
Hide your profile materials like photos and videos so that others see them after your permission. You are practically selling the images for the price you set (from 10 to 10,000 credits) and get a small revenue from every transaction. After the user pays for seeing your photos — they get access to the materials, and you receive some credits. Then, the users can rate the images they see from 1 to 5.
Buzz
This section of the service is similar to the Facebook feed: you can post whatever you want about yourself, and it will appear on your page. Add photos, thoughts, quotes, share links and questions with other users. They can leave comments and like your posts. Based on the functionality, the winner of this MeetMe vs Skout review is MeetMe.
Shake to Chat
This tool is only accessible inside the app. Open the chat function and then shake your phone — the service will match you to a random person within a few-kilometer radius so that you can meet in real life if you both wish.
Skout Travel
You get 24-hour access to any country and city in the world. The service is similar to the Tinder Passport: it allows you to see people outside your location and receive matches with them. It is advantageous if you are traveling to a city and want to make friends with someone there before you arrive, or you can use it just for fun, to learn languages, and broaden your horizons.
Interested?
Similarly to the swiping section available on other services, here you get a variety of random people's photos, and you should rate them. Tap the tick or the cross to like or dislike the person. If you and the user on the other side of the screen have both tapped the tick sign — you receive a match and can continue communicating. If you compare Skout vs MeetMe, the first one offers fewer unique features.
The Skout Mobile App
The Skout application is a global network for meeting people. No matter where you are, you can log in and communicate with people in your area or around the world. It offers you a real opportunity to make new friends, share a drink, meet your soulmate, and chat on the terrace of a bar. The features available via the app:
The application is free to download and register;
You can see who has visited your page;
Get updates on nearby users, browse profiles and photos, save your favorite users.
Buy and send gifts;
Promote your profile thanks to the integrated features;
Besides, by earning points, you will unlock new premium features;
You will always have complete control over your information and location.
For both Skout vs MeetMe, only you decide when and how you want to log in.
MeetMe Features
The registration process at MeetMe consists of a short questionnaire that you can complete in 1-2 minutes. You get contact suggestions directly after registration, especially if you register using Facebook. On the one hand, you can get started right away. On the other hand, only the standard data is requested, and you do not stand out without additional information such as your hobbies.
Both Skout vs MeetMe claim that you can register in a few minutes and get started right away. Of course, you have the option of creating your profile individually, but many people use Facebook registration to have their data transferred instantly. If you want to make more connections, be sure to add more details; otherwise, your rating will be low.
There are no precautions against fake profiles on MeetMe as the service doesn't check new members. Profiles don't reveal much about the other person either. On the good side, the service displays all public images for free. If you compare Skout vs MeetMe, the first app allows you to hide some of the photos and then have other people charged for seeing them.
You can choose to share profile information and photos only with your MeetMe friends, but there is no way you can hide them from all. Users that see your posts can like and comment, which is a great way to attract their attention because the profiles do not contain many details.
You are free to add more data at any time and not leave the standard information such as gender, age, relationship status, and physical attributes. For instance, when editing your MeetMe profile, you can specify whether you smoke or have children — these details will be helpful while dating. Considering MeetMe vs Skout, the first one offers you a free text field for a more detailed description, but overall the site reveals less about its users than the second service under analysis.
MeetMe offers many unique features. The most interesting among them is going live. This tool allows you to do a Livestream. Your friends can watch you and interact with you via chat as well as all other users.
The MeetMe Mobile App
MeetMe offers a free app available for all platforms (Android, iOS, and Windows Phone). It is more intuitive and appealing than the website version. Besides, some of the features are only available in the app, which explains why it offers in-app purchases.
In the case of both MeetMe vs Skout, their apps are better than the web versions. The aesthetic aspect is on the higher level, and functionality itself is more up-to-date. Without the unique features of the mobile application, you are missing out. For instance, if your laptop doesn't have a quality camera, you cannot go live on the MeetMe app.
And the Winner Is: Skout vs MeetMe?
Skout offers excellent tools and has an active audience. It is smaller than the member base of the MeetMe service, but the number doesn't affect its quality. Skout is engaging and provides people with some relatively modern and never-seen-before services or great copies of other apps' successful services. It has gathered all of the best to keep people interested and allow them to interact. The only drawback is the abundance of ads. However, this is not the central aspect when it comes to comparing Skout vs MeetMe.
Overall, MeetMe is more of a social media platform focusing on social exchange than a classic dating site. The platform is a great place to connect with other people and have fun. Unfortunately, due to the anonymity and lack of security, it isn't easy to find out if you are dealing with a real person and interested in a romantic relationship. Despite its vast audience worldwide, the app doesn't offer any special features.
Because Skout makes more efforts to stay up-to-date and popular among users, it wins in our MeetMe vs Skout test.