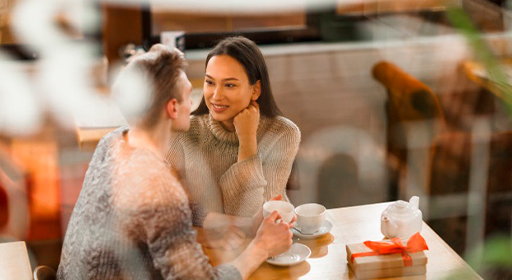 It is a fascinating relationship, long and beautiful date nights, magical mornings with the same beautiful partner: sounds heavenly, right? Or, did you freak out? Did you scream, "No, stop it already, I don't want emotional baggage and heartbreaks anymore!" Then, you are here because you want to spice up your date nights with hotness. Well, whichever you want from life now, we know how you can get it. So, read till the end, sign up, and get ready to slay the dating game!
Well, let's start with you, who screamed "No.." and then we will get to our fairy-tale lover readers. If you are ready for casual flings and hookups extending to hardly a little short-term relationship, then Tinder is your place. This 9-year-old has globally proved to be a hit in getting people their perfect dates at one swipe. Here, you can choose your match based on your preferences and expectations. You can view the images and bios of the users who fall in the parameter you manually set for your account. The biography includes little personal details and interests. Asking your date out is as easy as swiping right. From Match Group's house, Tinder comes with unique features like Tinder Gold, mutual connections, Instagram Integration, and Panic Button. Enjoy a straightforward dating experience with this app.
Tinder is instinctive. Get your match in no time with a smooth user interface. Tinder's interface is undoubtedly one of the best.
Have you searched for the love of your life and tired of not finding "The One"? Bored and irritated for this single life? Are you looking for a crazy long-term companionship to marrying that dream person? We wish you "Congratulations" because you will sign up for Plenty of Fish, and there your dream person is waiting for you. With a top-notch personality test, private messaging, and tons of fascinating features for free, win over your dream date, signing up now!
POF has a little complicated user interface where you might get a bit exhausted in handling. The application promises elegant aesthetics; however, navigation can be a bit difficult.
How to Choose a Better One
Let us give a sneak peek of what is inside to help you choose Tinder or POF:
Overview at a Glance
| Tinder | Plenty of Fish |
| --- | --- |
| Boost and Super Boost Feature | Allows free personal messaging. |
| Has millions of people you can connect with. | You can download the mobile application for free. |
| Swiping right to like a profile. | Personality assessment is very useful in getting an ideal match. |
| Pro LGBTQ+. | Auto signing out of inactive accounts. |
| Allows connecting to different accounts like Spotify or Snapchat. | Has multiple free services to offer. |
| Lesser free service in the context of Tinder vs POF. | |
| Restricted profile information is available. | |
| The authenticity of user accounts is questionable. | |
Tinder Vs. Plenty of Fish: What About Price Comparison?
Tinder or POF is not a miser when it comes to offering free features to its users. There are plenty, and we will give you the list. POF does surpass Tinder in this case. However, Tinder has over 8000000 logins every day compared to 2000000 daily new signups of POF. Thus, Tinder offers more options for sure.
Free Services
| Tinder | Plenty of Fish |
| --- | --- |
| Application download | Finding matches |
| Swiping left | Application download |
| A daily super like | Personal message |
| Profile picture updating | Adding accounts to favorites |
| Registration | Compatibility Assessment |
| Finding members in your parameter | Sharing voice texts |
| | Viewing profiles |
| | Finding out members in your parameter |
| | Participating in forums |
Premium Services
| Tinder | Plenty of Fish |
| --- | --- |
| Viewing members who like your profile | Topping the "Meet Me" queue |
| Topping the queue | Free of promotions |
| Getting matches immediately | View accounts |
| Interacting with members at faraway places | Reviewing extended profiles |
| Unlimited likes | Be at the top of the search list |
| Unlimited right swipes | Hike in emails |
| Canceling right swipes | Sending as many as 3 gifts daily |
| Finding out the top matches | |
Subscription fees for Tinder Gold under 28:
1 month: 14.99 USD
6 months: 8.83 USD
12 months: 6.92 USD
Plenty of Fish Premium Service cost:
2 months: 19.35 USD
4 months: 12.75 USD
8 months: 10.18 USD
Tinder Vs. Plenty of Fish: Who Can Join?
Though it might appear these apps are similar, each of these comes with its uniqueness. What makes your dating life better than your friends' is choosing the right platform. Here are some important conditions you need to know before joining Tinder or POF. Some applications have their target audience who prefer long-term commitments, while some apps target audiences looking for hookups and one-night stands. So, knowing the preference of the majority is significant while choosing any platform.
In Tinder vs. POF, we recommend casual flings to Tinder and relationship lovers to POF. POF is pretty traditional and objectionably a site only for heterosexuals. If you are homosexual, bisexual, or asexual, Tinder is your site.
Unless you want to buy a plane ticket to meet your match, checking the site's popularity in your area is important. Tinder is active in 190 countries, including Japan, India, Korea, America, Spain, and Russia, available in 34 languages. POF is available across 20 countries in 9 languages, including Australia, Ireland, Canada, and Spain.
Any 18-year-old and above can have a Tinder account. POF has an age filter that only shows you matches at 14 years of the age gap.
Tinder Features
Let us discuss some unique features that set Tinder apart.
Boost and Super Boost: You can be at the top of the queue for half an hour with the profile boosting feature. Using super boost, get noticed 100x more by your potential matches in the hot hour.
Swipe Left/Right: You can set a location parameter to find matches in your area. You can choose your local place or prefer to cross the ocean to meet your love.
Rewind: This feature is solely for undoing purposes. If you mistakenly right swipe, you can always undo using the rewind feature.
Super like: You can send one superstar daily to any account. In premium, you can have more than one super like. This blue icon helps you in showing preference and your liking to any particular profile.
Signing up: Signing up is simple. In less than 20 minutes, you can set your account. You can connect Tinder with Facebook, which is time-saving since it will generate the information, and you'll not have to update manually.
Success Rate: The success rate is ambiguous and can not be pre-determined. The dating app success rates in general fluctuate. So, if you find someone worth holding on to, stay with that person. Some people's success rate is finding casual date, while others settle for a long-term commitment. Find your suitable match on Tinder because you are gorgeous.
Plenty of Fish Features
POF has some amazing features, and the best thing is that most of them can be available in the free version. Let us find out the fantastic options that set this app apart.
Predicting Chemistry: You can take a chemistry test, needs test, psychological assessments, and keeper test, or even sex test in this app. The algorithm of this app will use your results to get your most suitable matches. So your potential dates will be perfectly compatible. You will be asked 30 to 100 questions, and you have to answer by choosing the most appropriate option.
Top Prospect: The algorithm will also list the compatible matches you have interacted with in the past 30 days. The list will be made in your order of preference and compatibility. Rumors say that people have actually dated and eventually married, trusting this list.
Meet Me Feature: You get a notification if matches in your area parameter are willing to meet you. When you and the other account click on "yes," the profiles are matched. This feature is just like the swiping right and left feature of Tinder.
Computerized Profiling and Decision Making: This site promises privacy to every user. Each decision-making and profiling function is operated through computerized algorithms, and there is no human interference involved.
Signing up: This can be a little draggy for POF. You have to set your name and password, answer a lengthy questionnaire, write a small bio about yourself, go through an identity verification procedure with your mobile phone number. However, this process ensures no fake ids on the site, so that's a good feature.
Success Rate: As we have already mentioned, your success story depends on you. The site results vary as per different studies. Two people are compatible when they want similar things in a relationship or from a casual hookup. The computerized tests of POF help in finding compatible matches. So try your luck at this site today because we know your partner awaits you there.
And the Winner Is: Tinder or Plenty of Fish?
While Tinder offers you quick and easy registration, personalized dates, a user-friendly interface, and pro-LGBTQ, the app falters in its privacy policies and encourages impulsive decision-making. It offers very limited swipes for free, and choosing a match only based on a photo and a tiny bit can be deceptive. On the other hand, with its plethora of free features and an extensive user pool, POF is reviewed so well by users because of the fantastic tests that the user can undertake. These test results can get you not just a pretty match but an ideal match. You can also set income, academic degree and job requirements to filter your matches in the premium version. So, without a doubt, when it comes to maturity in finding a date, in Tinder vs. POF, POF wins by a considerable margin.
However, you choose your dates either for casual flings or for a serious relationship is entirely your preference. Tinder or Plenty of Fish comes with Meet Me features, matchmaking and is terrific for engagements and socialization. There are plenty of options you can avail yourself of absolutely for free, so you do not have to hurt your pocket. You can take a free experience at both places to see what is more suitable for you. The Match.com house is the parenting company of both these apps. The profile photo and bio add authenticity to the profiles and saves you from fraud. These apps give a fantastic user experience to millions across the globe.
However, if we have to declare one winner in POF vs. Tinder, it has to be Tinder while POF breathes on the neck. Wondering, why?
Tinder is more user-friendly because it is available across multiple countries in various languages compared to the restricted availability of POF. But we can not afford to forget the assessment features, long bios that POF caters to. Tapping on the "yes" to eventually finding a compatible match becomes easy with such tests.
You are a fantastic human, so you deserve the most amazing date. So, open your heart out to what exactly you expect from your dates in your bio, be open about your choices, ideologies, and preferences, and we promise that your phone will beep in no time with plenty of beautiful match notifications. Tell us whether you liked our little guide. We are waiting to listen to your love tales or crazy date night stories. So please do not forget to share with us.