There are many dating platforms, some of which are large indeed. Fling happens to be one of them with its fifty million users around the world. The website was founded in 2006 and since then it has become a trusted and reliable platform for all relationship types and races, regardless of sexual orientation and location. Although the majority of clients come from Australia, the USA and Russia, the Fling dating platform happens to be a perfect place to hook up for everyone. Like any other dating website, Fling has some advantages and disadvantages which are going to be discussed below.
Gender Ratio and Member Activity on Fling

While the majority of dating platforms have more women, the disproportion is higher than average on Fling. There is only around 35 per cent of male users which can be rather inconvenient for females. At the same time, this makes the dating process much easier for men, so everything depends on the perspective.
It has to be noted that Fling stats happen to be quite impressive. Of all the users, 18 million are from the USA. There are also three million visits every month from the USA alone. Around 700 thousand clients are active weekly which means that even if you are from a different country you will still be able to find people to chat with.
Another thing that is immediately noticed on Fling dating platform is the absence of boundaries and limits. All users are welcome here, irrespective of their ethnicity, age, location and sexual orientation. The bigger part of clients is young people between 30 and 35 years old. This is also where you can find any kind of relationship, except for commitment and marriage. At the same time, it is not prohibited to look for a partner for a long-term relationship, but the majority of users come here due to quick hookups, sex cams and casual meetings.
As there is such liberty on Fling dating website, when it comes to relationship patters, you should set filters and specify your own intentions. The users are looking for different things from couple swinging to a one-night stand with a wide range of kinks. So, if you are willing to avoid any kind of confusion and misunderstanding, you should let others know what exactly you want.
Signup Process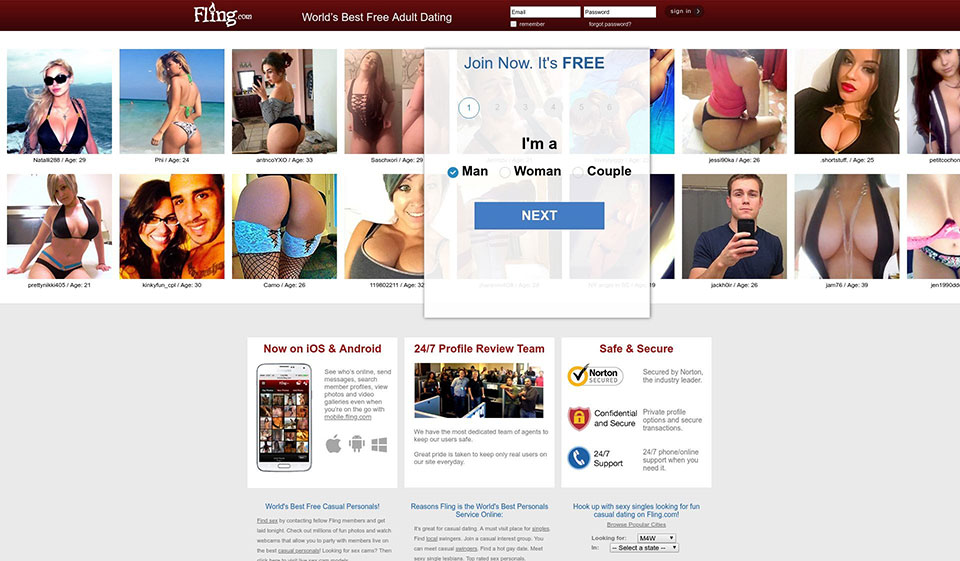 Fling dating website happens to be an international platform. However, it is not available in some countries due to some legal regulations. If the country you come from is not on the list, you are highly likely to be redirected to WebDate.com. This site is one more project launched by Fling developers, Global Personals Media. If you are from a country which is not listed, it will take you only a few minutes to get registered. To do that, you need an active email address. At the same time, you are not required to provide any information apart from your gender, age and location. The process is so fast that the longest part of registration is creating a nickname. The thing is that Fling platform does not use any first names. After that, it is necessary to create a strong password and specify the preferred match gender. Do not forget that all sexual orientations are welcome on this dating platform. Right after that, you will receive an automated email from Fling. You will be required to click on the link to verify it and get the account activated.

If you compare to other dating websites, they are no complicated search algorithms on Fling. In general, this is good because any client can easily learn how to use the basic search parameters irrespective of his or her experience with dating platforms. There you can find the following common settings:
Gender;
Location (involving district by ZIP code);
Age;
Sexual orientation.
While the mentioned above are the basic ones, the advanced filters include appearance (weight, height, eye and hair colour, body type) and sexual preferences. Moreover, users are allowed to add keywords to the filters to find even more relationship references and kinks. This is where they are allowed to specify if they are looking for new or old-time users, or they can just contact those who are currently online.
The drawback is that the search settings are not available to free members. In fact, they cannot even access other Fling users` profiles. It is only paid members who can contact other members by sending and receiving messages. It is allowed to receive a notification when some other users try to contact you, but they have to pay to open those messages.
Are Fling Profiles Good?

Let`s suppose that you pay for the membership without having a look at Fling user profiles. What are you going to see? Obviously, it depends on the user, but on the whole, the profiles you can find on the website are pretty detailed. The clients are not obliged to fill them in while getting registered. They can do that after signing up.
In the majority of the Fling profiles, you can find such general information such as location, age, sexual preferences, religion, languages spoken, occupation, hobbies, etc. There is also a number of text boxes where clients can write some things about themselves. The bigger part of the boxes contains nothing while others are interesting to read. Many Fling members utilize the text boxes to provide a description of their sexual kinks as well as what they are willing to find in their potential partners.
You will also notice that the Fling dating website resembles a social media platform. The thing is that clients are allowed to like other users` profiles and post status updates. At the same time, there are differences. For example, Fling members are encouraged to upload nude photos, but sexual organs should not make the most of a picture. You should keep in mind that free users have no access to photos as they remain blurred until a membership is bought.
Website Usability
Although Fling dating platform obtains a lot of different features, it is easy to navigate it. At the same time, one cannot say that the background of the dating website is memorable. Despite that, the Fling site is highly usable. The only disadvantage you can find so far is that this platform only operates on a desktop. You may find an application called Fling, but it has nothing to do with Global Personals Media.
How Much Does Fling Membership Cost?

As mentioned above, you will be allowed to a lot of things if you are not a paid member. So, the next question is – is this dating platform costly? The answer is yes and no. The truth is that Fling monthly subscription happens to be higher than average which is 34.95 dollars. However, if you purchase an annual membership, it is going to cost you 9.9 dollars per month. This is obviously lower than average in the dating world. If you buy a six-month subscription, you will pay 69.95 dollars and it would be 11.66 dollars per month. That is why Fling fees can be called average.
One more advantage for users is that they are allowed to purchase a weekly trial for 9.95 dollars. In addition to that, there is a trial for two days which costs 0.95 dollars. Two days may not be enough to understand if the platform is worthy, though. The reason for that is not that it is complicated, but it takes some time to get used to it.
Fling users are not offered too many payment options, so they can only use PayPal or credit card to purchase a membership. There is an advantage of this, though, which is that the payments are discreet. This implies that Fling is not mentioned on bills.
Now, let`s sum up what free and paid members are allowed to do. Free Fling members can:
Open an account;
Fill in their profile;
Upload photos;
See who viewed and liked their profile;
Be notified regarding messages.
Paid Fling members can:
View profiles of any users;
Contact other users;
Buy things in the sex shop;
Use live cams;
Use video chats.
Additional Perks for Premium Members

While free users cannot access many things on the Fling dating website, premium members are provided with extra perks. Apart from receiving and sending messages, they can use a lot of different features:
Live cams
Fling members can watch and engage with camgirls. The benefit happens to be that this service can be used on a per-minute basis. Thus, there is no need to purchase a subscription plan for a month to use this feature. So, both paid and free members are allowed to preview pictures, view the basic information regarding the girls and join a cam room.
Video chats
If you want something more, it is possible to engage in two-way video calls. This way you can have sex online. This Fling service happens to be extremely popular because the dating website is focused on NSA sex dates and occasional hookups. Using a video chat, you can see the person and decide if you want to continue.
Sex shop
There is a regular partner sex shop which has Fling promotions and discounts. Hence, users can purchase sex toys paying less. In addition to that, they are to make all purchases via their Fling account so that their privacy could be protected. This means that their card is going to be charged discreetly with no mention of Fling or any other sex-related products.
Premium content
Thanks to this feature, people can earn some cash. It allows Fling members to post teasing videos and photos so that other clients would pay to receive a view or download permission.
3-month guarantee
The members of the dating platform get a 3-month guarantee. If you fail to find someone during these three months, you will get the following three months of using the platform free of charge.
Frequently Asked Questions

Yes. If you have children, you can make use of Safe Mode in the profile settings. This feature blurs the nudity and makes it possible to browse the website at home.
Are there any restrictions?
Fling does encourage nudity, but it still happens to be a legitimate website. This means that child nudity is restricted. In addition to that, the users are not allowed to post photos of their sexual organs. Nude pictures are allowed as long as genitals do not take most of them.
Can I make my photos private?
Users can go to Discreet Mode and make their profile available to people who are on their friend list. To turn this mode on, Fling users need to go to Account Settings.
This dating platform`s management does its best to keep personal details of the users private and it is reasonable. At the same time, if you want to be sure that you are safe and keep your membership discreet, you can make use of Discreet mode.
Is it possible to suspend payments?
No, but users can remove their account for some time. Unfortunately, subscriptions are not suspended in this case. They are renewed automatically. If you are willing to suspend the payments, you should contact the support to cancel the subscription. It is possible to renew it later at any time. You should remember that there will be no refunds. Hence, even if your subscription is cancelled, you will be able to enjoy the Fling membership until the period ends.