Adventist Singles is the most sought-after dating website among Adventist people. If the partners have the same Christian faith, most probable, they have much in common. But you will never find it out until you browse this platform. Being a part of a reputable Sparks Networks company, Adventist Singles is considered to be a religious-focused dating platform designed for those who are ready to pay for its services.
Apart from advanced matchmaking technology, the website offers such services as instant messenger, gallery, privacy, and other excellent and interesting features. However, unlike other dating websites, this platform is aimed to share the Adventist belief and convey its values and religious convictions. Did they succeed while strictly implementing Adventist's community rules? Is it possible to find a reliable partner on this platform? And most importantly, is Adventist Singles worth the investment? Read on this review till the very end to get the answers on these questions and even more!
Starting with easy registration and ending with multiple interesting features, Adventist Singles is definitely worth paying attention to. What makes this website stand out from the other platforms is the ability to write your own introduction in your profile. Thus, you can make your profile more unique and express what exactly you are looking for. Considering that the target population of the platform is Adventist singles, you are likely to find your best match without any hassle.
Members activity

The website includes approximately 100,000 registered users, 30,000 of which are from the US. This means that it is rather difficult for Adventist Singles to compete with other large dating platforms. Despite the site is limited to religious themes, it can boast 10,000 constantly active users who are interested in sharing their religious views and finding a lover. The gender proportion on the website is almost equal. There are 46% of females and 54% of male users. You will hardly meet here the person under 25. The average age of members is from 25 to 35 years.
The majority of Adventist Singles members are looking for serious relationships rather than a one-night stand. All of them are actively responding to the messages, send likes, and express their interest.
The platform has an advanced search to find the ideal partner. Based on the match percentage between you and your potential partner, the system gives search results. Members who have more in common with you appear on the top of the search results.
Every user has an opportunity to appear on the top of a search list. For this, you will need to buy a so-called Spotlight feature. This will significantly increase your chances of finding a perfect match and start new relations.
The process of registration

The registration process on Adventist Singles is quite strict and easy. The platform mainly focuses on the quality of their user base rather than their number. You can't skip any step during the process of registration. Also, uploading a real profile photo is a must. Thus, you ensure other users that your intentions are serious and you aren't going to cheat. Your photo will be checked by the site moderators. It is necessary to upload a picture that clearly shows your face.
There are two ways to create an account. You can use your email address or initiate the process of registration via Facebook. The Adventist Singles moderators will carefully check whether your Facebook account is real or not. If your Facebook account is recently created or doesn't contain any content, the moderators will block your profile and cancel the registration. All in all, the entire registration process isn't time-consuming and will take about 5 minutes. It is worth noting that the individuals who haven't reached the age of 18 can't create an account on Adventist Singles.
Once you are there, you can start to enrich your profile to make it attention-grabbing and appealing to the users. So, let the exciting dating journey start!
Profiles quality

Once you have completed the registration and filled your profile with necessary information, you can start browsing the profiles and search for your soulmate. There are always new people on the site that might match your preferences and specified criteria. The profiles are displayed based on your matchmaking score.
Each option the system presents to you demonstrates the profile image and the main details about the user. Also, you can find the information about the user's location if you want to find somebody in your area.
Adventist Singles prohibits providing your contact details for obvious reasons. If you want to contact the user you like, just send a text message to him/her. If you both think you can trust each other, you can exchange personal information. However, don't forget about the general safety rules while meeting the person from dating websites.

Adventist Singles offers an array of communication options. It is possible to send instant messages, use online chats as well as exchange emails. Also, you can send a smile to the user you like, like a picture, and demonstrate your interest via the function "Think you'd click".
Unfortunately, not all of these features are available for free users. If you want to explore the full potential of the platform, you should be ready to pay for a VIP membership. Being a premium member opens up new vistas in dating opportunities for you. You can send an unlimited number of messages to users, get notifications when somebody visits your page or your message is read by the user as well as activate an invisible mode.
However, VIP membership doesn't mean all the features will be unavailable for you. If you want to see all the photos of the users or be on the top of the search list, you should purchase a Spotlight feature separately.
Special features

Apart from strict security measures, Adventist Singles offers special perks that make this platform stand out from similar services.
Spotlight. Open new horizons of dating adventure with this feature. By purchasing it, you will appear on the top of the search that will increase your chances to find a perfect match. To boost your Adventist Single experience, you will be able to view all the content on the site.
LookBook. Receive several random users in your neighborhood. This feature lets you use the tile view to browse the profiles. Also, you can find the brief info about these profiles.
Messaging+. This feature allows you to contact with any user on the platform no matter what membership status he/she has. This feature will be useful for those who don't want to buy a premium membership but enjoy unlimited messaging.
Perfect match compatibility. This feature is based on advance matchmaking technology. The system analyses multiple search criteria you have specified and shows you possible matches. A really useful feature for those who are looking for someone special.
Think you'd click. No matter what membership plan you are using, this feature will be available for you. Just click the corresponding button on the user's profile, and he/she will receive a notification that you are interested in him/her. A very handy feature if you are too shy to take the first move.
Adventist Singles interface usability
The interface of the site is well-though-out and clear. The navigation is simple and hassle-free. Even if you are an inexperienced computer/mobile app user, you will easily cope with all the functions of the site and find exactly what you need. All the functions are divided into different sections, which makes the website even more user-friendly. The profile pictures have a high level of visibility and are large enough to see the face. The design of the site is in white and purple colors, which makes the platform-browsing experience even more enjoyable.
Mobile application
Adventist Single is popular enough to develop its own mobile app. The mobile application is extremely user-friendly and easy to navigate. The app is well-designed. There are only five sections, so you will never get lost while using it.
The app has similar functionality as the desktop version of the site. If you don't have time to sit in front of your computer or just want to keep in touch with the users even on the go, the Adventist Single will be a perfect option. However, the app doesn't display large profile photos. So, if you want to carefully examine the user's picture, you will need to switch to the desktop version.
You can download the app absolutely for free using such services as Google Play or App Store. The number of app installations is close to 1,000, and it has a relatively good rating. If you are an iOS user, you should have version 10 or higher. In case you are using Android, it should be version 5 or higher.
Pricing Policy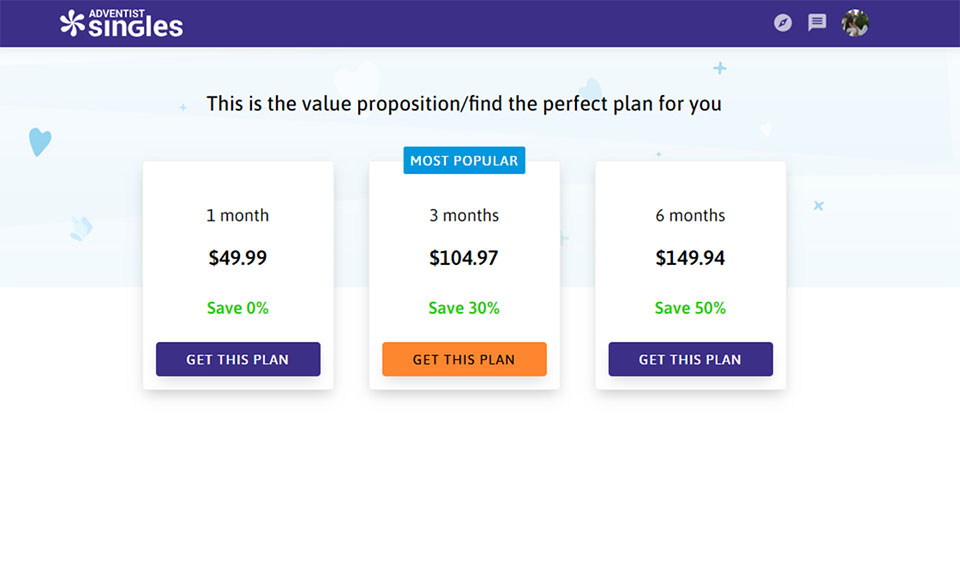 There are two types of membership: standard and premium. Let's consider them in detail.
Standard membership allows you to like the users' profiles, send smiles, and use the basic search options absolutely free of charge. However, the communication options are rather limited.
Premium membership will cost you almost $50 per month. Besides, you can purchase a 3-month membership, which costs almost $105 ($35 per month) and a 6-month membership for $150 ($25 per month). VIP membership offers unlimited communication options, anonymous mode as well as the ability to use advanced matchmaking technologies and search options.
Aside from premium membership, you can buy other useful features.
Spotlight feature for almost $3 per day.
Message+. To find out the correct price, visit the site.
Adventist Single uses only one payment method – a credit card. After your Premium membership expires, the system will automatically renew it for you to continue using the full potential of the platform. If you feel like you don't want to buy a membership any more, you can cancel its renewal by unchecking this function in the Account settings. Just don't forget to do it before the term of your membership expires. In other cases, you will be billed automatically for the next term.
Is Adventist Singles secure?
This is the most frequently asked question among the majority of users. The Adventist Single team really knows its job and does it well when it comes to the users' security. All the members don't take any risks while using this website. Apart from the comprehensive profile check during the process of registration, the site offers the Blacklist feature if you find some users offensive or annoying. Also, you can directly address the administration of the platform to file a report about the inappropriate behavior of a particular user.
It is prohibited to post any contact information in the user's profile. In case you decided to meet with the person registered on a platform, you can exchange contact details via private messages.
Conclusion

Adventist Singles is a dating platform for religious singles. Apart from unique features, you can use social media-like functions as blacklist and instant messaging. The platform really ramped up its safety measures. They have done their best to get rid of fake accounts and rude users. No less important is privacy. The users can't upload their contact information to stay secure. Adventist Singles provides a strict verification process to detect all the fake accounts. They mainly focus on the quality of the website rather than on the number of registered users.
The platform offers easy-to-use interface and navigation suitable for members of all ages. Both the mobile application and the desktop version offer user-friendly functionality that is ideal for tech-newbies.
Although the most of useful and interesting features are accessible for Premium members, mostly everyone can purchase the membership. The prices are rather competitive if we take into account the first-class services that the platform provides.
If you are Adventist who is looking for a soulmate, Adventist Singles is a perfect option to try. So, don't hesitate and start your dating journey right away!