About InterracialCupid

Welcome to the world of online dating! If you are new to the online dating thing, you are not alone. Once you start searching for online dating websites, you will come across a plethora of online platforms claiming to offer quite a number of mind-blowing features. So what makes InterracialCupid different from the other dating websites?
First of all, it is one of the most successful projects of Cupid Media. With more than 30 niche dating websites for multiple groups of users, Cupid Media is one of the most popular names in the world of online dating. Here is what InterracialCupid is all about.
It is specially created for women and men who want to meet up with someone from a different cultural and ethnic background. This online platform is much more liberating compared to the other dating platforms. The other dating platforms have very limited and restricted access to people around the globe.
You are limited to meet up with someone from your area. You may not be very fond of the people in your area or vice versa. Here is where InterracialCupid is different. It eradicates all the boundaries, be it ethical, cultural or geographical.
Like the other Cupid Media websites, this one is aimed at matchmaking instead of developing a strong community of people. It is the right platform for those who are looking for a partner in real-life irrespective of caste, creed, culture or religion.
In the following section, we are going to share the pros and cons of this online platform, uncover the potential dangers of choosing the site, analyze the effectiveness and compare the pricing policy with others.
InterracialCupid- The Members
InterracialCupid comprises members of all legal age groups from different parts of the world. 20,000 are from the US who are mostly singles. Either they want to hook up, or get into a committed relationship, and even want to get married from people of a different culture.
Member activity of this website is high and the website gets more than 10,000 weekly visits. The "activity" tab on your page provides all the details of your activity.
The number of male users is more compared to female users. An interesting gender stat is, most women present in this website are in the age cap of 20-40 years. So, gentlemen who want to contact them will need to buy a subscription.
All the members are of legal age. Most men and women are between the age groups of 25-34 and 35-44 years. You will not find any woman over 54 years. Men who are, say, around 60, looking for a female partner of their own age, might be disappointed. If you have a fascination with mature women, it is better to look for other dating platforms.
Sign Up At InterracialCupid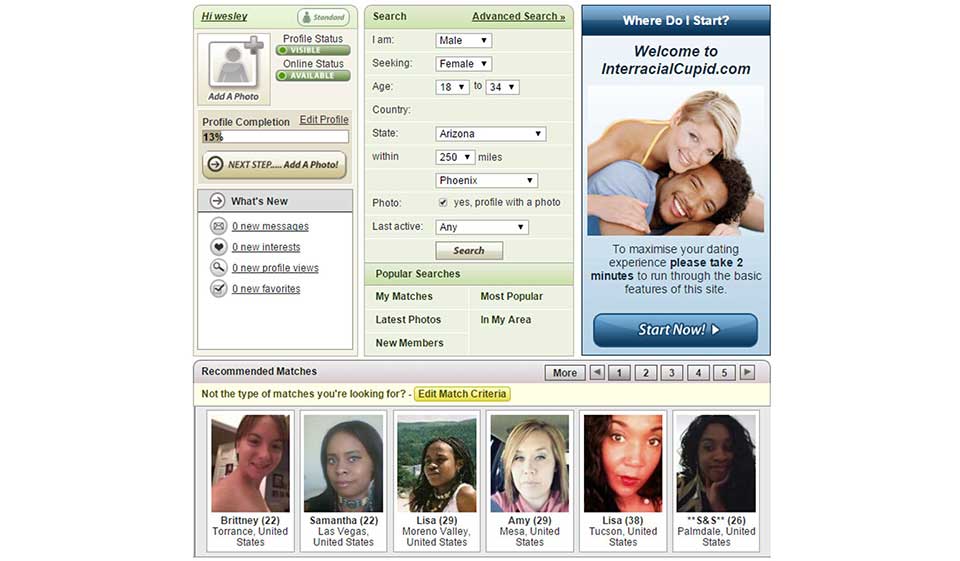 InterracialCupid offers a simple and easy signup facility. You can sign up in just a few clicks. Enter your name, select gender, and choose the age from dropbox. Create your password. It should contain 8 to 20 characters. The password can have letters and figures. The system advises not to use your email password to sign up.
Once all the required fields are filled up, agree with the "terms and conditions" and the "privacy policy" of the organization. Once done, you shall be prompted to click on "view singles now".
You can also use the feature of "sign in with Facebook". It takes less time and allows you to sync photos to your profile. The InterracialCupid services promise to not share any of your personal information with Facebook users.
Rest assured, you will be guided at every step of the registration irrespective of any language you choose.
InterracialCupid – The Quality Of Profiles

The users need to fill all the profile details. Share more information with the members to ensure that you match with a potential partner by answering all the twelve questions in the essay form. The complete profile information is visible to every InterracialCupid user.
While looking through the profiles, you may not have the time to check every detail. To avoid this, you can opt for the "quick view" feature. You might think that it only shows the basics, but it's not. It shows the important details that you might be interested in. For instance, someone's views towards smoking or whether they want to have children or not.
Premium members have the option to double their profile space and they can make it even more informative. Every profile is manually checked by the team to make sure that every user is a real one that has come to find a genuine partner. The whole process takes up to two days. The process is effective. It has helped in reducing the number of fake profiles. The number of fake profiles on InterracialCupid is much lower compared to other dating websites.
InterracialCupid Mobile Application
A lot of online dating platforms do not bother to create mobile applications for their websites, and a few don't have any application at all. But that is not the case with InterracialCupid. They have an application and it is easy to use, bug-free and well-organized. You can download it on your device. A great thing about this application is it allows you in creating an account and you can avail the full functionality of the services. If you have the application, you won't need a computer.
Members Feedback
Greg, 38: 'I've checked out a lot of online dating websites, both general and interracial. It didn't take much longer because I didn't stay as a member for more than a few days. All I can say is, InterracialCupid is the one and only site which turned out to be worthy of buying a subscription. I am a gold member of this online dating site for the last three weeks and in a week my membership is going to expire. I intend to renew it. I am looking to get a longer subscription this time. No, I haven't found my soulmate yet, but the interactions are so exciting that I am up for continuing the subscription.'
Katrina, 23: 'So far I like the services. I am looking for a certain kind of men and I have met some nice men online. I've started with a free account, but I don't feel missed out since men mostly text me first.'
Sam, 46: 'I am grateful to InterracialCupid! I've met my wife here even though a lot of people tried to tell me that it was not possible. We proved that there is nothing that can stand in the way of love. We used to stay in different states, and we could have never met in the street. Our family owes a lot to them.'
Details Of InterracialCupid Services (Free And Paid)

It is a paid platform. If you are a free user, you won't get too many features. A standard membership can be useful for you if you are extremely lucky to come across a paid member who falls for you. Mostly, it will allow you to look around and get used to the functionality of the website. The free members will receive notifications to purchase a subscription.
Not many free services are available. You can create an account and build a profile that represents you in the best way. You can send messages, but the scope of recipients is reduced to paying members.
To get the attention of the premium members, you can send likes and interests to them. All the photos of the users are accessible, but free users cannot see who liked them. It is pointless to like or send interests if you are not a paid user yourself.
You will match with other people by general searches but to increase the chances of being found, you can create Cupid Tags. These are the words describing your appearance, lifestyle or interests. When a user is interested in the tags you have used, your profile will come up in their search results. Cupid tags feature is available on all Cupid Media websites.
The paid members of InterracialCupid will have unlimited features along with no-limits on sending, receiving and reading messages. It is good for those who don't mind communicating with free members and are seriously looking for partners. Along with messaging features, they can also opt for the live chat feature.
The paid members are much more informed about the activity of others concerning their profiles. They can check the likes, views, winks and those who have added them to their favorites. The premium members can search for other users with advanced search filters.
There are smart matchmaking algorithms as well. The paid users are more searchable for others. You can use the "highlight" feature to make your account stand in other user's search results. But you can only do this if you are a paid user. The paid members can also join the groups based on mutual interests and they can get in touch with more people.
Membership Pricing Details

Once you have chosen to subscribe to a plan, you will have options between gold and platinum membership. Platinum membership provides a wide range of features and it costs a little bit more.
InterracialCupid subscriptions will vary depending on the term you choose. Both of them are available for purchase for one month, three months or a year. If you choose the 12-month subscription, it will help you save from spending a few dollars extra every month. If you buy a three-month or 12-month membership, you have to pay the full amount upfront.
If you choose a one-month gold subscription, it will cost 24.98 USD. The cost per month drops to 16.66 USD if you choose a three-month plan. It will drop 8.33 USD for a year's subscription. The cost of a three-month subscription is 49.98 USD and the cost of a twelve-month subscription is 99.98 USD.
You can choose a platinum plan for one month which costs 29.98 USD. A three-month platinum plan costs 59.99 USD and a twelve-month platinum plan costs 119.98 USD. The difference between a gold and platinum plan is just 20 dollars. It is a reasonable option to buy a platinum plan by spending a little bit more. You can get a lot more features.
You can only make payments with credit cards. There are no other options supported in InterracialCupid. Like any other organization, this online platform too chooses to renew your membership. It will allow you to enjoy the features even if the subscription renewal date has slipped your mind. However, you can cancel the renewal of the subscription if you want. Click on NO when asked "auto-renew my membership?" in the billing settings. Save these changes.

If you want to mingle, hookup or search for a life partner among people of different cultural backgrounds, InterracialCupid is the right platform. Cupid Media owns this online dating platform and it is popular for offering the best matchmaking services for users with different goals and preferences.
The niche website and mobile application is well developed and is easy to use. Those who have used different websites of Cupid Media will instantly get the hang of it. Others won't need a lot of time to get accustomed to it.
The member activity and profile quality will help you to enjoy the services to the fullest. However some of the profiles didn't seem to be genuine enough. Other users have reported a few scam attempts.
Don't worry the website has implemented multiple security measures. Once you get to know about these and how you can benefit from them, you will feel a lot more safe while contacting users at InterracialCupid. The site also offers an ultimate guide to safe online dating to those who want to stay fully protected from all negative experiences.
Conclusion

In this review of InterracialCupid, we have assessed all the pros and cons of InterracialCupid. The feedback and our personal experience allows us to rate the side 4.5/5. If you want to discover the world of interracial dating, then this is a great option online. Choose a free subscription to know what InterracialCupid is all about, it's fun. Besides, we are pretty sure that it will help you find that special person you have been looking for.