BlackChristianPeopleMeet is a popular dating platform. However, we found a lot of critical points, which can make your dating experience not enjoyable at all. At the same time, the website brings a lot of unique opportunities together with affordable prices, so a lot of disadvantages may be forgiven. In our opinion, the rate is quite average.
People Media is an international company, which operates a lot of different niches for online dating sites. They deal with specific audiences. It looks like the company has brainstormed a new idea for creating a specialized dating platform for interested people. BlackChristianPeopleMeet is another successful but a bit bizarre project.
It's always lovely when a specific group of people has an excellent opportunity to interact in a safe, enjoyable, and comfortable online space, which is created exclusively for them and their needs. BlackChristianPeopleMeet belongs to this category of dating websites. It encouraged Afro-American men and women to use this service to build a long-lasting love relationship. These relationships are full of Christian faith. You will be surprised to see two million members on this platform. The majority comes from the United States of America. However, the way this site is realized is a little bit non-conventional. Let's hope that the developer will adjust specific approaches in the future. Let's have an overview of BlackChristianPeopleMeet step by step.
Website Design & Usability

The design of this site is very conservative. You can see this in quite simplified and cold fonts and color palettes. There are no distracting elements on the layout. The fact that there is no advertisement at all is a significant advantage! Many users are not happy with the design because it does not inspire them for a romantic mood. The team of the BlackChristianPeopleMeet has another opinion. It is true all modern dating sites select different design approaches. They do their best to inspire a playful and flirty mood of members. Clearly, this one does not want to do the same.
It is straightforward to navigate a user-friendly interface. The site is created for users who are not tech-savvy. You need a minimum of computer skills and knowledge. All that you need on a dating platform, you can find intuitively in a matter of a few minutes. There are not too many features, which could confuse users. So, do not look for advanced features while using BlackChristianPeopleMeet services.
After visiting the homepage of BlackChristianPeopleMeet, you get the invitation to join the community immediately. There is no need to rush. We recommend you to take a bit of time in order to look around the website. You can read numerous happy stories from other members. Of course, it is the right motivation to try this dating platform. We admit that all the members' stories on BlackChristianPeopleMeet look unique and incredibly genuine. If you have seen such stories on other dating sites, you know that all of them are written not by members but by professional writers. Here on BlackChristianPeopleMeet, all the stories and testimonials look authentic. We find them very heartwarming to read.
How To Create A New Profile?

There are two ways to create a new account. You can do it using your actual Facebook profile or create an entirely new profile from scratch. The only difference is how fast you will get your new profile. The first way will make the process of registration a little bit more quickly. At the same time, the second way is not difficult at all, thanks to numerous prompts. A new user has to answer six questions. If you want to speed up the process, you can copy the answers from your Facebook profile. You can copy the gender, but you have to mention your sexual orientation. The site itself assumes that a new member prefers the opposite gender. It is essential to say that BlackChristianPeopleMeet welcomes heterosexual people exclusively. If you have the "Married" status on your Facebook, you are not allowed to join the BlackChristianPeopleMeet community. You have to mention your age, and if you are minor, you are not allowed to use a dating platform.
All new members should be ready to answer the question about their Christian denomination. You can choose between a couple of options: either you are a Catholic or a Christian. We find this choice is a little bit bizarre.
As soon as you have finished your registration process, it is time to start filling your profile. You can provide different kinds of details about yourself, your life, and your interests. All the members appreciate it if you devote time to make your profile complete and exciting. Uploading an image is not mandatory. It is a matter of choice. If you feel like, you can copy it from Facebook. We recommend you add at least one picture —otherwise, your profile risk to be not included in the search results on BlackChristianPeopleMeet. However, even if you upload a photo, do not expect it to appear in your profile immediately. BlackChristianPeopleMeet moderates all photos before approving them. Usually, this procedure takes 48 hours. It is allowed to add video presentations to your profile to grab people's attention, but they have to be verified as well.
We want to pay your attention to the "Message Ideas" feature you can access on BlackChristianPeopleMeet. These are four questions, which should be replied by all new visitors to your profile. This feature is creative, fun, and works as an icebreaker for shy people.
If you notice a profile that looks very suspicious, you should not hesitate to report this member by pressing the button on their profile page. You will have to specify one of the following reasons for your suspicion:
The member is married/minor.
The member attempted to harass others.
The member promotes/sells services or specific products.
The member is a job recruiter.
Interacting Features: Free And Paid Subscription Options

BlackChristianPeopleMeet has three different options to search for potential matches. You can get access to a primary and free search tool, which allows you to enter the desired characteristics of your prospective love partner. The following characteristics may indicate the desired age, Christian denomination, and many other vital details that users provide when they create a new profile. You can browse all the search results to be sure that there are some people that drag your attention. Also, BlackChristianPeopleMeet members can use keywords. The system will find and display members who mention the same keywords in their profiles. The last search alternative is to look for matches by the desired location. It is the fastest way to check who is registered in your area. You will not find any other advanced search results. Also, the BlackChristianPeopleMeet site does not offer an auto-matchmaking tool. Unfortunately, you can't see who is online at the moment.
Everyone is welcome to like people's profiles, despite your membership status. Both free and paid members are allowed to save people to their list of favorites and send them fun winks. These flirting options are free of charge! When two members have liked each other's profiles, the "Echo" feature will notify them immediately. As for messaging features, they are available to premium members. If you keep a free status, you are not even allowed to read the message.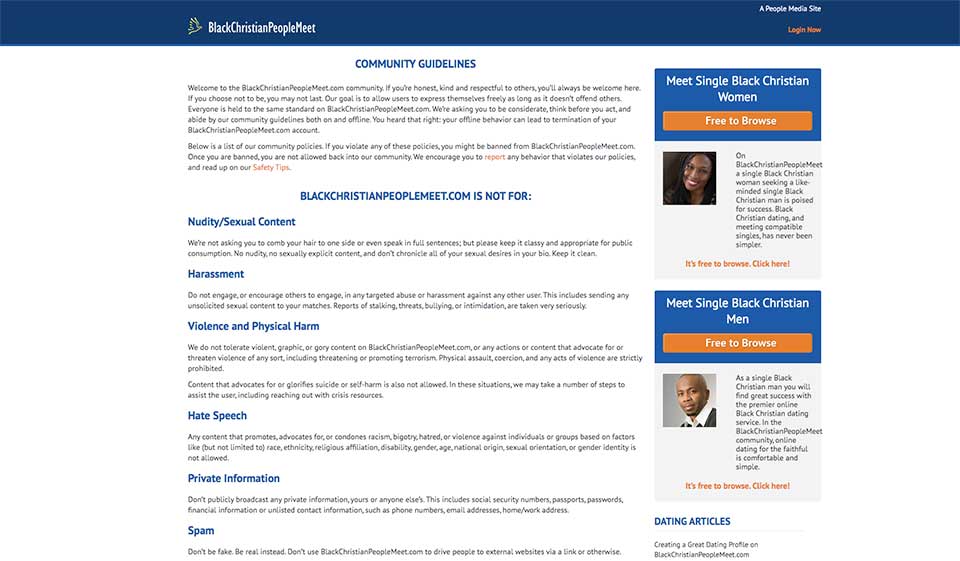 As soon as you order a subscription plan, the site gives you access to the unlimited messaging options, either instant charts or mails, but also a set of useful features.
"Connect Me" Feature
After finding an exciting match and chatting with him or her for a while, it is time to bring your interaction to the next level. Would you like to hear the voice of your match? It's also understandable that members are reluctant to share mobile phones with new acquaintances. BlackChristianPeopleMeet has an excellent solution to this issue. If you have a premium status, you can press the "Connect Me" button. You can find this feature on your match's profile. Both of you get an exclusive phone number to reach each other from their phones. It is essential to mention that this feature is available in the United States of America for now.
"Promote Me"
This feature can put your profile on the top of the search results of potential matches. It helps to grab people's attention and receive a lot of private messages. Note that this feature has a time limit. As soon as it is on, you have one hour. You can use this feature again only the day after.
Offline Events
BlackChristianPeopleMeet knows that some people are not fond of online interaction. They are old-school and want real communication. That is why the site organizes offline events for the community. Such fun events are held in many different locations across the country. It is a unique opportunity for your real first date.
What Does BlackChristianPeopleMeet Lack?

Photo verification.
Poor quality of profiles.
A mobile app is not presented yet.
The poorly optimized mobile version of the site.
Available Subscription Plans and Prices

BlackChristianPeopleMeet offers quite charitable costs for its dating services. If you want to subscribe for a month, you must know that it is the most expensive rate. The price is 13.99 USD. The price per month becomes cheaper when you choose a subscription plan for three/six months: 8.99 USD/6.49 USD. We have to remind you that you will not be billed every month. You must have enough money on your account to pay the entire cost: 26.97 USD/38.94 USD, respectively.
If you want to change your current subscription plan, you have to pay an extra fee, which is 3.99 USD. Note that the company is based in Washington, you have to pay 4.34 USD of the state tax. This amount is included automatically in each payment. You can use any credit card. The company does not have refund policies.
Customer Assistance
If you need assistance while using the dating services of BlackChristianPeopleMeet, you can access them by a couple of channels. You can get help from their hotline, which is accessible from Monday till Friday and from 8 AM till 5 PM. Once again, you can get assistance if you live in the United States of America. In case you are outside the USA, and you still need help, you must submit your question via an online form on the BlackChristianPeopleMeet site. As a rule, you will get a response within 48 hours.
Conclusion

This dating site is worth your attention. It offers a set of efficient tools to meet Cristian people. However, we can't close our eyes to a lot of critical points. They make our dating with people less fun and enjoyable. First of all, we regret that the company could not create a mobile app. They are not in a hurry even to optimize their mobile site version. In fact, you can access the site only from your desktop computer. It does not leave you space for mobility. Also, there are no mandatory verification procedures, and as a result, the quality of profiles could be better. There are other disadvantages: quite limited options to pay for a user's subscription, limited channels to get customer support, no refund policies, and the website design looks out-of-dates. So, the technical side of BlackChristianPeopleMeet is not the best. At the same time, dating opportunities are outstanding. You can meet a lot of religious people who are interested in creating a family in a Christian tradition. As soon as you meet your love partner, you can forget all the technical downsides. BlackChristianPeopleMeet offers services for a modest price, so you should try!