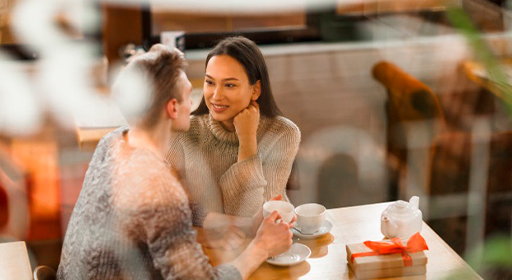 Zoosk and eHarmony are two world-popular matchmaking portals with multi-million user bases. Thousands of males and females claim to find their love using these online services. Singles who never heard of these two brands may doubt what site to choose for themselves. That is why our dating experts tested both online cupids to detect a better one.
eHarmony is a well-known brand among marriage-oriented singles with religious values and a mature approach to relationships. Statistics indicate that around 4% of US marriages become real due to eHarmony. The service dates back to 2000 and holds the title of the industry pioneer. Singles will love the matchmaker's website for its attractive layout and simplicity of navigation. Even not tech-savvy people will quickly figure out how the service works. The site has an in-detail FAQ page, Blog section, and a separate block with successful love stories of the eHarmony clients. A qualified customer support team will gladly answer all questions and help singles with any issues while using the portal.
In this Zoosk vs eHarmony debate, Zoosk is the one that focuses on easy-going affairs, alongside lasting unions. The portal can boast of an impressively diverse forty-million user-base, which keeps growing by hundreds of newcomers monthly. The matchmaker is a bit younger compared to its opponent (launched in 2007). Daters admit that they adore Zoosk for its super-easy navigation: the site is not overwhelmed with tons of unnecessary sections or ads. Newbies need to spend only ten minutes to join the site. Few people know that the idea of linking users' social media accounts to dating platforms belongs to Zoosk creators. Many other online matchmakers follow Zoosk's example and now also use this option on their portals.
It seems like this eHarmony vs Zoosk competition will be intense because the first impression about their websites shows that opponents go equal by now.
How to Choose a Better One?
All people have different goals and expectations when they pick up an online matchmaker. Someone dreams about finding a sweetheart like in cult romantic films; others want to make fun and hunt for casual hookups. The following recommendations may be helpful for daters who hesitate about what portal to choose.
Set a clear target. Ask yourself what your goal is on a dating platform. Do you look for pleasurable communication with like-minded individuals or want to find a spouse for life? When you have a clear goal, you will know what matchmaker fits your expectations.
Check the audience. The audience quality is fundamental when picking up between Zoosk or eHarmony. Both cupids have diverse and extensive user bases of intelligent, funny, and like-minded singles. Still, people who use these two services have different goals. eHarmony's community stands for life-lasting unions, while Zoosk members don't neglect hookups as well.
Make a pricing comparison. Though newbies may join both sites free of charge and even test the services via a free trial, paid packages offer more interacting tools. Thus, it will be wise to make a pricing comparison to understand what service is more affordable to one's bankroll.
If you hesitate about making the right choice, put together a list of each portal's pros and cons that matter particularly for you. Thus, you will see what site suits you most
eHarmony vs Zoosk: What's About Price Comparison?
When selecting between eHarmony or Zoosk, it is necessary to realize what matchmaker is more affordable for an average user. Not all daters can spend a hard coin on a lovebird search. Many single males and females are afraid that this process may drag on for months and drastically hurt their bankrolls. The table below gives the price comparison of both online cupids.
Pricing table
| | |
| --- | --- |
| 30 days – $29 | 3 months – $108 |
| 3 months – $61 | 6 months – $174 |
| 6 months – $75 | 1 year – $168 |
The good thing is that eHarmony has a free trial, meaning that newbies may test the service free of charge within three days. A free package allows singles to create accounts, view other daters' profiles, and express their interest via likes and winks. Moreover, eHarmony presents free clients with five partner suggestions daily at no extra charge. Still, if people want to relish unlimited chatting with other members, a paid package is obligatory.
Paid package benefits at eHarmony:
Option to browse profiles via an Incognito mode;
Unlimited chatting via DMs;
Access to a face gallery;
VIPs receive extra thirty partner suggestions daily;
Access to chat rooms;
VIPs see when someone views their profiles.
Zoosk and eHarmony have one thing in common: a free trial. It is a brilliant option for newcomers to test portals without spending a penny. Free subscribers at Zoosk may create profiles and get in touch via smiles and likes. They can view other members' photos and even get messages. Still, free members won't reply to DMs at Zoosk because it is a privilege solely of VIPs.
Paid package benefits at Zoosk:
Messaging via DMs;
Option to switch on an invisible mode;
Access to video chats;
List with extra matches based on advanced filtering algorithms;
VIPs may see when someone likes them.
Summing up, eHarmony is more expensive than its opponent. The cheerful nuance is that the service has a money-back guarantee. The decision is tough, but we will give a victory in this round to Zoosk.
Zoosk vs eHarmony: Who Can Join?
The next stage of this tense Zoosk vs eHarmony battle is the audiences' comparison. Singles should be aware of what types of daters are present on both portals to evaluate their chances of matching someone who suits their preferences.
Primary Audience at Zoosk
Around 40M daters from eighty countries worldwide use Zoosk for lovebirds' search. The difference in the male and female members' percentage is not crucial: men dominate at 8%. The most active users are around 20-35 y.o. The majority of Zoosk's community is straight men and women. The service is loyal to LGBT representatives, but they make less than 10% on the portal. The site's brilliance is that singles of different religions, occupations, and interests are present. Zoosk is not a typical hookup platform, but hookups take place here. Singles at Zoosk don't necessarily join the matchmaker because they dream about finding sweethearts for life. Many youngsters register because they look for casual affairs and non-lasting relationships with open-minded hotties. At the same, many daters use Zoosk for building life-long unions with soulmates.
Primary Audience at eHarmony
At first glance at eHarmony and Zoosk, it seems like these two matchmakers are wholly different. The primary audience at eHarmony is indeed more mature and marriage-oriented than at Zoosk. Males make 52% of the portal's community, while female users get 48%. The difference is not crucial, and it is fair to admit that ladies don't suffer from the lack of men's attention at eHarmony. The average age of the active audience is 25-38. At the same time, many seniors 45+ are also present. The dominant share of all members is straight. Singles who join the service have a focus on life-lasting unions. These are mature and self-confident men and ladies with high spiritual values and a serious approach to relationships. Daters don't come to eHarmony for one-night hookups. Statistics show that the matchmaker results in around 4% of US marriages.
The audience comparison shows that both cupids can be proud of their communities. Still, eHarmony members are more mature and family-focused. Thus, this round winner of the eHarmony vs Zoosk tournament is on eHarmony.
Zoosk Features
Research shows that Zoosk is one of the most visited matchmaking portals among singles 20-35 y.o. What's more important is that the platform has a high percentage of active members and a miserable amount of fake accounts. Registration takes around ten minutes or even faster when signing up via FB or Google. Newbies may even transfer photos from their Facebook galleries not to upload them manually to Zoosk. Those who don't want to attach pictures may skip this stage here.
The online cupid doesn't bother newbies with sky-long questionnaires. Singles only need to provide personal data (hobbies, occupation, relationship goals) and describe their potential lovebirds. By linking their FB accounts to Zoosk, singles may enhance their profiles' visibility in the match ranking. Zoosk members receive lovebird recommendations daily. Zoosk and eHarmony have this in common, but unlike its opponent, Zoosk allows singles to take the initiative in their hands and search for sweethearts themselves via filters.
Exclusive Features
Smart Picks. This option is purely for VIPs with paid packages. Smart Picks are match recommendations based on an advanced filtering system that generates singles who can potentially become a couple. Filters identify potential matches via in-depth analysis of users' profile data.
Boost Me. It is also a paid option. Singles may use it to boost their priority in search ranking and enhance their profiles' visibility.
Video chat. Zoosk members may organize video dates. They can turn on their cameras and interact with partners in a more intimate atmosphere. The only miss is free users can't invite anyone to chat rooms or accept invitations themselves.
Carousel. It is the so-called matching 'Wheel of Fortune' at Zoosk. Carousel presents singles with matches randomly (like a Roulette), and users then decide whether to skip a match suggestion or not.
Flirting. Singles at Zoosk may automatically send many flirting messages to a group of other members at once. The best part is that daters shouldn't figure out the text themselves, as mails are already pre-written by the site experts.
eHarmony Features
Comparing the joining stage at eHarmony and Zoosk, one will see at once that eHarmony has a more profound approach to newcomers' verification. Registration here may take around an hour due to an in-detail questionnaire. Newbies need to answer around 150 queries related to their interests, life plans, religious preferences, relationship goals, and many more. Singles also have to reply to a series of questions dedicated to their potential lovebirds: what character traits they value in a future partner, and so on. Thus, profiles are more informative and constructional at eHarmony than at Zoosk.
The service is popular in over two hundred countries worldwide. Daters receive daily lists with match recommendations. eHarmony applies a top-notch matching algorithm to bond people who can potentially like each other and form a couple in the real world. Over 600,000 happy unions point to the system's efficiency in couple twinning. All males and females who come to the portal seek marriage-centered relationships. When choosing between eHarmony vs Zoosk, one should understand that eHarmony is against casual hookups. If you hunt for one-night affairs, better opt for alternative services. What daters may not like about eHarmony is that they can't participate in lovebirds' search themselves but should rely on filters only.
Exclusive Features
Extra matches. eHarmony presents free subscribers with five lovebird suggestions daily. Paid daters receive additional thirty recommendations to boost their chances to match the right person.
Compatibility quizzes. Singles may pass a compatibility test covering a series of relationship-based questions. A precise checking system analyzes the quiz results and generates potential lovebirds based on people's psychological compatibility.
Ask Me: Singles at eHarmony may interview each other by sending a self-made questions list to other people. It is a brilliant option to ask potential soulmates different things that matter personally to you.
Chat rooms. Both Zoosk and eHarmony allow singles to arrange video dates if they seek closer bonding. Video dates with switched-on cameras and microphones give fantastic prospects to break the ice with an object of one's admiration.
Favorites. Singles at eHarmony may form favorite lists with males or females of their interest.
The features' comparison reveals that both matchmakers offer many ace opportunities for lovebird search, flirting, and interaction. This round ends in a tie.
And the Winner Is: Zoosk or eHarmony
The matchmakers' debate was tense because both portals have many ace features and prove their efficiency in partners' twinning. The verdict is the following. If you feel okay about short-lasting affairs and don't search for life-long lovebirds, you should better opt for Zoosk. In contrast, eHarmony stands for meaningful relationships for life. Thousands of single hearts managed to find their soulmates on the service.
The decision is evident. As far as most singles dream about lasting unions with soulmates, the victory in this tense eHarmony vs Zoosk battle goes to eHarmony.