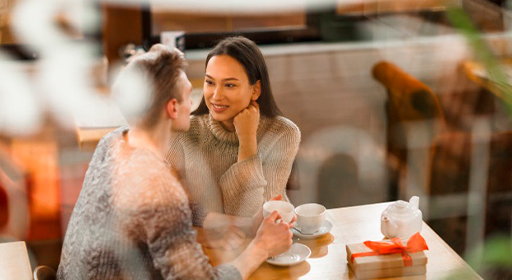 The first competitor of our Tinder vs Hot Or Not review has launched a web-optimized version in 2017. Until then, it was only available on mobile devices. However, the app was not initially available in all countries. It didn't even have some of the features we see today. In February 2021, Tinder was ranked 123rd (fourth among lifestyle apps) on the Google Play store, but in March, it suddenly dropped to 179th. Tinder is still very popular among people of different age groups, mainly from 18 to 24 years old.
Founded in 2000, Hot or Not photo rating and dating service have already gone through 17 updates as an iOS app. The Hot or Not principle: by registering through Facebook or VK (Russian social network), you create an account, and you can see photos of people nearby to mark your favorites by pressing the heart or cross, thus expressing your opinion — "Hot" or "Not."
It is essential that the application is not engaged in scam activities and does not share all your photos from social networks in the public domain — you can only show some of them and choose which ones. Suppose you are interested in a photograph of a man or woman. In that case, you can open their profile and see the location, interests, and other details that the person wishes to disclose. Read on this Hot Or Not vs Tinder review to find out more information.
How to Choose a Better One?
To decide which site you enjoy more, you should know the lists of their benefits and weak points.
Hot Or Not advantages:
quick registration possible;
non-binding contacts in the shortest possible time;
large community with numerous members;
quick chats;
convenient app use possible;
you can use the phone number to register.
Hot Or Not disadvantages:
rather superficial contacts;
there are many fakes.
Tinder advantages:
long history of being the market leader;
quick registration;
strong privacy policy;
convenient swiping method of matching;
enough free features.
Tinder disadvantages:
the search filters are too general;
inaccurate matching;
profiles are not well-detailed;
the best features are not free.
Hot Or Not vs Tinder: What's About Price Comparison?
The price comparison of Hot Or Not vs Tinder is as follows:
Hot or Not free services:
Create your profile;
Visit profiles;
Use of the direct hit game;
Receive and send messages;
Like users;
Search in your area;
Upload pictures and videos;
Create your favorites list
Premium membership enables you to:
Boost profile;
Get more likes;
Undo swipes;
Browse in incognito mode;
Send gifts;
Use stickers inside the instant messenger.
The prices are:
1 week costs $ 4.99;
1 month costs $ 17.99;
3 months cost $ 43.99;
6 months cost $ 65.99.
Tinder free services include:
Create your profile;
Visit profiles;
Use the swipes;
Receive and send messages;
Like users;
Search in the particular area;
Upload pictures;
Share the account of the user outside the app;
Create your favorites list.
The services you should pay for are:
Instant matching;
Boosting account;
Undoing swipes;
Seeing visitors' profiles;
Seeing who liked you even if they are premium users;
Access to the best users.
The Tinder Plus prices:
1 month costs $ 4.99;
6 months cost $ 15.99;
12 months cost $ 24.99.
The Tinder Gold prices:
1 month costs $ 6.99;
6 months cost $ 25.99;
12 months cost $ 36.99.
Tinder, Hot Or Not, and many other dating sites belong to the upper price range category.
Hot Or Not vs Tinder: Who Can Join?
Member activity on Hot Or not consists of 1,000,000 active weekly. The gender distribution is 45% of women for 55% of men. There are no moderated profiles so that you can run across some fakes. The most popular age range is between 18 and 25, but Hot or Not is suitable for every age group. There is hardly anyone over 50 here, only a few search results. Unfortunately, some fake profiles make fun of fooling users or advertising other erotic websites. Fakes or annoying users can be reported to the support at any time. As a rule, you will receive a response within 24 hours.
When it comes to Tinder, Pew Research Center's 2021 statistics show that 30% of US adults who use any dating apps have used this one at least once. Tinder focuses more on finding short relationships than on finding serious relationships. However, it's no secret that many people managed to find their soul mates thanks to Tinder. It all depends on what you are looking for.
While Tinder has many different features, success metrics and numbers play an essential role. According to Queen Mary University of London research, heterosexual men make up the most significant part of Tinder's audience — 40%. Comparing Tinder vs Hot Or Not, the available number of men on Tinder is higher — 63%.
Hot Or Not Features
Using a Hot Or Not filter tool, you can choose to see only men or only women, or both. The age category of interest can be assigned independently. However, for ethical reasons, people over 17 cannot view photographs of adolescents and vice versa. In the service description, the app indicates the age restrictions are "13 years and older."
On this app, to see the next photo, you need to rate the previous one. If the person you like, in turn, thinks that you are "Hot," you can make an acquaintance and exchange messages in the future. Otherwise, fans will go to a separate section, and their photos will be blurred.
New users of Tinder, Hot Or Not, and similar apps are carried away by the game process and often make the same mistake — they flip through photos too quickly and automatically press the crosses-hearts. In the desire to promptly view "who's next," users may miss an exciting person. And the Hot or Not program does not forgive mistakes — you cannot go back to change your choice for free. Given that non-mutual sympathies cannot be viewed, this feature of the program upsets many users. But there is a way to catch up.
The Hot Or Not Mobile App
The Hot Or Not portal is available both on the web and via the app. The app version works well, but the dominant color is plain white, the font is gray or blue, which doesn't make it stand out. You have all functions well sorted. The settings menu is a bit complicated because you have to open many pages until you finally get to the goal.
Tinder Features
As reported by Tinder reviews, women use the app to find relationships more often than men, who are primarily interested in one-night stands. Therefore, there is so much confusion out there, and you may end up getting nothing from using the app. So, the answer to which one is better depends on what you are looking for. Not all users use the Tinder app for the same reasons as you.
When creating a profile, you should make sure to share various personal photos taken in different places. Also, don't hide your face in sunglasses, even if many people do. The eyes can say a lot more than you think and attract people you might be interested in. Tinder reviews fully support this idea.
It's effortless to get the expected match on both Tinder vs Hot Or Not. All you have to do is swipe left if you don't like the person, swipe right if you do, and possibly see a match (if that person also swipes right). On Tinder, you don't have to be afraid of not finding a good match. The application is very loyal. People of different age groups use it. Moreover, LGBT people can also find a match for themselves, which doesn't apply to other dating apps and sites.
Both Hot Or Not vs Tinder offer great communicating features. After matching with a person you like on Tinder, you can send them an unlimited number of messages. However, if the person has not reciprocated you, you will not contact the user. If you receive a match with someone and then decide the person is not for you, don't be afraid and block the user or just hit "unmatch." You are not risking anything. However, you should be aware that if you accidentally send a message and want to delete it, this is not possible. You will need to erase the entire conversation.
One of the main aspects that many Tinder reviews find enjoyable is the unique features that come with this app. Even though some of them are only available to paid members, they are worth trying:
Displaying your profile on the TOP. This paid feature is fantastic. If you raise your profile, you will be at the top of your city within the next 30 minutes. If you initially have a paid plan, you "hang" on the top for a month.
Rewind. If you accidentally swipe left, you can rewind and swipe right even if you liked the person.
The passport. This feature allows you to meet people all over the world. All you need is to choose the right place and look for new matches. This feature is chargeable and only available on Tinder, Hot Or Not doesn't have such a tool.
The best choice. Tinder helps you find matches based on your criteria.
Personal safety. The team created this feature to protect LGBTQ + users. In some countries, LGBTQ + members are penalized, so this feature will notify you when you are in such a place.
Tider U. This feature allows university students to find matches by prioritizing their profiles.
Tinder offers even more options, but these seem to be the most important ones. After you have read about all the application's unique features, they should not leave you with a question: "Tinder vs Hot Or Not — which one is the best?"
The Tinder Mobile App
Tinder has a very easy-to-use application that is rated 3.7 out of 5 in the Google Play Store. Although the score is not the best, the app is beautiful and understandable. You may not know each icon's meaning straight away; however, once you understand what they are for, you will see that there is no confusion. You can see features like "raise your profile to the top," rewind, or super-like there.
The swipe function is incredibly convenient to use within the app offered by Tinder. Hot Or Not has copied it. Both can be a little addictive and not in the wrong way. It seems like a lot of Tinder reviews agree with it as the app is free to download, and millions of people visit it every day. If you want to share more information about yourself, you can connect your account to Spotify, Snapchat, or Instagram. It can also increase the number of matches.
And the Winner Is: Hot Or Not vs Tinder?
If you want to get more matches on Tinder, you may provide additional information about yourself: you have to fill out all the information that Tinder allows you. Both Tinder vs Hot Or Not offer limited profile customization because they aim to let users swipe quickly. This dating category is about evaluating a person by their appearance. Users tend to swipe left or right without looking at the person's information and judge by the photos. This method makes the application rather superficial.
For this reason, many Hot Or Not vs Tinder reviews think that the services are more useful for those who seek one-night stands rather than building a family. Of course, this is not the case for everyone. If you want to get the most out of using Tinder, you should forget about the web-optimized version and download it, which is much better and accessible. You will fall in love with this app.
You may download both apps and look at the profiles, designs, and interfaces of the services. The direct hit game is addictive. It's just too much fun to click through the faces in the vicinity and decide who is hot and who is not. However, as Tinder offers more unusual features and is one of the most popular dating apps, it is the winner of this Hot Or Not vs Tinder review.