We have known the MillionaireMatch for two decades. It is true that the website is not for ordinary people who like to save money. If you are unlimited in cash, you will find this dating service reliable enough to find a perfect match from the same social class.
MillionaireMatch is one of the most reliable dating platforms. This reputable website has been designed to target people who are wealthy and successful. As a rule, all the members of MillionaireMatch have annual earnings of more than $150,000. If we speak about the site, its income is about a million dollars. The site was created two decades ago. At the moment, there are almost four million users, which come from many different countries. However, the majority (around 2.5 million) live in the United States of America. Other members come from Canada, Japan, Germany, and the UK.
The majority of users have very exquisite taste and high demands. Can you imagine how difficult it is for MillionaireMatch to meet all the primary requirements of such a VIP audience? The site hires the best moderators who demonstrate a new level of professionalism. Their job is to protect clients and make sure all of them get positive dating services. Moderators and developers create and launch new options regularly. They improve design to make MillionaireMatch pleasing to the clients' eyes, but mostly they focus on frauds and scammers issues. MillionaireMatch is an online platform above all. It deals with many people every day. So, there are some complaints about potentially fake members who tried to possess the money of genuine members. There are a lot of complaints about the low activity of many members. We also criticize it.
Membership types and price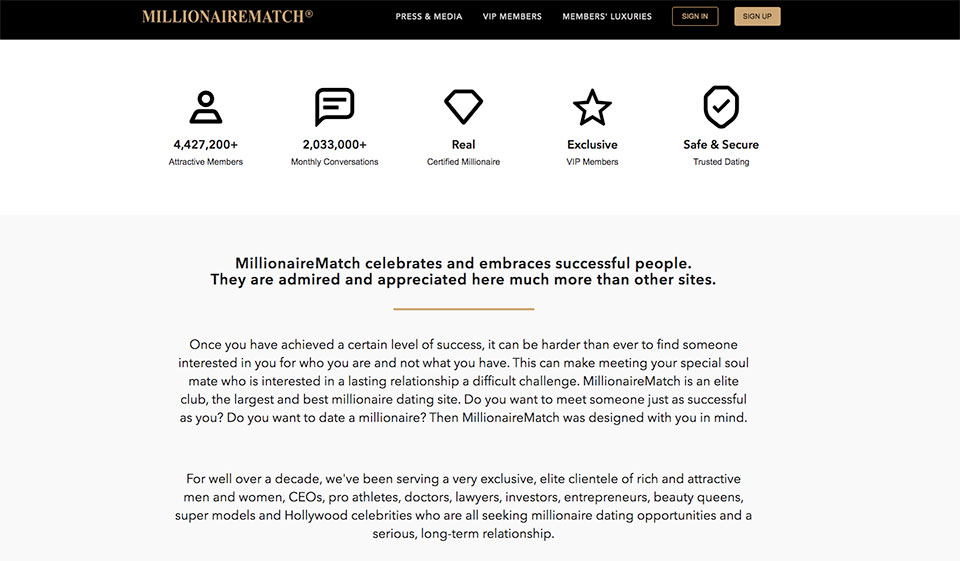 If you want to become a member of MillionaireMatch, you have to meet several criteria that are imposed by MillionaireMatch. You have to be either very beautiful or very rich. The website deals with lawyers, CEOs, doctors, and even celebrities. A lot of people from the entertainment business register at MillionaireMatch. What is significant is that the gender ratio is equal, which is not typical for average dating platforms. It is no surprise that the majority of Gold members are men. All of them have "Certified Millionaire" labels. To get this label, you have to prove that you are a millionaire. For example, you can upload your bank statements. The site may ask you to provide some additional documents. As soon as your identity is certified, a newly registered millionaire receives an exclusive diamond logo, which includes his/her name. Your new logo will appear in search results, as well as on the profile.
Registration process

You will be surprised, but the initial procedure of registration is speedy and easy to do. It will take about ten minutes to provide general info about your personality. Also, you have to add a photo, as well as include a brief description of your life and your expectations regarding a matching partner. Make sure that every paragraph you write contains at least fifty characters. You can write longer text because there is no limitation in terms of the length. Now, you have to launch the verification process. Your member status stays pending until moderators check all the provided information and approve it for being posted on the website. As a rule, this phase does not take more than a day; in most cases, everything is finished even faster.
If a new member wants to speed up the registration, he or she can sign-up through Facebook. You will save time by using Facebook pictures as well. You will just need to fill in the mandatory sections. It will not take plenty of time. In the beginning, you can give brief facts about who you are, and people will discover the rest during communication.
You have a chance to certify your millionaire status by sharing photos, information about the education, and occupation. You have to provide your ID card, send the photocopy of your valid diploma/certificate, or provide official documents that prove our employment status in the company you claim in your profile. We understand that it is very personal to share such data, but it is the only way to get extra credibility for your profile and make it more eye-catching to other members.
Sign up process

You can sign up for MillionaireMatch, providing a few general facts about your personality and life. However, we encourage you to write a brief essay or a video presentation for your future friends and love partners. It is the way to make your profile more appealing and visible. Do not forget to include a headline to grab people's attention. It has to clarify your personality, life, and values. Many users like to post comments on the site forum. You can share your ideas regarding your dream travel destinations, describe your hobbies or home pets you love so much. Anything you feel passionate about and interested in deserves people's attention. Share your best images representing your interests and the brightest moments of your life.
Available Basic Features
All new members get access to the following basic features:
You can send not more than fifty winks per day; daily
You can reply to messages;
Available online chatting;
A primary search tool;
Make an exclusive photo album;
Add maximum 26 photos;
Possibility to write blog posts;
Discuss various topics on the forum;
Comment blog posts, images, forum discussions.
Paid Services Are The Following
You can send many messages;
You can initiate a new online chat;
See who are online right now;
Get notified when people read your emails:
Possibility to highlight your profile;
Display your profile on the top of search results;
Search by keywords and specific parameters.
Taking part in fashion shows
You have your account manager.
Payment For Gold Membership

MillionaireMatch has the only one paid membership. You can become a Gold member right now. It goes without saying that prices are significantly higher as compared to popular dating sites. It is not surprising because the target audience is wealthy. The fee per month starts from $70 for the one-month membership, and it climbs up to $40 per month for a six-month membership. You will have to make complete payment in advance. It is important to say that the Gold membership gets renewed automatically. This option can be canceled at any time. Also, you can remove your MillionaireMatch account from the platform's database. The site has the right to delete users' accounts too, if there are serious reasons for such actions.
The company allows members to deactivate accounts for a certain period of time. If you want to stop using your account for a while, you must press the "Hold Account" option, which you can find in the "Privacy Settings" menu. We have to pay your attention that this option is available to free users. If you are a Gold user, you have to cancel your membership plan and switch your account to non-active status.
Some members can get access to extra features even without paying the fee. You can use a Gold membership if you can contribute significantly to the functionality of MillionaireMatch, report about scammers' activity, or offer exciting and innovative ideas on how to improve the dating platform. Such cooperation works as a bonus for your access to top features.
What Does Make MillionaireMatch Special?

The target audience of the dating platform is specific. The moderators work hard not to let gold-diggers get access to the site. The only way to handle the situation is to check the financial condition of all members before they get registered as a new member. MillionaireMatch will allow you to register if you can prove your income. Members never get bothered by scammers.
You will not see advertising on MillionaireMatch. Its absence is another definite advantage. It is so pleasant to be able to focus on romantic relations and not be bothered by popping up ads. Nothing will distract you from members' profiles.
There is a very interesting feature called "Let's meet." This feature was presented in 2013, and it motivates people to meet each other. You can access the feature from the app too. As soon as a person likes you, it is time to set up the first romantic meeting. If you do not want to meet a recommended person, you do not have to accept it.
MillionaireMatch has fantastic blogs and discussion forums. These features make the service stand out from many other dating platforms. People can share whatever they want, for example, date ideas, gifts, etc.
There is an option to display your luxuries. This feature is called "Members Luxuries". This means that MillionaireMatch can add photos of all you have purchased recently.
As for female MillionaireMatch members, they have the right to use the feature called "True Selfie Verification". Women are encouraged to add photos without any filter or makeup on. It is vital to show your natural beauty. The site does not promote fake beauty standards.
What Symbols Are Used On The MillionaireMatch Platform?

The heart is displayed when you add a member to the "Favorite" list.
The crown is displayed when members upgrade to the Gold membership.
The diamond is displayed when a particular user is verified as the "Certified Millionaire."
Mobile Application
The site has designed an application that functions on Android/iOS devices. You can download those apps online and absolutely free of charge. It has the same set of features, yet a lot of users complain that the app is unreliable and full of glitches. Let's hope that the following issues will be improved as soon as possible.
Conclusion

After our detailed review, we can give a solid grade to MillionaireMatch site. The only disadvantage and our disappointment is the mobile application. The company claims to be a VIP dating provider, so they have to apply significant improvements to the quality of the match-making mechanism. The variety of other features on the mobile version should be done too. A search tool is a way to find rich and beautiful matches. The MillionaireMatch site has a particular audience. These people face difficulties when trying to find love partners. When you reach success and build yourself as a self-sufficient personality with high income, a lot of money-hungry people appear on your way. Rich people do not want to become victims of fake relationships. The site minimizes the greedy and selfish intentions of members. All members belong to the same segment and have shared interests and values. The task to find a soulmate will get accomplished more straightforward and faster, thanks to MillionaireMatch.
You should understand that there is always a risk to meet bad people, either in real life or online. It is a sad reality, but the majority of people are jealous of your success. MillionaireMatch does the job entirely. Numerous moderators screen thousands of profiles to reveal scammers and get rid of undesirable members who have bad intentions. However, we want to prevent you from demonstrating your luxury things. You should be very careful about adding such photos. You should not advertise your annual income or present the bank statements to moderators. We understand that they need this data to increase the level of security. However, you have to take standard precautions for yourselves. By all means, you should not open the way to potential thieves. Do not invite them to rob you. Be proud of your success, richness, and beauty, but do not show it off on every corner.