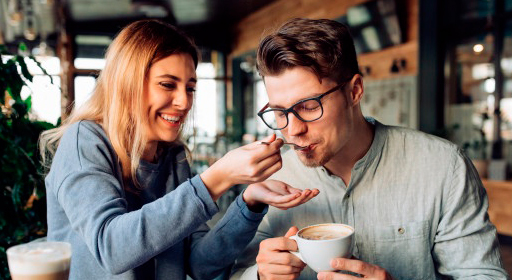 We present this Hornet vs Grindr comparison for singles interested in online dating. Nowadays, the presence of LGBT dating sites and apps is enormous. How to choose the best dating platform to fulfill your needs and make your dreams come true? Choosing the right dating platform can be difficult. If you find yourself in such a situation, you will find answers to many questions in this comparing review of two well-known gay-oriented dating applications. Although both apps are popular among queer men, they have different approaches. Continue reading this in-depth comparison between Grindr vs Hornet so that you can easily choose the right app.
Let's take a look at the important facts about Hornet:
There are 4+ million active users who visit the app every month.
The messaging feature has no limitations for registered members.
As a free user, you can access numerous features.
The downside of the free version is too many ads are popping on.
You can log in only with your Google or Facebook accounts.
Let's take a look at the important facts about Grindr:
The app claims to have the highest engagement in the LGBT dating market.
All free users have access to the complete functionality of the app.
228 million private messages and 25 million photos get shared daily.
The app sends you compatible matches based on your current location.
If you want to access live chat, you have to purchase a premium subscription plan.
How to Choose a Better One?
The comparison of Grindr vs Hornet will give you quick access to all the vital details. You can make a decision without even registering on them to save your time. So, how do you choose the right one?
Grindr is the go-to gay online dating app. Do you know that it is the most popular and efficient MSM application that provides high-quality dating services to more than 27 million singles? The app was launched in 2009. Nowadays, it is available in 190 countries all around the world. The app focuses on providing a location-based grid to let its members know each other. You get access to the community nearby you, so it is super easy to organize live meetings and have fun together. The app is popular among gays, bisexual men, and transgender individuals.
Hornet is a well-known hookup, dating, and social media application. Initially, the Hornet app had the reputation of a hookup service used by gays and bisexual men. Nowadays, it helps LGBT people find partners nearby. With the years and experience, the Hornet app has updated the interface to become more social. If you still have doubts whether Hornet is better than Grindr, just see the number of worldwide users (25+ million). You will meet many singles from France, Brazil, Turkey, Russia, Taiwan, and many other parts of the world.
Grindr vs Hornet: What About Price Comparison?
The essential part of the Grindr vs Hornet comparison is their pricing policies. If your budget is limited, you can start with a more affordable app, which is definitely Hornet.
Hornet Price Comparison
Hornet Costs of VIP Membership:
A 1-month plan costs 9.99 USD.
A 3-month plan costs 25.99 USD.
A 12-month plan costs 55.99 USD.
Hornet Free Services are the following:
Registered members can upload public/private photos.
You can search/browse as many profiles as you want.
You can view photo galleries of other users.
There are no limitations in sending or receiving private messages.
You get access to all blocks.
Hornet Fee-based Services are the following:
VIP members can see who has viewed their profiles.
You can access the search tool with advanced filters to look for hot guys.
You can add as many photos to your profile gallery as you want.
There are no limitations to view profile photos of other guys.
You can enjoy dating without boring ads.
Grindr Price Comparison
Grindr Costs of Extra/Unlimited Memberships:
A 1-month plan costs 13.00/41.11 USD.
A 3-month plan costs 28.20/61.17 USD.
A 12-month plan costs 62.40/176.46 USD.
Grindr free services are the following:
You can open a new gay profile.
It is allowed to view 100 potential matches per day.
You can both send and get private messages.
You can choose one tribe.
A search has only basic filters.
It is allowed to view profiles without restrictions.
You can start a new group chat or join already existing.
Grindr fee-based services are the following:
Your dating experience is 100% ad-free.
You can receive push notifications.
It is allowed to view 600 potential matches.
You can choose the "Online-Only" view.
You can select three tribes.
Blocks and Favorites have no limitations.
It is possible to save/share chat phrases.
Hornet vs Grindr: Who Can Join?
Hornet Member Structure:
There are around 3,250,000 men from the USA.
The activity level of members is high (1,000,000 logins per day).
The most common age group is 18-34 years old.
Every member logs in at least 7 times per day.
More than 250 million text messages get sent per week.
Men of Caucasian origin are the majority. There are also many Latinos, Americans, and Asians who use the platform.
Grindr Member Structure:
The number of US members is 3,000,000.
The activity level of members is high (500,000 logins per day).
The overall user database is 3.3 million men actively looking for dates.
An average member spends approximately an hour per day on the app.
All the members belong to the international LGBTQ community.
25% of the members come from the United States of America. The rest come from Australia, the United Kingdom, Singapore, Canada, and Hong Kong.
Men have different sexual orientations: gays, bi, transexual, and queer people.
You will meet people from 190 countries. They have different nationalities, hobbies, and beliefs.
Note that Grindr users prefer to remain anonymous when it comes to uploading personal photos. You can discover personal details when you start messaging each other. Minors are strictly prohibited from joining both communities. The targeted audience is friendly and consists of people who look for fun and a safe place to express their sexuality. You will meet men who are interested in hookups or short-term relationships without any commitment.
Grindr Features
In this section of our Grindr vs Hornet comparison, we are going to see the difference between the registration process, app usage, and key features, which can help you boost your online dating experience.
Grindr Application:
The web design is intuitive, modern, and straightforward.
It caters to gay users who are focused on matches rather than advanced features.
You can download the app without any charge.
The user interface is friendly and straightforward to navigate.
You can get the version for either Android or iOS mobile devices.
Grindr registration process:
Every man can register free of charge.
There is a photo verification step, which takes a few seconds.
You can set up your details very fast thanks to the user-friendly interface.
You can speed up the process by logging in via your active Facebook account.
There is no email verification.
Special Features
Check out a set of awesome features to boost your experience with Grindr. You will transform your personal life into a fun and meaningful journey.
Grindr's gaymojis: you get access to customized gaymojis, which correspond to the LGBTQ theme. It is a fantastic way of expressing your feelings and mood within the community. At the moment, there are more than 500 emojis. Note that you will not find the same emojis on any other dating or social media apps. You will talk about love, travel, parties, and interests in a fun way.
Tap: Use it to express your interest in particular members. You can show your feelings without even sending a private message to a person. It is an excellent way to catch attention and motivate a person to message you first.
Favorite: you can bookmark profiles of certain members whom you find interesting. You can message them any time later. These people will not know that you have added them to your favorite list.
Explore: it helps you look for matches in foreign countries. You will need to purchase a premium subscription plan to use this feature.
Discreet App Icon: this feature adds security and privacy. You can decide how the app will be displayed on the screen of your device.
Hornet Features
Hornet application usage:
It contains a separate inbox section that you will not find on the desktop version.
You can access the "Stories" section from any mobile device.
If you are a free user, you have to deal with ads.
If you have spam issues, there is a report button.
The app does not allow deletion of messages or photo attachments.
The registration process at Hornet:
The registration takes only 5 seconds.
The only registration option is via your Google/Facebook accounts.
You do not have to create and memorize a password.
New users can choose between five automatically generated usernames
Special Features
You can decide if Hornet is better than Grindr only after reviewing its unique features. Here is the list of features that can boost your experience and visibility on the platform.
Stories: the website version of Hornet looks like a bright online magazine. You will find sections with official news and fun articles. Every member has the option to contribute and submit their own stories and essays. If you have a writing talent, you can become a community writer. Additionally, the members are welcome to share their video and photo content. Before you submit your material, you have to send it to the editor with a short description. There is a separate section on the "Stories Discussion" forum.
Events: you should stay informed about all the upcoming LGBT events that take place nearby your place of living. It looks like a bulletin-style post. Hornet shares the critical details of the LGBT event with no interactivity available. No one pushes you to participate, but it is an excellent opportunity to meet your partner and have fun.
Places: it is a special tab where you can find the list of places nearby for LGBT men, such as testing centers, bars, gyms, disco clubs, etc. The areas are perfect for gays where they can feel comfortable and free to express their way of living and thinking.
Who Checked You Out?: this feature is encouraging members to be more straightforward with their feelings and flirting. It lets you know who is interested in your profile details and photos.
And the Winner Is: Grindr or Hornet
Our absolute winner is Grindr. It is the right place to start gay dating. It opens a lot of possibilities and fun activities with like-minded people from all around the world. Hornet focuses on hookups and has a smaller global coverage. Hopefully, this Hornet vs Grindr comparison helped you make the right choice!