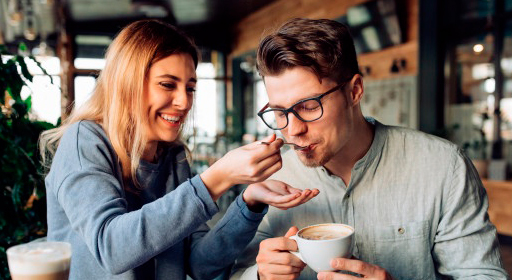 Get ready to find out the ultimate Hinge vs Coffee Meets Bagel comparison review. This well-structured and handy information aims to reveal all the details about two popular apps with an excellent reputation. You will find sections about costs, the signing up process, advanced features, etc. The information will help you enjoy your online dating experience to the maximum!
The Overview of Hinge
Hinge is a perfect app for finding romantic relationships. As soon as you find a compatible partner, you can delete the app and enjoy your happy life together. It is not the place for casual hookups. It has nothing to do with mindless swiping left/right. You can be sure to find many interesting men and women for decent conversations. As numerous reviews prove, the app works perfectly for both online and real-life dating.
The Overview of Coffee Meets Bagel
Coffee Meets Bagel is a well-known dating app based in San Francisco. It definitely values the quality of services. The app's developer created the service to counteract the right/left swiping apps. The majority of users appreciate the quality of matches and functions. The app uses your Facebook details to verify you are a real person and curate an enormous matching pool from your virtual friends. When you start interacting with men and women on the platform, you have the sensation, and you know each other for years. Such a friendly and relaxed atmosphere helps you create meaningful relationships.
How to Choose a Better One?
Singles who are looking for romantic and meaningful relationships can use both dating apps. Both are good choices. You can continue reading our Coffee Meets Bagel vs Hinge review to know the difference, prices, and unique features.
Hinge vs Coffee Meets Bagel: Match Quality
Both apps have the reputation of real "relationship" services. They use the algorithm to screen many potential matches beyond standard criteria like distance, gender, age, etc. Use advanced filters: Ethnicity, Religion, Height/Weight, Family Plans, Kids, Political Views, Educational Background, Smoking/Drinking Habits, etc. We recommend you set the priorities correctly to find compatible matches. If you know what you want, you can use any dating platform to find potential partners for long-lasting and happy relationships.
Coffee Meets Bagel vs Hinge: What's About Price Comparison?
Coffee Meets Bagel
You get access to the following complimentary services:
You can install a mobile application on both iOS and Android devices.
You can create an eye-catching profile for potential singles.
You are not limited to browse profiles of possible matches.
Once you and your partner get connected, you can send text messages.
You get free beans.
You get access to the following fee-based services:
Premium users can access the activity report on potential matches.
You can see when your partner has read your text message.
You get 6,000 beans on a monthly basis.
Users get 5 takes as a compliment.
You have unlimited access to Woos.
It is possible to check mutual friends for all your matches.
VIP users get a 15% discount on all purchases.
Coffee Meets Bagel Premium Membership:
A 1-month plan costs 35 USD.
A 3-month plan costs 75 USD.
A 6-month plan costs 120 USD.
A 12-month plan costs 180 USD.
Beans (Web Currency on the Coffee Meets Bagel platform):
100 Beans cost 2 USD.
2,000 Beans cost 24 USD.
3,000 Beans cost 25 USD.
When we compare Coffee Meets Bagel vs Hinge, we see that it belongs to the upper midfield category. There are several payment options available: credit cards, PayPal, or your mobile phone. Users purchase the Beans to unlock extra features, such as "Mirror Mirror" (500 Beans), "Rematch" (205 Beans), "Open Sesame" (50 Beans), and "Photo Lab Report" (49 Beans).
Hinge
You get access to the following complimentary services:
You can view complete profiles of all registered members.
It is allowed to send text messages to your mutual matches.
You can view what members sent you likes.
You get access to the following fee-based services:
Users can send unlimited numbers of likes.
You can check what members like you in one place.
It is possible to set advanced matching preferences.
Premium Subscription Plans:
A 1-month plan costs 10 USD.
A 3-month plan costs 21 USD.
A 6-month plan costs 30 USD.
Comparing Hinge vs Coffee Meets Bagel, you can see that Hingle belongs to the average category of online dating services. There are two payment options available: credit cards or your mobile phone.
Note that both platforms offer premium subscription plans that get renewed automatically for the same duration and price. It is possible to switch off this function in the "Account Settings" section.
Coffee Meets Bagel vs Hinge: Who Can Join?
In this section of Hinge vs Coffee Meets Bagel, we are going to see the demographics. Hinge focuses on assisting single men and women in finding long-term relationships. Coffee Meets Bagel caters to single people who want deeper and romantic connections. Both platforms motivate you to look for soulmates rather than have endless and superficial dates for a single night.
The core user database of the Hinge platform belongs to millennials. Approximately 49% of members are between 18 and 30 years old. The remaining members are between 30 and 50 years old. There are only 2% of Hinge members who are over 50 years old.
As for the Coffee Meets Bagel platform, it attracts single men and women of a similar mindset. The majority of members you meet within the dating app dream of finding something romantic, meaningful, and more serious than a casual hookup. It is a modern app for genuine relationships. Coffee Meets Bagel targets the same user database as Hinge. The biggest part of the members is 30-49 years old. Approximately 36% of all users are 29 years old or younger. There are 7% of members who are 50+ years old.
Hinge Features
Registering a new profile at Hinge:
Users must register via their Facebook account or a valid mobile number.
The registration is intuitive and guided.
The app obliges a new user to verify the account via their phone.
It is necessary to add 6 photos minimum for your profile.
A user can decide which information will get displayed to others.
The Hinge mobile app is available for Apple/Android devices free of charge. The dating services are available only as an app version. You will enjoy its modern and stylish web design.
Special Features at Hinge:
Comparing Hinge vs Coffee Meets Bagel, we can't stay aside from advanced features. Hinge is famous for being a safe dating platform. The developer wants to be sure that every member enjoys their experience and feels 100% safe and comfortable while using the app on the go.
This feature allows you to view all the members who sent likes. You can watch them in the "Heart" tab. Free members do not have access to this extra feature, and the faces of the users who liked them get blurred. Premium users view all the likes in a grid. You have access to their profiles with uploaded photos. If you see singles who attract your attention and awake your interest, it is the place to start interacting.
It is a relatively new feature of the Hinge platform. Every member can provide his/her feedback to the Hinge's team in a private mode so that you can describe your online/live date with specific members. You will find the "We Met" feature right under the three dots, which is located on the conversation window of your match. Every time when you select this feature, the Hinge team asks whether you and your date have met in real life and how it all went. It is the way the Hinge app analyzes your preferences to offer you even more compatible matches. It is an excellent way to motivate singles to move outside the app and bring their communication to a higher level.
Coffee Meets Bagel Features
The registration at Coffee Meets Bagel:
The process is easy and straightforward.
The app is available in the App Store and the Google Play Store.
You find future partners via your Facebook friends list.
Every new member has to sign up via Facebook to verify their dating accounts.
The app grants you free Beans after logging in.
Unique Features of Coffee Meets Bagel
While comparing Coffee Meets Bagel vs Hinge, we have to see an impressive list of available features. CMB is a well-known intricate dating application. It offers a wide selection of features and uses unique jargon, so many newcomers get lost in them. You are lucky to find this ultimate review for your convenient usage. Check out the features to boost your online dating experience.
Male users get 21 compatible matches called "Bagels" daily at noon. A man has 24 hours to like/pass on the recommendations. As soon as you express your interest, the app curates the best matches for female users. As a lady, you will get 6 matches of men who have liked you.
This feature helps you explore more potential matches who live in your area. These matches can be outside your specified relationship preferences. It is an excellent way to go outside the box and expand your interests and comfort zone. If you find some matches interesting, you can use Beans to take the match. There is an option to become a matchmaker and recommend potential partners to your friends.
It is the feature to become a matchmaker for your friends. Note that when your friend checks the recommended match, you get extra Beans. A user can earn around 300 Beans per friend on a daily basis.
When you send a "Woo", you let a potential date know of your sincere interest. It is the way to stand the competition and become visible on the platform. You will get many likes, and people will have a desire to know you better.
And the Winner Is: Coffee Meets Bagel or Hinge
After reading the detailed Coffee Meets Bagel vs Hinge comparison, you can see that both apps are great and safe options for dating. You have higher chances to meet a date on the Coffee Meets Bagel platform if you're in your 20s-30s and searching for high-quality matches. We consider that Coffee Meets Bagel can help you improve your personal life!