While Connecting Singles does claim to be a dating website, it is nowhere near the typical ones we have visited before. If there could be a premium dating website, then this could be considered one such platform, but we can't even call Connecting Singles that. Because, even though the features are amazing, the website is 100% free. And that is not the only advantage you get to enjoy when you register yourself on the platform.
Connecting Singles: Breaking The Stereotypes

Dating websites like Connecting Singles are not uncommon, especially today when apps like Tinder have received mass popularity breaking all the stereotypes with the word dating. But, despite the worldwide acceptance of Tinder, talking about using dating websites is still not considered normal. One of the major causes behind this is the various senses the word dating is used in. Dating, unfortunately, thanks to various online websites, has become synonymous with hookups and one-night stands. However, Connecting Singles is different, and it introduces a new meaning of dating. The very reason that makes Connecting Singles more than just a popular dating website.
While some websites refer to dating as a meeting between two people with similar mindset interested in a relationship. Other websites mean casual encounter that transcends into sex with it. The confusion in people and the unmatching mindset is what scares away people from dating sites.
A specific section of people even thinks that dating websites are scam and steal money with cybersecurity breaches, given that most of the dating websites are paid. Not only does Connecting Singles break the mindset around the word dating but also the dating websites in every way possible. Here's how.
Unique Features Of Connecting Singles

Connecting Singles is unique in many ways. From the philosophy it is built on to the functions and features it offers to its users, everything about the dating website is more. While other websites in the dating genre give their users a platform to just hook up and get sexual enjoyment from varied partners, Connecting Singles is not just about Sex. It is neither a matrimonial website nor a platform for people to find a suitable partner for casual sex.
Connecting Singles just like its name connects people who are single with like-minded people on a deeper level. It offers you common platforms to connect on, helping its users to build quality relationships. The website to achieve this has created corners for various interests like gaming, music, poetry, literature, quizzes, forums, blogs, and more. These corners are what truly sets Connecting Singles apart from all the other dating websites live on the internet and yet is the most controversial.
There are a lot of debates about its effectiveness. While many feel that hobby corners encourage the involvement of more people, few others think that it can be distracting and takes away the attention from dating. It can either give reasons to connect on a deeper level, especially for those people who are not good at starting conversations. Or, it can create an environment like Reddit and only be a waste of time for new users looking for dating partners.
Connecting Singles may be a major disappointment for people looking for live chats. But other features like mobile apps and free registration with no hidden cost and real profiles can score easy points in the users' minds.
Meeting Singles Virtually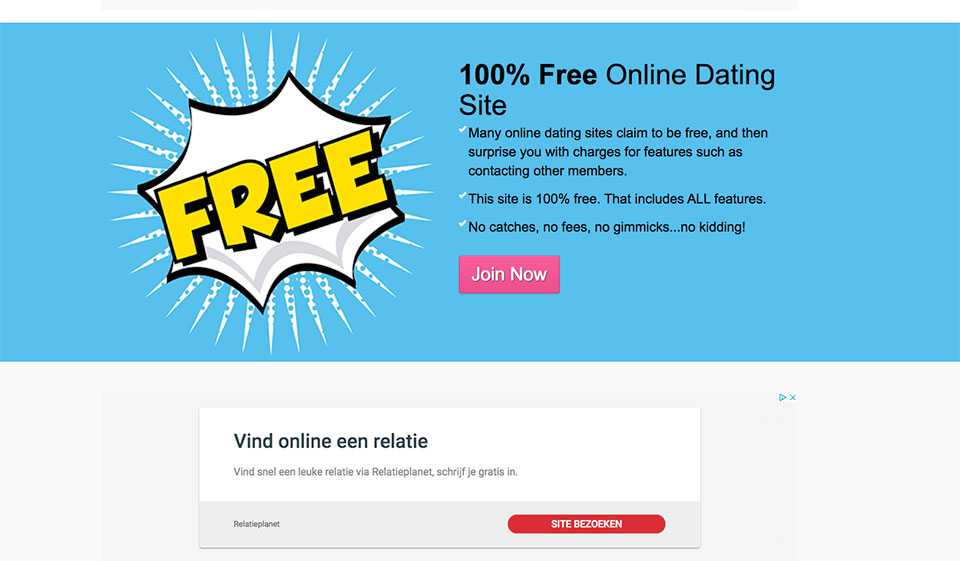 Although there are debates over the hobby corners created for the users to connect, upon joining, these become the center of attraction. Not that the users forget their original purpose of looking for a date, but the various forums, blogs, and quizzes give them reasons to start a conversation.
Connecting Singles boasts of more than 50,000 users, with a minimum of 10,000 being active every week. While on the one hand, you get to see the majority of the crowd belonging to the US, you get to witness variety in the age groups. From 18 to 55+, the crowd offers a fantastic variety of people across various age groups. However, not everywhere do you get to see the balance. Women on Connecting Singles dominate over the lesser number of men, but this could be a piece of good news for men. Because although men on the dating website are seen running the forums with their activity, women entertain them with their flirting texts.
If you want people on Connecting Singles to connect with you, it is important that you must fill your profile to attract other users in you. Uploading your real photographs is highly recommended, as spammy or fake images may get you blocked. The unique structure of the website makes filling up the profile more important.
Registration Process
Thankfully the registration process on Connecting Singles is not very complicated. It generally isn't on any dating website, but given how Connecting Singles is unique, differing from others in this department as well wouldn't have been shocking. But, unlike other dating websites, Connecting Singles does follow a different protocol.
A new user on the dating website has to use either his/her email or Facebook profile to register on Connecting Singles. This takes the user straightway to the profile building section, where the user is required to enter the relevant details to describe his/her personality. However, specific fields are recommended to be filled with false information. For example, real name, contact information like real phone number, email id, name of children, if any, and their ages. Personal facts like these are asked to keep private to avoid any unexpected disturbances from users of the dating platform.
But, the registration process does not end with the completion of filling up the form. Although the users, are allowed to enter the platform and explore but are restricted from using certain features for 24-hours. There is no reason to be scared or hurt, thinking that you will need to purchase a plan like on other dating websites. The restriction from using website features like messaging is done because the staff of Connecting Singles verifies your account during that time. It is a significant step, although annoying, keeps the website protected from the spammers readily available on other dating websites.
Connecting On Connecting Singles

There are various ways on Connecting Singles that one can use to connect with other singles on the dating platform, but sadly not many are well, effective. There are options to like profiles, send direct messages or personal messages to a person along with the hobby corners where you can participate. But, neither does the direct message nor the likes do anything to attract the users. Most of the users are so involved in the forums that they don't talk to strangers, pinging them out of nowhere. This is why it is best to turn to the forums, chatrooms, hobby corners, or blogs to connect with a like-minded person interestingly.
The One To One Connections
Connecting Singles offers an array of interesting features for the users on the platforms to connect. Of course, there is the presence of the much talked about the various hobby corners to hold conversations at and attract the opposite sex towards you. But, along with the obvious, there are other features like the advanced search using tags like a particular interest. The tags can also be views or values of a person to find a like-minded person interested in dating.
You may also connect with those who visit your profile by finding the list of people who checked you out. And while a user is given the allowance to like a photograph on a profile, he or she may rate it as well, making things more interesting. There is another section on Connecting Singles that enlists all the users who have their birthdays in the week. And that's not all, if you find someone hot, you may use the virtual tools available on the website to send the person, gifts, and flowers, along with customized ecards.
Unique Chatrooms

True that it is more intimate to connect with someone on a personal chat, but it may get boring, especially when you know nothing about a person. No hot photograph guarantees that the person in it would be exciting to talk to as well. Sadly that is what happens most of the time, and good-looking people turn out to be the biggest bores. With options to create forums, polls, quizzes, blogs, etc. on fun topics not only brings you attention from varied kinds of people you may choose from but also makes you feel important.
Here is a list of options that new users may use to connect with many people at once and attract options to their dating life.
Forums- Join or create
Blogs- Good way to attract an avid reader
Polls- The urge to share their opinions can be used to your advantage easily
Groups- With known people
Articles- Interesting and fun way interact
Poetry- For the romantics
Games- Yes you can even connect with fellow gamers while playing a game
Quizzes- There are quizzes on various topics as well that help people with analytic minds to come together and talk
Discussion- Music, Art, Books for the literature lovers find love and attraction in similar tastes
Upload Videos- Just like any social media websites, videos attract more views
Event scheduling- Invite and set up a date with people you would like to meet and connect on a deeper level. Because, isn't meeting the ultimate goal of dating websites like Connecting Singles?!
Dealing With The Unwanted

Connecting Singles is not a typical dating website that talks about women stripping or spreading their legs. It is a platform for classy people willing to build a relationship, and that too an interesting one. It is not about sex so being horny may not work for anyone on Connecting Singles, especially with the presence of the Report Profile button right next to every profile photograph.
The website is very strict about maintaining the quality it is known for, the norms are different than any regular dating website. Which is why many sections of the website are restricted. Violating norms and regulations of different parts may get the user banned from Connecting Singles permanently. Also, if any user feels uncomfortable or disturbed by any profile, the user can hit the Report button or choose to block them effortlessly. So, in short, a creepy attitude is not something that would work here.
Subscription & Premium Membership On Connecting Singles
Unlike most dating websites available online today, Connecting Singles is one of those hand-counted platforms that offer quality for free. Though unbelievable, the website that comes with an app for better convenience is free to use. While there are no subscription plans that swipe away all doubts of the website being unsafe and also from accusations of stealing or laundering money out of the users illegally. The verification process is taken very strictly by Connecting Singles.
And if you are thinking that you can do a happy dance after your account gets verified within 24-hours of registering with Connecting Singles, then you need to calm down. The surveillance doesn't end with the verification of the profile, and the website takes a lot of steps to keep the free platform high on quality, including regular monitoring. But nothing and we truly mean nothing on the website costs you anything, not even a penny. There are no hidden app purchases, no subscriptions, no special packs, nothing. Only real profiles are looking for like-minded people to connect with and date on Connecting Singles.
Conclusion

It is astounding to see the team of Connecting Singles working so hard to maintain the highest quality on the dating website in terms of quality conversations and personal security. What is more, commendable is the number of steps Connecting Singles take to ensure that all the registered profiles on the dating platform are 100% real and non-abusive. Firstly, there are not many dating platforms that put so much effort into keeping the user experience excellent. And secondly, even if some dating websites do try filtering out spam accounts, none of them are free to use like Connecting Singles.
While the user interface of both the website and the app is simple to use, given the multiple features available on the platform, it avoids confusion to a large extent. The elements may seem like distractions to many who are not used to this idea and join Connecting Singles with expectations of instant hookups. Although hookups cannot be considered out of the boundary line on Connecting Singles, it generally takes more time for relationships to reach that point on this platform. The website is not for everybody but can be quite entertaining and fun if you can keep your desperate sexual desires at bay for some time.