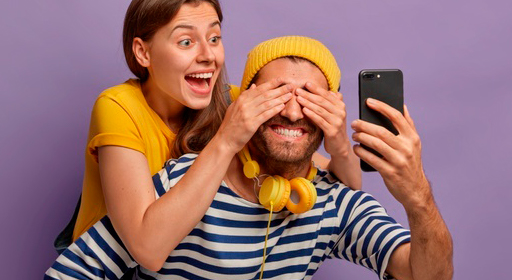 If you are a long-time user of dating apps, you are probably aware that there is more to these apps than just "swiping right" on Mr. Right. Each platform offers a different experience, and it is up to you to make a choice. Although all dating apps seem to offer the same features at first glance, we are here to tell you that this is not the case. There are numerous unique options on each of these apps that set them worlds apart. However, if you are unsure which app would best suit your needs, it can be hard to make an informed decision. So, in this Coffee Meets Bagel vs. Bumble discussion, we wish to ease some of your worries. Here, our experts have put together a detailed comparison of these two popular dating sites to help you choose the right one. Let's take a look!
Coffee Meets Bagel
Launched in 2012, Coffee Meets Bagel is one of the first dating sites that was geared towards women. It boasts of a younger pool of users from all around the globe. Like most other dating apps and sites, Coffee Meets Bagel requires users to sign up with their Facebook profiles. Your information on Facebook will further aid the app in finding the perfect matches for you.
The intelligent algorithm on this app appears to operate on a staunchly "no swiping" protocol. As a result, users are often limited to just a couple of matches a day. Its unique features push you towards a more offline experience, allowing it to suit most women's needs. No matter what your gender is, it is a great starting point for all those who enjoy taking their time in getting to know people.
Bumble
Bumble, launched just two years after Coffee Meets Bagel entered the market, is no less a marvel. This revolutionary app, created by Tinder's former vice president of marketing, Whitney Wolfe Herd, shares many features with its sister app. This platform, too, claims to be geared towards female users from around the world. And with over 12.5 million members worldwide, it is trendy as well. Unlike its competitor, Coffee Meets Bagel, Bumble offers its users a chance to meet and greet numerous matches a day.
How to Choose a Better one?
There is no easy way to choose a dating app, especially if you are a single woman. For most ladies, the personal security measures on a platform are a huge deciding factor. Therefore, most sites that target women members seem to put the users' safety at the forefront. With Bumble and Coffee Meets Bagel, this is not too far from the truth.
If you prefer using free dating apps that offer remarkable features, these two apps are some of the best options.
Both Bumble and Coffee Meets Bagel host a large pool of users. However, depending on your requirements, the apps seem to offer very different things.
As we have already seen, Coffee Meets Bagel makes use of your Facebook profile to provide you with a list of matches. It then allows you to choose your partners. Unlike most of its counterparts, its marketing campaigns also seem to push members towards meaningful relationships and friendships. While it will enable anyone to message you, a chat window shall expire after seven days.
On the other hand, Bumble adopts a similar tactic to Tinder, in letting users swipe left or right on your matches. It requires women to be the first ones to message their matches. It gives you a window of twenty-four hours to reach out to someone you might be interested in. These chats, unlike on Coffee Meets Bagel, do not disappear until you delete them.
Neither Coffee Meets Bagel nor Bumble is particularly hard to use. They collect data from your user profiles before showing you a list of matches. You can then connect with someone that catches your eye and ignore the ones that do not. However, Coffee Meets Bagel limits the number of partners you can have a day. Bumble, on the other hand, gives you free rein in swiping left or right.
Coffee Meets Bagel vs. Bumble: What's about Price Comparison?
Like most dating sites, Coffee Meets Bagel and Bumble also offer paid services and memberships. The higher the subscription fee, the better the features will be. However, they both have unique payment options for their users.
On Bumble, users are allowed to choose from a set of subscription plans that span two, four, or eight months. Meanwhile, Coffee Meets Bagel gets you to purchase their in-app currency, "beans," to avail of the premium features.
Are you wondering which one is a more viable and affordable option? If so, we have got you covered! Below, we have put together a table that tells you more details on their pricing standards.
Coffee Meets Bagel
| | |
| --- | --- |
| $1.99 | 100 |
| $23.99 | $2,000 |
| $24.99 | 3,000 |
Bumble
| | |
| --- | --- |
| $24.35 | Two Months |
| $12.75 | Four Months |
| $10.18 | Eight Months |
Of course, there is no doubt that Bumble offers the better options here.
Coffee Meets Bagel vs. Bumble: Who Can Join?
Although they are both geared towards women, there is no restriction on who can join. It is available to both women and men from around the world. However, like most dating apps, they do set an age restriction for their users.
Currently, they are both available in many countries. But Bumble seems to have a lead on the number of markets it covers. Covering about twenty counties, it is available on all the continents.
Coffee Meets Bagel is slightly less famous than its competitor. Although it is known worldwide, it is prevalent only in a handful of countries.
From any of these regions, users can quickly sign up for their free or paid services. They do not ask for too much personal information and are generally safe in that sense. They both, however, require you to provide details about your occupation, education, and other general information.
If you are a user who can provide these details and within their required age group, you can easily use their features.
Coffee Meets Bagel Features
Coffee Meets Bagel offers its users a chat window, profile set up, bio section, and other such generic features without a premium membership. It also allows you to contact your matches via the yes or no feature. After seven days, your chat window will be deleted.
On the premium account, this app offers a few more interactive features:
Activity Reports: Users can access reports on what their matches or "bagels" are up to. For instance, it tells you information like how often a user sends the first message.
Read Receipts: Like most chat services, Coffee Meets Bagel also offers read receipts. It lets you see when someone has read your messages.
Bonus Beans: They also have various offers on the availability of bonus beans from the Bean Shop.
8 Free Likes: With the premium features enabled, you can now receive 8 more free likes.
Unlimited Skip the Line: This feature lets you skip the line and have a higher chance of matching your bagels.
Monthly Boost: You can also receive a single profile boost, allowing you to be seen by more people for 48 hours.
Bumble Features
Bumble was created with the sole purpose of improving the female presence in the online dating world. It means that it has quite a few women-centric features that make it a good choice:
Chat: Women are given complete control of the chat sections here; you are free to initiate a conversation with your matches and have a fun time with them. At the same time, you also do not have to receive unwanted advances from other users.
Undo Options: Bumble uses the swiping mechanism from Tinder to let you choose your matches. However, if you accidentally swipe right on a profile, you can easily undo it.
Visually Attractive: This app allows users to look through matches' pictures, profiles, and bio before swiping on them. It makes for a visually thrilling experience.
Color-Coded Conversations: The chats are color-coded, allowing you to identify each user specifically. Also, you have a twenty-four-hour window to initiate a conversation with a match.
Rematch and Beeline: With these two features, making connections is easy on Bumble. Beeline saves you time on swiping by showing you the ones who have already liked you. Rematch lets you renew a relationship with someone after it has expired.
Bumble Coins and Super Swipes: You can purchase Bumble Coins to spend on Super Swipes. It is similar to Tinder's SuperLikes. It tells your crush that you are extremely serious about connecting with them.
Safety and Security: Since users have a brief window to contact their matches, it offers many security measures. The app reports very few abuse cases and is generally regarded as a safe option for single women.
BFF Mode: If you switch to this mode, it allows you to make casual friendships rather than finding a relationship partner.
And the Winner Is: Coffee Meets Bagel
Having reviewed all the points in this Coffee Meets Bagel vs. Bumble debate, experts have now agreed. According to them, Coffee Meets Bagel is the winner, fair and square. We'll tell you why!
The features on this app are more simple and easy to use than Bumble. It allows users from various walks of life to unite and form connections. Unlike Bumble, its user base does not lean towards casual relationships. So, if you are looking for a serious relationship, then Coffee Meets Bagel is the one for you.
It is not to say that Bumble falls too behind. It is a fantastic app for women and focuses on ensuring equality in the online dating world. It also has a strong feminist theme that many women seem to choose actively. However, it also leaves too much of the pressure of starting a relationship with women. It only gives users a brief 24-hour window to connect with a match, and it has to be the woman who messages first. Therefore, this is often a frustrating feature for both women and men.
Nevertheless, we encourage you to choose the best dating app from these two outstanding options. Depending on your unique requirements, they both have excellent features to offer. So, whichever you choose, make sure it is what suits your needs best!