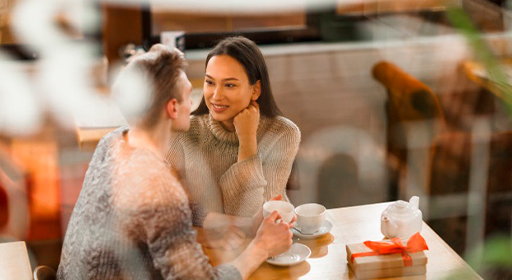 These days people take online dating seriously. Clover vs Tinder comparison can help you decide which dating app is more efficient. We all know Tinder, and not everybody is happy about its members. Many singles look for suitable alternatives, and Clover is one of them. This dating app has all the chances to become your top priority. We will compare the prices, target audience, and the main features in this Clover dating app vs Tinder reviews. Both apps have a common principle to scroll through photos of registered members to find those you like the most. Clover goes further by assigning a percentage to your potential match. This info shows how well you can fit each other.
How to Choose a Better One?
Tinder vs Clover? How to choose a better option? First of all, you should understand that Tinder's members can message other singles only after mutual likes. Clover displays the information on singles who have liked your profile. Members have the right to chat with all the community, but they have to upgrade a membership. If you want to message someone, you can use your Clover coins to purchase or earn them. Coins allow you to unlock private photo galleries and send cute virtual gifts. When you compare Tinder vs Clover, the last app allows its registered members to scroll through many potential matches. It does not have the swipe-left or swipe-right approach. Both online dating platforms have positive and negative sides, which you will discover further. Understanding the difference between two dating platforms is essential. It is the guarantee that you will not waste your money and time for nothing. It is an intelligent approach to research the independent site before starting the registration process.
Clover vs Tinder: What's About Price Comparison?
You can download the Tinder app free of charge.
The registration process is free for everybody.
You get access to the left-swipe option.
You can add a profile picture to attract people.You may search for members who live close to your location.
You receive granted a free Super Like once a day
Tinder Paid Services:
You can see the list of users who like your profile.
Matches happen instantly for your comfort.
You get access to the right-swipe option.
You may send as many Tinder likes as you want.
Your profile is on the top line to stand the competition.
You can search for matches in foreign countries.
There is an option to rewind your left swipe.
You have full access to Tinder's Top Picks.
Tinder Gold for Members Under/Over 28:
A 1-month plan costs 15/30 USD.
A 6-month plan costs 53/113 USD.
A 12-month plan costs 83/150 USD.
Tinder Plus for Members Under/Over 28:
A 1-month plan costs 10/20 USD.
A 6-month plan costs 35/60 USD.
A 12-month plan costs 55/80 USD.
Clover Free Services:
You have the right to view profiles with photos.
You can join chat rooms or create new ones.
You may play an online game called "20 Questions".
Users start chatting after a mutual desire to know each other better.
You can use the feature "On Demand Dating" to send requests for dates.
Clove Paid Services:
You may look for compatible matches via advanced search filters.
You have the right to send a text message to every person of your interest.
You can read receipts.
There is an option to sort the lists of potential matches according to your criteria.
You have a profile boost to stand the competition.
Clove VIP Membership:
A 1-month plan costs 30 USD.
A 6-month plan costs 60 USD.
A 12-month plan costs 90 USD.
Clover Boost Packs:
10 Credits will cost you 20 USD.
5 Credits will cost you 13 USD.
1 Credit will cost you 3 USD.
Clover vs Tinder: Who Can Join?
This section of the Tinder vs Clover comparison is devoted to the membership structure of both platforms. It is always better to know whom you will meet.
Clover Members:
You will meet more than 2,200,000 single men and women from the USA.
There are around 500,000 logins of active users per week.
The gender proportion is not perfect: 35% of women and 65% of men.
There are members for all kinds of relationships.
Members are mainly young adults of 25-45 years old.
More than 90% of the total number of users live in the United States of America.
The platform is available in 90 countries.
According to our Tinder vs Clover review, the last option offers more features than other popular dating sites and apps. The fact that more than 10 million people use this platform confirms this statement. Men and women share common interests. When you fulfill your profile, you should mention your criteria, whether you are looking for a life partner, friends, hookups, or just a person who can speak to you.
Tinder Member Structure
You will meet more than 28,000,000 users from the USA.
There are 8,000,000 logins per week.
The gender ratio is almost similar to Clover: 37% of women and 63% of men.
You can meet people of all nationalities, races, ethnicities, beliefs, etc.
Users are mainly young adults of 18-35 years old.
Clover Features
Clover will impress its new members with a set of fun features and efficient tools to boost your visibility on the platform. Check the central pearls out there:
On-Demand Dating: only this unique feature makes Clover a dating app apart. One of the biggest problems of online dating, in general, is that some people browse profiles, start communication but have no intention to meet in real life. They behave as ghosts and make us waste our time and emotions for nothing. Clover has the ambition to solve this issue. Using this feature, you can browse through members' profiles who have activated this option. You can select between two options: "I'm interested" and "No thanks". If you agree to meet, you need to suggest a convenient time and safe place. Now, you have to wait for positive confirmation and get ready for a romantic date offline.
Mixers: it is a chat room with many exciting themes: relationships, healthy lifestyle, sports, children, fitness, etc. You are free to join any of them according to your sphere of interest. You have the option to invite other members to the chat room. The most popular chat rooms have more than 50,000 active members. There are no limitations to topics. Clover recommends you be creative to attract a lot of people to your chat room.
20 Questions: It is a fun flirting game designed by Clover. When you start the online game, you can see two cards labeled with contrasting personalities. The goal is to choose those traits, which correspond with you the most. There are 20 questions, and all the members can read your answers. It is optional to play this game. It is an excellent way to express your personality and find compatible matches with shared interests, lifestyles, and points of view.
Tinder Features
Tider is well-known for its colossal set of exciting features. They aim to make the swiping experience fun and simple. Note that only premium members get access to the features mentioned below:
Boost: you can boost your Tinder profile and find more matches. You may get the top position of the queue for 30 minutes. Be sure many singles will swipe right on you.
Super Like: every member receives one Super Like free of charge. Use it to send it to a Tinder member of your choice. Premium subscribers get more Super Likes. Let the best profiles stand out from the competition.
Passport: the feature lets you modify the location you mentioned in your preferences. It is a nice feature to meet foreigners and start international relationships.
Rewind: if you swipe a person left by accident, you may change your mind thanks to the "Rewind" feature.
Top Picks: you can view users' profiles which fits your preferences perfectly. The feature saves your time searching for like-minded people. Let Tinder choose the top matches for you.
Traveler Alert: this is a safety feature for members of the LGBT community. The app sends you alarms if you are in a dangerous place for gay people. After getting penalized, you will stay away from such areas when you travel to foreign countries.
Photo Verification: this feature is a step towards your safety. A member must do several real-time selfies for authorization. Tinder compares these selfies with your profile photos.
Swipe Night: it is a fun game. You may play it to influence its outcome of your dating experience. A member can participate in this exciting online game by swiping left/right. Those members who have made a right swipe get matched automatically.
Tinder U: the feature caters to university students to connect with mates around. As soon as you enroll, you can demonstrate the color of your school, see your mates, and play online games on your Uni campus.
Read Receipt: you may use this feature to verify whether your potential match has read your text message.
And the Winner Is: Clover or Tinder
As you can see from our Clover vs Tinder comparison, Tinder looks like you want to shop for your potential compatible partner. Clover requires a bit more attention and time for browsing users' profiles. We recommend you try Clover if you are tired of spending time liking/disliking people and waiting for some of them to reply. If you want to get the same dating services as Tinder offers but without strange people, you should give Clover a chance. Analyze the information provided in Clover vs Tinder's comparison review and make the final decision.