After our careful examination of Polish Hearts, we find this dating platform to be quite an efficient service. The site aims to make as many matches between Poles. There are a lot of Polish members who live in Poland, as well as in foreign countries. The site welcomes non-Polish descent too. It is a perfect place to find Polish friends or become passionately involved with members of Polish origin. We have checked the website and find out that the majority of users are interested in long-term and family-oriented relationships. If you are interested in quick hookups or a one-night stand, Polish Hearts is not the place to be. In total, we can give Polish Hearts quite a high grade.
The website is designed to help people who have Polish origin, find suitable love partners. We checked the number of users and discovered that Polish Hearts hosts around 1.6 million users worldwide. The community continues to grow every day. We found that the site adds several hundreds of new users. This dating platform is top-rated among the second and the third generation of Polish emigrants who escaped to the United States of America, the United Kingdom, or Germany. All these people dream of joining their hearts with people of a similar background. Once you open the Polish Hearts site, you will be amazed at a considerable number of Poles that live nearby you.
The niche of the site is rather specific. Polish Hearts does not cater to members of Polish descent exclusively. You are welcome if you are interested in starting relationships or friendship with Poles. You do not have to speak Polish fluently, because the site is available in English as well. The administrators of Polish Hearts understand that people whose parents come from Poland but were born outside their motherland, do not speak the Polish language. If you want to practice the Polish language, Polish Hearts can become your virtual school. Getting in touch with Poles in a friendly atmosphere will strengthen your sense of patriotism. It is your unique chance to connect with people who speak your native language.
In this review, we are going to give you an overview of Polish Hearts, so you can decide whether it fits your needs in terms of Polish dating platform.
Users Database

The site is focused on the Polish nation. At the same time, it offers a unique chance to get in contact with a diversified population. The gender ratio is 60% of males and 40% of female users. We checked the activity of members and found them very active. There is a certain amount of fake profiles, but moderators keep the amount to a minimum. Such excellent results are achieved thanks to a verification procedure that all users have to undergo before profile activation. As soon as there is a suspicious member, his or her profile gets banned or rejected from the Polish Hearts site. Such a safety measure makes this dating platform one of the safest on the internet. If you are curious about how many members are online right now, you can check the displayed number on the homepage. It is possible to filter Poles who live nearby you by pressing on a flag, which is placed in the top-left corner. Your search results can be narrowed by entering the desired location.
Three-Step Registration on Polish Hearts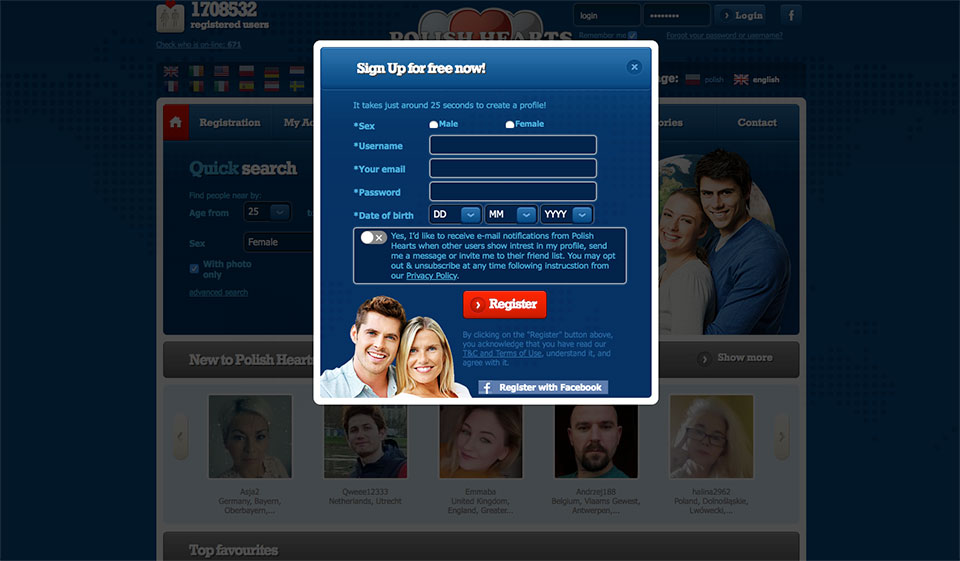 New members can decide whether they want to join the Polish Hearts community through Facebook or create their account by composing a unique username and a secure password. You have to enter your active email and then on the activation link. The administrator of the Polish Hearts site will send the link to your email. You have to complete the profile by providing general information: your gender/age/place of living/interests. After completing the registering process, your new profile gets a temporary status for a short period. When you wait until the admin approves your profile, you can use the Polish Hearts platform as a guest. We recommend you to be a bit patient and wait several hours because guest status is not fun at all.
Can Members Edit Their Profiles?

Every profile can be edited. You can modify everything. The only detail that has to stay the same is the username. That is why you have to pick up your username very carefully. It has to be something you like. The rest of the personal information is not mandatory. If you feel like adding some new details, you have to go to the homepage, press the "Edit Profile" option, and do not forget to save these changes. We have to mention that your changes do not become visible immediately. This information will have to go via precisely the same verification procedure as users' profiles in the initial phase. It is allowed to upload new photos. You can take an image on the webcam/upload a picture from your PC. If you are not afraid to link your Polish Hearts profile with Facebook, then you can use already posted images on Facebook.
A lot of people tend to believe that they can use Polish Hearts free of charge. They expect to have access to free messaging features. However, the truth is not so bright. Free members are not permitted to send private texts/emails. You are not even allowed to start communication. The only tools you have are smiles, kisses, hugs, and other kinds of emojis. Free members have the right to reply to messages in case other premium members added you to the VIP list. Being in the VIP list gives you a chance to send private messages without having any fees.
Unfortunately, Polish Hearts does not offer its members a live chat option. Also, you will not find a match-making mechanism. You are responsible for finding potentially suitable partners and friends in an old-fashioned way by yourself.
What Membership Options Does Polish Hearts Offer?

The dating site has three different types of memberships:
Premium Polish Hearts Membership
This option gives access to messaging features. You can send/receive cute gifts, add up to five photos, and see the report about the number of people who have previewed your profile. As soon as you are added to the "Friends" list, you get the notification immediately.
VIP Polish Hearts Membership
The advantage of this type of membership to the right to compose VIP lists of selected people. As soon as you add a new person to your newly created VIP list, there are no restrictions in communicating with each other. You can interact even with free users.
Premium + VIP Polish Hearts Membership
By getting this type of membership, you have full access to all available features. It is a mix of two previous types of memberships (premium and VIP). This option is a bit expensive. So not everyone can afford it.
Are you considering upgrading to the Premium/VIP subscription plan? The final price depends on the number of months you buy your subscription plan. A popular one-month plan will cost you 19.99 USD. If you purchase a twelve-month plan, it will cost you around 5 USD per month. The combined VIP and Premium plan will cost you 8.33 USD to 36.99 USD per month. We have compared Polish Hearts with similar websites, and we can assure you that the pricing policy is moderate.
Subscription Plan Pricing

You can pay with any debit/credit bank card. Alternatively, you can make the payment via bank transfers, PayPal, or Skrill. Do not be afraid to enter the details of your bank account. Your data is safe, thanks to the encryption.
The Most Interesting Features of Polish Hearts

Let's have a look at the design and the handiest features of Polish Hearts. If you like simple user-interface, you will like Polish Hearts. There is nothing special about such design, but it is quite pleasing to the users' eyes. We face no problems using all the available functions, which are easy to access and visible. The structure of the website is well-organized and logically-structured.
Every user is allowed to make a "My Friends" list. You have to press the "Remember this profile" option on the profiles of members you find interesting. This cool function can be accessed even by Free. We recommend you to save the most eye-catching and matching profiles for future communication as soon as you upgrade your subscription plan.
"Who remembered me"/" Who visited me"
The following features are available for Premium Polish Hearts members. You can keep an eye on users who have added you to Friends lists and viewed profiles.
This feature can be accessed by VIP and combines VIP+Premium users. As soon as you add individual members to the VIP list, they can send you private messages without limitations. Even free members get advantages of this feature.
If you find some messages offensive, you can prevent further communication thanks to this cool feature. If you face a conflict on the Polish Hearts site, we recommend you to use this feature instead of getting into hate and arguing. Some users can be blacklisted and banned from the website permanently.
Send cute virtual gifts and emojis
This feature is fun for expressing your sincere interest and flirting with people you like. We encourage you to share virtual smiles, drinks, hugs, kisses, car rides to make online communication full of positive emotions. This feature is a real saver and ice-breakers for shy people.
Mobile Application
No matter what mobile device you use, you can get the app. iOS/Android versions are available for free downloading and installing on your personal portative device. The Polish Hearts application is absolutely free. In terms of the principal features, they are the same as on the desktop version. However, we do not find the app reliable due to common crashing issues. Let's hope that the admin will consider our complaint and will apply the needed actions as soon as possible. The app takes up a minimum memory space, which is around 3 MB. We advise you to choose the desktop version of the site because its functions have been tested for many years.
User's Feedback

Male user (31): My parents were born in Poland. They had to migrate before my birth. My grandmother was responsible for speaking Polish with me. She used to come to visit us in Poland when I was a child. With time, I assimilated a lot into the Canadian culture. Unfortunately, I started to forget my Polish origins. I wanted to change the situation and find back my roots. I was dreaming of starting a relationship with a Polish girl. That is why I joined the Polish Hearts site. At the moment, I am a free user, I am thinking of upgrading to a Premium subscription plan. I want to pay the fee because it is the only way to start communicating with Poles. All the users' profiles seem to be genuine. I have already added several members to the "Friends" list. As soon as I become a premium user, I will contact them personally.
Conclusion
After our in-depth examination and analysis, we find the Polish Hearts website to be quite an efficient dating service. The main goal of the site is to create as many matches between Polish people as possible. If you do not have Polish descent, you are still welcomed to join the community. It is your unique chance to start romantic or friendly relationships with people who have Polish roots. We have the impression that the majority of members are interested in long-term and family-oriented relationships. We do not recommend you to use the Polish Hearts services for hookups.